Motorola submersion test: we give the Moto X and Moto G a good soak
The Moto G scored itself a little bit of additional stardom recently when it was demonstrated that the super cheap handset could survive underwater for a full thirty minutes. We just had to test it out for ourselves and decided to see how the Moto X held up under a little bit of water. Here's what we found in our tests.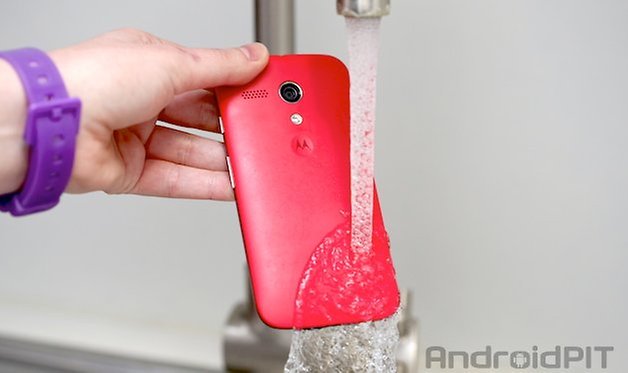 Moto G
We're huge fans of the Moto G here, so when we heard that the smartphone could handle a thirty minute bath we just had to see if it was true. We dropped a completely standard Moto G into a few inches of fresh water and left it there for a full thirty minutes. We checked it a few times during the test and it turned on underwater with no problems. After its bath we pulled it out, gave it a pat dry and it turned on fine, touchscreen responsiveness was perfect, the internet worked fine, the dialer, the camera and video and audio playback.
Moto X
Based on the Moto G success we decided to try the Moto X as well, but this time we only gave it a five minute dunking but in deeper water. We figured it's not all that likely that your device is going to sit underwater for a full thirty minutes anyway, and it was late and we wanted to go home, so five minutes it was. As you can probably expect, the Moto X handled it just as problem-free as the Moto G did. It's amazing that Motorola are not promoting either of these devices as water-resistant when in reality they both are, but it's a very nice bit of icing on the cake.
Note: we really don't recommend you try this out for yourself, or even worse, find out just how long and how deep these devices can remain submerged before they finally succumb. The point of this exercise was to confirm a claim and to give you a little peace of mind if you're ever caught in the rain or you drop your phone in the bath. Just give it a rinse off and go about your business. If you ever get your (other) phone seriously wet and need some more drastic assistance, check out our guide on what to do when your phone gets wet.
Have you ever dropped your phone in water? Why do you think Motorola aren't pushing these phones as water-resistant?