 Motorola Launches Trade-In Rebate for Old Devices, Not What You Think
Motorola made it known that the complete list of devices getting the Android 4.1 update was remarkably little. Luckily, at the same time they also promised that if you're device wasn't getting an upgrade, they were going to provide a $100 trade-in rebate. The news soothed the masses a bit, but now it's plainly obvious that Motorola had a few tricks up their sleeve.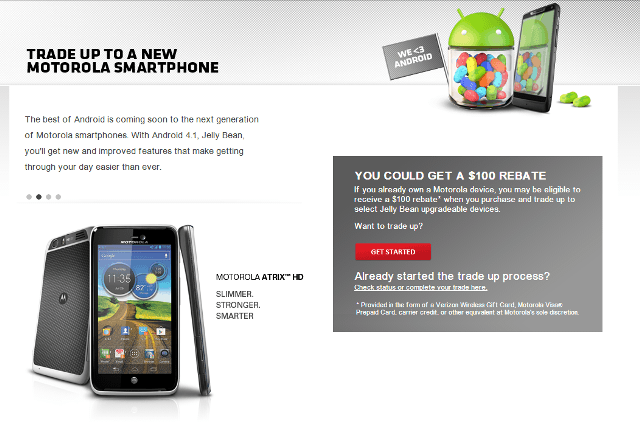 When you trade in your old phone (eligible models listed below), you aren't actually getting $100, or even a real cash rebate. Instead, what you actually get in return for your, now obsolete, phone depends on who your service provider is. It actually depends on who the service provider of your new phone is.
If you decide to buy a new Verizon phone, your trade-in rebate is a little easier to use. First, you will have to buy your new phone, at full price. After buying the new phone, you then have to trade-in your old phone to Verizon, whereupon they will hand over a $100 gift card. You're free to use the gift card on your next monthly bill, or to get some accessories. Unfortunately, the gift card means you can't spend the $100 anywhere else, so you're stuck giving it all to Verizon. Well played Verizon, well played.
If you decide to buy a new phone, from one of the many other carriers out there, the process is going to be a little more difficult. Just like, if you were to purchase your new phone from Verizon, you have to go get your new phone without a discount. Then, you have to ship your old phone to Motorola along with a proof of purchase for your new phone. 6 to 8 weeks after that, Motorola will send you a $100 Visa gift card. If you've ever waited on a rebate in the past, you should already know that it takes forever to process. Don't expect to see that $100 Visa gift card until right around the eight week mark.
The whole process is a little ridiculous, especially when you consider the fact that you can probably sell your old device for more than $100 used. Here, is a word of advice: sell your old phone on Craigslist, or Amazon instead of trading it in. Better yet, just use your upgrade to get your new phone and keep your old one as a spare in case of emergencies. That's what I always do.
Does anyone in the community disagree with my reasoning? Would any of you actually be willing to trade in your phone for less than it's worth?
Here, is the full list of devices that are eligible for the rebate program:
Droid 3
Droid X2
Admiral
Atrix 2
Atrix 4G
Cliq2
Electrify
Photon 4G
XPRT
Titanium
Triumph