 Motorola XOOM launched alongside Honeycomb: "DAMN!"
Motorola have outdone themselves again. I popped in at Android Central to see what was new for Android at CES and caught the last few minutes of their live blog on the Motorola event where they presented the XOOM. Videos are popping in left and right and everyone is all over this thing so bear with me as I sum up what we know so far and speculate a little on my own.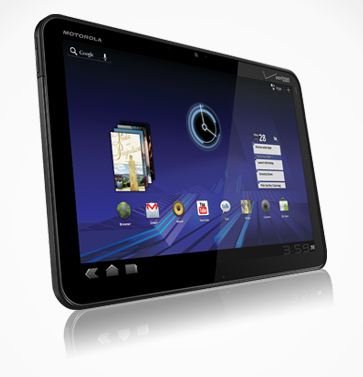 Now we saw this in the hands of Andy Rubin a few weeks ago with an unfinished version of Honeycomb on it and it looked thin and pretty – but boy, this thing is even nicer 'in person', i.e. in the press shots made available immediately after the event here. Sanjay Jha said it'll be available Q1 (!!!) for those that can't wait to get it. Notice, however, the Verizon branding front and back and add the 3G modem inside and it's clear it won't be seen in Europe for a while longer. Also no word on plan requirements or contract-free pricing. Apparently it's upgrade-able to 4G LTE through an in-store hardware upgrade sometime after launch.
On the front you have a 10.1" 16:10 ratio screen with 1280x800 and a webcam. As Rubin promised, no physical buttons, just the ones on the bottom pane of Honeycomb itself. The bottom features all of ther ports. According to a video of a spokesperson presenting the device to Netbooknews the XOOM has a Micro USB, data only no charging (this will be standard on tablets because USB ports only supply 500 mA instead of 700-800 required for charging tablets), mini HDMI for video output, dock pins and a charger port. USB will cost you extra in form of two available docks - more below. The same person quoted 10 hours of video playback, which means a ton more for basic browsing and probably days on end of music playback with the screen off. Real world tests will have to give some details but it's promising.
On the left of the device you have volume buttons - on the back: stereo speaker, 5 MP camera with dual LED flash and HD capture and what looks like the same soft-touch material on the back of the Droid X. There's a second round thingy, no clue what that's supposed to be. On the top you have a 3.5 mm headphone jack and an SD card slot that will get support after launch via OTA update. Now as for insides, we only know there's a dual-core 1 GHz Tegra 2 as Rubin said. It also has 1 GB of RAM and comes with 32 GB storage - that's confirmed. Since Motorola showed the same video that Google posted and I discussed at length one post below this we can safely assume that BLUR is not part of the new tablet experience.
A first among Android tablets (methinks) is the fact that Motorola already has a slew of official accessories for the XOOM lined up. There's a gel case that wraps around the device with cutouts for essential ports, a wireless keyboard with all essential Android buttons (very similar to the CR48 Keyboard), a standard dock for charging that comes with a USB port for keyboards and the like and a speaker dock, same as the standard but with big speakers on top.
Another accessory is a folio style case a-la iPad with two viewing positions. At first I thought that sounds awesome, exactly what we needed – a non-Apple manufacturer launching tablet accessories to go with their products instead of having consumers wait for third party vendors and scratching up their new gadgets in the meantime. It has a leather look to it, nice hard plastic edges and what looks like thick protective cushions covered in micro suede. However, once in viewing 'mode', the XOOM is only held in place by the top portion of the case so if you move it around like that it might slip out if you're not gentle. Also, the hard plastic flap that closes the case, I assume, seems to be about a half inch taller than the case itself making it impossible to use the XOOM in the lower angle position to type on it. Unless it's a flexible rubber material or it flips under or over the case walls, that piece will be at the bottom of your palm or midway through your wrist depending on your finger length – I can't imagine that to be too comfortable for anything but a few lines of email, which is unfortunate.
I look forward to seeing more and more reviews come in and I'll probably be selling my iPad to make sure I'm on the preorder list for this thing. That is, unless I have to get another data plan or the contract free is over $600, $700 if I'm having a good day.
Edit: I was about to post this when I found the official spec sheet Motorola hasn't put on their site yet. The device was hailed as thin and light, but the latter doesn't show from the specs - 730 grams isn't much more than the iPad and it's about as much as the GTablet, but either aren't what I'd call light. It's got wireless N at least and the front facing camera is 2 MP so video conferencing should be smooth as butter. Also, the RAM is DDR2 so it should be damn fast overall.
Photo: Motorola