New Android Design Comes to Pandora Radio 5
Pandora's music experience for Android has been notoriously bad, but that is starting to change as the music streaming service has launched a new interface for Android tablets. The company has recently been focusing on improving the Android experience for its users. In fact before the new update had been introduced, Pandora didn't have an app specifically for Android tablets and if you were using the smartphone version on a tablet the experience wasn't up to par to be honest. A new UI arrived for iOS users back in September and now Android users are getting the same thing, at least those that haven't already gone to Xbox Music, Rdio or Google Music.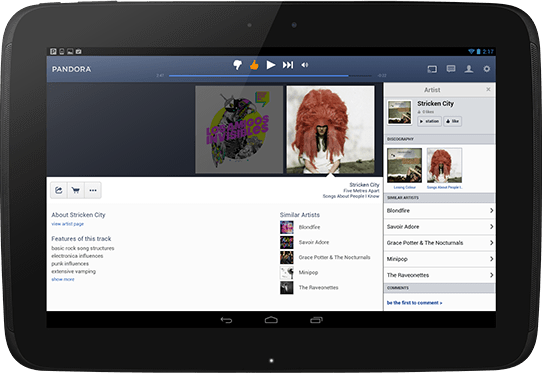 The image above is what the actual new UI for Android tablets looks like. It's really not the absolute best user interface we have ever seen but at least it's a start considering the fact that the new UI was promised some time last year.
There seems to also be a Chromecast option that has come with the new update which appears to indicate that an option to stream content to a Google Chromecast device is in the works. That would provide some much needed impetus to actually use Pandora as opposed to other services that don't have the added functionality.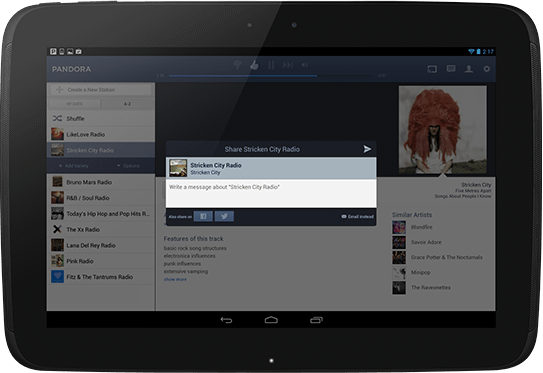 Pandora also claims to have improved the listening experience in the new update and they also claim to have improved the personalization options available to users.
The all new Pandora version 5.0 is available now from the Google Play Store or the Amazon App Store.
Which music streaming service do you use and which one do you think gives its users the best experience? Please leave us a comment below and we will get back to you.