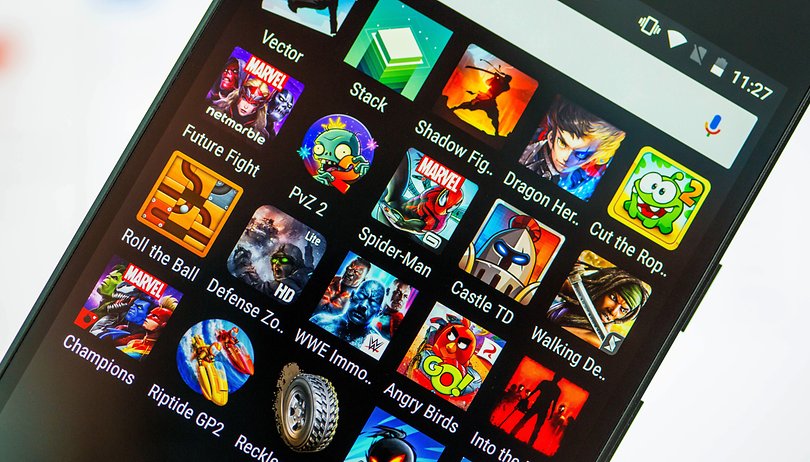 Best new Android games to play this May
Android has an awful lot of games and each month brings new titles. Knowing which ones are any good can be tricky. This is why we've put together a list of the best games that we've discovered on the Play Store—just three each month to ensure that only games we've played make it onto the list.
May
Spring is in the air, but before you're tempted to go outside, let us remind you that there have been some great new games coming out on the Play Store lately. Elder Scrolls: Blades didn't turn out to be what we hoped, but here are some worthy new arrivals.
Spellsword Cards: Origins
This card game/RPG hybrid plays out like a fantasy choose-your-own adventure in which your character's abilities (spells, attacks, items etc.) are represented by cards in your deck. Choosing from a variety of Dungeons and Dragons style races and character classes (two for free, the rest in the paid version of the app), you explore areas, encounter creatures and random events, get the chance to acquire new cards, acquire or upgrade existing ones.
There's some surprising depth to the strategy and resources management involved but it never feels overwhelming or opaque, and the controls are easy to learn and convenient to play in portrait mode on the go. Best of all, there's no pay-to-win mechanics, so it all comes down to your skill. Illustrations are basic but enough to stimulate the imagination.
Spellsword Cards: Origins is a roguelike game at heart, with procedural generation determining what your options are most of the time, although there's a story framework leading up to a final boss at the end. It's a fully single player experience, but you can compare your progress to other players in a leaderboard.
The game is free to play, with a reasonable one-time $2.99 purchase to unlock 7 more classes and access to future new content.
Get it on the Play Store
Compatibility: Android 4.1 and up
Price: Free ($2.99 IAP for full game)
Tesla vs Lovecraft
Two old-timey nerd icons go to war in this top-down, twin-stick shooter from 10tons, the same team who brought us previous classic in this genre like Neon Chrome and Jydge. You play as Nikolai Tesla, the underappreciated inventor who has somehow earned the ire of Providence's master of the macabre.
In this scenario, Lovecraft has all the monsters of the classic Cthulhu mythos with which to destroy you, but as Tesla, you have an array of upgradeable electropunk weapons and armor with which to shock, blast and fry the deep ones, Mi-Go, Shoggoths and other bizarre sanity-randing horrors. Fire death rays, wield the x-ray blades and pilot the mighty Tesla-Mech with twin-mounted miniguns to stomp and shred your enemies. Naturally, all your cool toys are upgradable between levels.
Like the previous titles from 10tons, Tesla vs Lovecraft delivers delightful bursts of action in between upgrades that work really well for quick gaming sessions on the go. The soundtrack is fantastic and the concept is a nice pulpy mash-up of geeky silliness. Well worth a purchase at the full price of $9.99, Tesla vs Lovecraft is currently available at a launch discount of $4.49.
Get it on the Play Store
Compatibility: Android 4.4 and up
Price: $9.99 (currently $4.49)
Marginalia Hero
I'll admit, as a medieval nerd who spent my higher education poring over old manuscripts and chuckling at the hapless figures battling rabbits and snails in the margins of the pages, Marginalia Hero was right up my street. It's a simple series of battles in which our hero must whack the bizarre creatures of medieval marginalia, including animals, cockatrices, dragons, and combinations. The graphics are taken from real historical illustrations.
The combat is simple, and plays out like a rhythm game where you have to tap in the right place at the right time. As you win fights progress, you gain gold to spend on equipment like weapons and armor beyond your starting stick and companions with different abilities. It's not easy, but do-able, and you can watch ads to double game rewards, or even buy tons of charms for real money. Progress isn't obnoxiously difficult, but if you find yourself enjoying the game, the option to disable ads for a couple of dollars will probably be all you need.
If there's one complaint is that the focus on timing and memory for the combat system often means hyper-focusing on the targets to the expensive of the game's charming artwork, which is the main appeal in the first place. Still, Marginalia Hero is an entertaining casual tapper with a unique look.
Get it on the Play Store
Compatibility: Android 2.3 and up
Price: Free with in-app purchases
April
Some very highly anticipated titles arrived on the Play Store in recent weeks, such as Stardew Valley, which comes highly recommended. Get it and start out right with our expert guide to the success in the game.
Shieldwall Chronicles: Swords of the North
You might have already noticed Wave Light Games, the studio behind some of the best tactical RPGs on the Play Store. Well, the team is back at it doing what they do best: a polished premium strategy RPG with plenty of depth and no in-app purchases or ads. I heartily recommend it.
In Shieldwall Chronicles, you command a team of mercenaries, with plenty of races, classes and abilities to choose from (and models of different genders for each type, kudos!). There's a lot of number crunching, and you'll have to think about positioning, status effects, ability stats, experience action points and so on to calculate your advantage in battle - but the game offers a handy 'simple' mode which streamlines the mechanics for a more casual experience.
There's a fantasy adventure story behind the battles, and while you can make some choices, it's pretty standard fare for the genre and not quite as interesting as the bad guys perspective of Demon's Rise 2 from the same team. But the battles are great, and the warriors and environments are depicted and animated with character and flair. The 40-hour campaign delivers more than enough action to occupy your thumbs.
Compatibility: Android 7.1 and above, 3GB of RAM
Price: $5.99
Get it on the Play Store
Cultist Simulator
The cult (ahem) PC game gets a slick mobile port under the Playdigious banner. In this card game, you take on the role of a novice occultist who begins to explore secrets that Man Was Not Meant To Know, delving into forbidden lore. Along the way, you've got to strike the right work/life/eldritch investigation balance to keep your sanity in check and expand your growing cabal.
This is done through literally playing the cards you're dealt, placing them into activity slots and learning their effects along the way (this game has no tutorial and there's a lot of trial and error as well as luck in the beginning). Your actions unlock new activities, activate extra cards and can have knock-on effects and unforeseen consequences down the road. As a card-based game, Cultist Simulator plays well on touchscreen controls, and there's nothing lost in the transition to mobile.
Thanks to the excellent writing and '20s inspired decor, what follows is an emergent pseudo-Lovecraftian story of your journey from curious aspirant to cult hierophant. As you get closer to summoning the alien gods to this world, what are you willing to sacrifice? Your sanity? The lives of your devoted followers? To tempt you into darkness, the game is currently offered at a launch discount.
Compatibility: Android 4.4 and up
Price: $6.99
Get it on the Play Store
Dungeon Warfare 2
Maybe you're like me and you've gnashed your teeth in frustration at yet another senseless death from falling into a pit of spikes, being hit by a poison needle, or cut in twain by triggering a hidden mechanical scythe or some other insidious trap. Who designs these things? Well, in this tower defense game, you do.
Dungeon Warfare 2 is the successor to the hit Dungeon Warfare and has already been available on PC for a while. But the tower defense genre thrives on mobile and this game is one of the best in class. As master of the dungeon, it's your duty set up deadly traps, tricky pitfalls to grind down the mobs of adventurers that invade your home looking for loot.
The game's well-developed physics system will have you fiendishly delight discovering combos, environmental effects and trap arrangements for maximum mayhem and carnage. Be warned though, it won't be easy. The mobs of invaders don't mindlessly shuffle to their deaths, but will dig, climb and find other ways around your defenses.
Compatibility: Android 4.1 and up
Price: $4.99
Get it on the Play Store
March
It's been an eventful week in mobile games, what with Skylanders: Ring of Heroes arriving on the Play Store, Plague Inc. getting a sequel and resolving to add anti-vaxxers to the original game, and the Mortal Kombat mobile game getting new characters in the hype up to MK11. Still, a few titles stood out from the crowd to seize the attention of your busy editor, including an ingenious roguelike, a thoughtful puzzler and an addictive new gacha title.
Immortal Rogue
Roguelike games—where you're expected to die over and over again—clutter the Play Store, but Immortal Rogue offers an intriguing twist you can find in the title. In this slick action game, you play as a vampire who battles through the ages: prehistorical, medieval, hi-tech etc., against a variety of enemies. But even though you can—and will—be killed, you are immortal, so you simply rise again in a few centuries to resume your long-term quest. When you return, the world will have changed according to your previous decisions, successes and failures.
The more levels you beat, the more power-ups you can collect, including different accessories and weapons that can change your tactics and appearance. Every now and then, you get the option to 'turn' a mini-boss to your cause and unlock them as an ally that gives you bonuses upon your resurrection. The choices you make in who to turn and who to kill are very impactful in the long run, and not just for story purposes. To reach higher levels and beat tougher bosses, you'll need those bonuses that can carry over after death.
The action flows smoothly and frantically in Immortal Rogue thanks to well-designed touch controls that make it easy to hack and slash through a level in just a few minutes with one hand - perfect for the commute. This is helped along by the pumping synthwave-style soundtrack too. Immortal Rogue costs 5 bucks and is yet to be officially released, but for your money you'll get one of the very best mobile games you can play today, without any ads or further IAP.
Compatibility: Varies with device
Price: $4.99
Get it on the Play Store
G30 - A Memory Maze
G30 is a puzzle game, but it's much deeper than simply matching colors or moving blocks. The mechanics are based around turning various colored dials with pieces of images. When put together, they generate phrases based on key words that tease different variants of an event, or associations of objects. As you turn the dials, and match colors, more words are revealed. Some of them are saved in a narrative story, which starts out as a collection of blank spaces with the details being filled in out of sequential order: what starts to emerge is the story of someone with a cognitive disorder, trying to piece together fragmented memories.
This intriguing yet emotional story, combined with a haunting soundtrack and a stark, minimalist presentation gives G30 an emotional kick that you won't find in other match-the-things type puzzle games. It's an interactive work of art that challenges you not just to accomplish a challenge, but also to consider a (hopefully) different experience - is this what it would be like to lose your memories, your mind?
The puzzles keep getting more complex as you progress, but there's no pressure like a scoring system or time limit. Only your own desire to fill in the gaps in your character's story, which, given the mental struggles the game is trying to emulate, is an elegant integration of gameplay and story. Challenging, beautiful, satisfying but sad, G30 is a puzzle game for the brain and the heart.
Compatibility: Android 5.0 and up
Price: $3.99
Get it on the Play Store
RAID: Shadow Legends
RAID: Shadow Legends has a generic name, but don't let that put you off. This 'new' game has been in soft launch in several regions for months, and is only now getting a global release. RAID bills itself as a fantasy RPG, but there's no real role-playing here...What it is, is a rather deep tactical gacha game where you collect fantasy heroes of different types and races (orcs, knights, barbarians, elves, archers, undead, mages, etc.), and put them up in teams to beat waves of enemy teams and tough bosses. The graphics are top notch, with some really cool-looking character designs (the unfortunate exception being some of the female champions, who aren't quite believable as badass warriors when they fight in armored underwear).
There's a story to this game, but it takes a backseat to the battles, and that's where the real depth is. At the time of playing, there are around 300 heroes to collect, each with different abilities, and tons of equipment with different effects. Finding the right combination of heroes to beat a particular boss, level or challenge is key. There are several different game modes including a story campaign, PvP arena, a 'clan battle' where you team up to beat exceptionally hard bosses, and dungeons, where you fight tricky enemies to gain unique items. Some modes cost different currencies to participate it, so if you play for a while you'll bounce between them, getting a taste of everything.
Picking the team, leveling up and equipping your champions to overcome tougher and tougher battles is a satisfying challenge, but also a point of frustration which is typical of the gacha genre's business model - new characters are randomized and have different rarities, so to get the powerful ones you want, you have to repetitively grind the missions for rewards or pay real money for more spins on the wheel. Even then you're not guaranteed a particular one. But RAID is generous with rewards for new players especially, and if you can resist the urge to catch 'em all as soon as possible, you'll soon collect plenty characters and items for your fantasy squad without spending.
Compatibility: Android 5.0 and up
Price: Free to play with in-app purchases
Get it on the Play Store.
Already played the best new Android games this month? Why not take a look at our other game recommendations, curated with care to bring the best of the best:
What were your favorite games from the last month(ish)? Let us know in the comments below and we'll try and check them out!