App returns - now a click away on the AndroitPIT website
Authored by:
Nico Heister In order to further simplify returns for apps purchased in our App-Center, we have introduced the option to control returns directly through our website.

It might so happen that you have purchased the wrong app or simply changed your mind shortly after the purchase. Here, in our AndroidPIT App-Center you can easily return an app in the 24 hours following the purchase. To this day, however, you could only accomplish this by using our App-Center-App for Android. Now you have the possibility to return apps directly through our website.
Returns using the website (how to):
Navigate to the specific app page that you have purchased. It can be accomplished either by using our search tab or by going to My Page -> App Purchases -> View all purchased apps.
Click on the app name. In the app window click on the small button next to "Install" marked by an arrow and choose "Refund" from the drop-down menu. At this point you will be prompted to confirm your return. Once complete, navigate back to your "App Purchases" window where you will see the refund showing in your balance.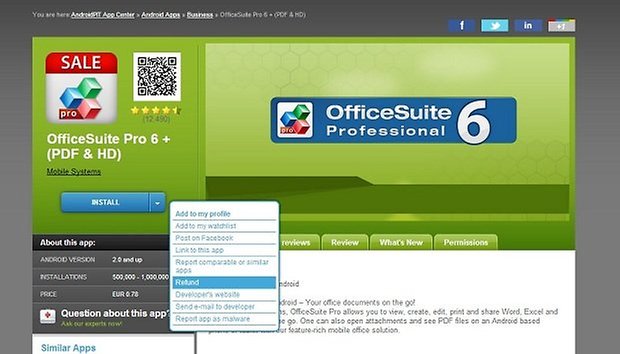 Click here to refund the App
Please note the following restrictions:
If you purchased a previously returned app, you won't be able to refund it again.
You can only return an app through the website if you haven't yet uploaded it onto your mobile or tablet device. In case you already uploaded the app you can still return it by using the App-Center-App.
Returns using the App-Center-App (how to):
Start the App-Center and navigate to "My Apps". Locate the app that you would like to return and click on it.
Scroll all the way down in the App description overview and click "Uninstall + Refund".
That's it.

With the introduction of the website return feature, you will no longer be able to request a refund through our support team.