New SanDisk Flash Drive Beams Stuff on to Your Phone/Tablet Unfortunately some devices do not come with expandable storage. Examples of this often irritating feature or lack thereof would be the iPhone 5, Nexus 4 or HTC One. Too many times in the past I have had to uninstall apps, delete precious albums from my collection or even had to resort to deleting pictures in order to free up space on my device. Hopefully this won't ever be a problem any more because SanDisk is set to unveil a new device that will wirelessly beam whatever you have on it to your smartphone or tablet device.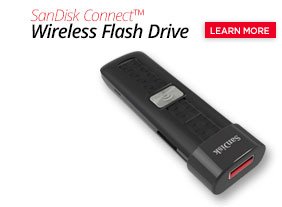 The SanDisk Connect is a device that can hold your files and wirelessly get them to your device at will. This is all without having to have an internet connection. The SanDisk connect boasts a wi-fi radio, a 4 hour battery and a microSD slot into a device that is about the side of a USB thumbdrive. The price is not bad at all because you can get the 16 GB version of the device for about $49.99 or you can cop the 32 GB version of the device of about $59.99. The device allows you to move your files from the storage to your device and vice-versa which is pretty cool.
Unfortunately though, things are not as rosy as they seem with this new device. To actually access your files on your phone or tablet device you have to use the SanDisk iOS, Android or web app and actually forfeit your internet connection to the app for the duration of use. The device allows you to set a password if you wish although this feature is not on by default.
The device is not perfect and the software leaves a lot to be desired but it certainly can be useful in some scenarios. You can connect various devices to the wi-fi access point that is created by the actual dongle and if everybody has the SanDisk app installed you can share files. For example you can all download a picture that you have just taken as a group from the device which is pretty neat as everyone will have their own copy on their phone. Also the price is also quite attractive too.
The new SanDisk connect device is now available for pre-order on Amazon now and you will be able to purchase it within the coming weeks.
What do you think of this new type of device coming from SanDisk and will you be dropping some of your hard earned money to buy this new device? Please leave us a comment below and tell us what you think.