[Update] New video and pics of the LG G2!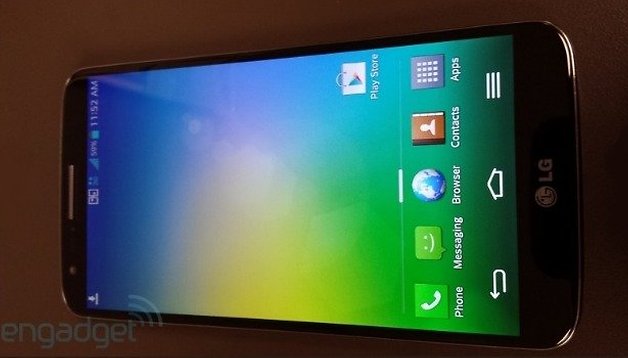 As if in answer to my prayers yesterday about the poor quality of leak pics surrounding the LG G2, today we have a bevy of clear photos AND a video of the new LG flagship device. Thank you steady hand camera man (and Engadget)!
4Leakz posted a video on YouTube yesterday showing the new device in action, and it's veeery interesting. There's still a month to go before the device is officially released on August 7 at an event in NYC, but we've now seen pretty much all we need to see.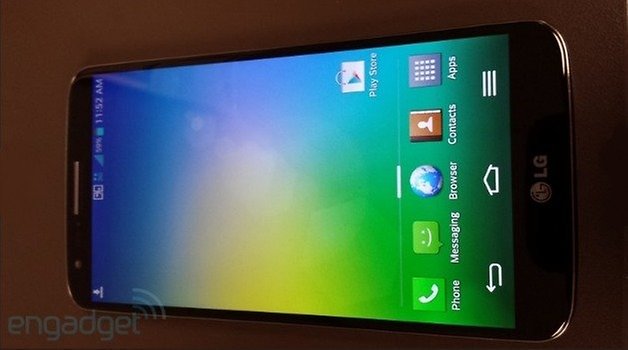 The handset is looking just as thin as we thought, although no-one seems to have actual dimensions other than 5.46'' x 2.80''. I guess it's good to keep something for August 7, although I expect we'll have the thickness in a few days. Or hours. Battery capacity is also unknown as yet.
The phone looks great, part-Nexus 4 (many think the G2 will be the basis for the upcoming Nexus 5), part Optimus G. LG have now dropped the Optimus tag from their top-shelf smartphones, keeping the G moniker only. Optimus will now refer to their mid-range offerings.
So what else? The volume rocker buttons are indeed on the back of the device underneath the camera and the power/sleep button is on the back too. The bezel is almost non-existent on the screen, giving a near edge-to-edge display. The back cover is also curved a bit at the sides, so the edges are super-slim. The G2 now has stock-Android touchscreen navigation buttons.
The device will run Android 4.2.2 Jelly Bean and feature NFC connectivity. The leaked video shows the G2 on the Sprint network and the handset has the model number LG-D803. The other specs we posted earlier are now confirmed:
Processor

Qualcomm Snapdragon 800v 2.3 GHz quad-core CPU

Display
1080p Full HD 5.2" display

RAM

2 GB of RAM

Camera (rear)

13 megapixel

Camera (front)

2 megapixel
The UI looks very slick and the lock screen is great, with an expanding crystal ball thingy as it unlocks. The full HD display looks very nice and is set at 100% in the video making it look fantastic. We look forward to seeing whatever else is left in the bag in the coming weeks.
Check out the picture gallery below and let us know what you think!
[Update 10 AM Berlin Time 11.07.2013]
Android Authority have just posted a press release from LG, announcing the world's thinnest Full HD LCD display. The press releaase claims the display is a state of the art 5.2'' panel, 2.2 mm thick with a 2.3 mm bezel and at 1080 x 1920 Full HD resolution. Sounds like this has to be the display seen in the G2 pictures and video above. And the brightness I commented on in the video could well be due to the new display's claimed ''superiority in displaying resolution, brightness, and contrast ratio results.''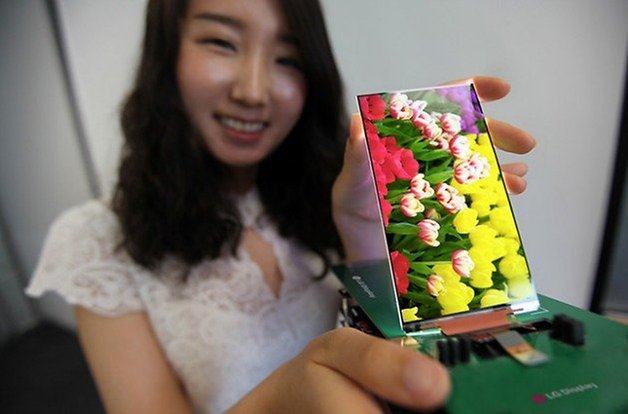 For anyone interested in how they've achieved this, here's an excert from the press release that explains OGS, something I expect we'll be hearing a lot about in future. ''Key to realizing the world's slimmest panel is LG Display's Advanced One-Glass-Solution (OGS), the latest touch technology enabling an enhanced touch screen experience, developed and applied to the new panel for the first time ever. Dual Flexible Printed Circuits, superior to a single circuit, have been inserted between the panel and touch film, reducing the number of lines on the panel by more than 30 percent. Utilization of a direct bonding system has also resulted in Optical Clear Resin between the panel and touch film for greater brightness.''