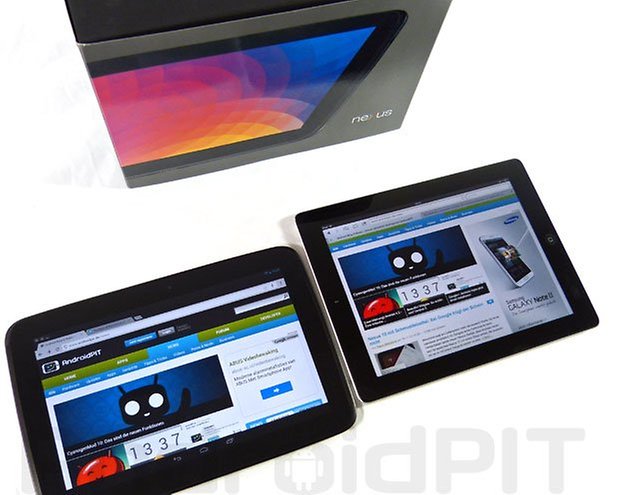 My 32GB Nexus 10 arrived this morning at the post office. It will replace my iPad 3 – or at least was the plan. Of course, I have been eagerly awaiting this device. But does the new Nexus tablet really have what it takes to compete with the mighty iPad? Looking at the initial press photos, I was skeptical, but now I believe the answer is yes.
Design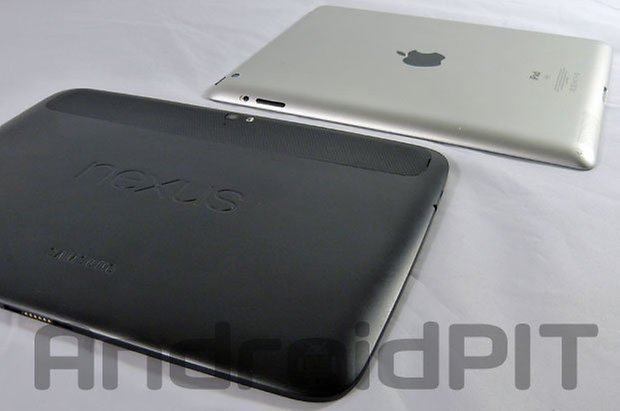 The Nexus 10 looks better in the flesh than it does in photos. That wasn't just my opinion but that of the entire staff of AndrodiPIT. The plastic back feels as if it is of a very high quality and not an inch of the rest of the tablet feels cheap, as photos of the device might have suggested.
No, this is not the brushed aluminum build of the iPad, but it presents a warmer grip, making the iPad appear slippery in comparison. The flat thin design measures just 8.9mm thick. Yes, this is an ultra-sleek tablet.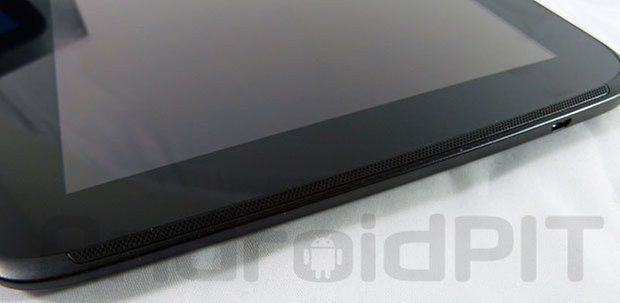 The high-quality plastic back nears perfection. It feels´like it's made of a higher quality plastic than the back of the Nexus 7 – a bit more rubbery and luxurious. Sure it may seem silly to analyze these design elements in such minute detail, but in the tablet realm, design is everything.
At 603 grams, the tablet is about 50 grams lighter than the iPad. That may not sound like much on paper, but when you're hoisting the tablet to your peepers while lying on the couch, every gram counts.
Display and Speakers
The display is a stunner! I've never seen a more beautiful Android display. The resolution – 2,5560 x 1,600 pixels – doesn't just sound amazing on paper, it looks amazing in real life. Web browsing looks crystal clear, and HD movies look fantastic.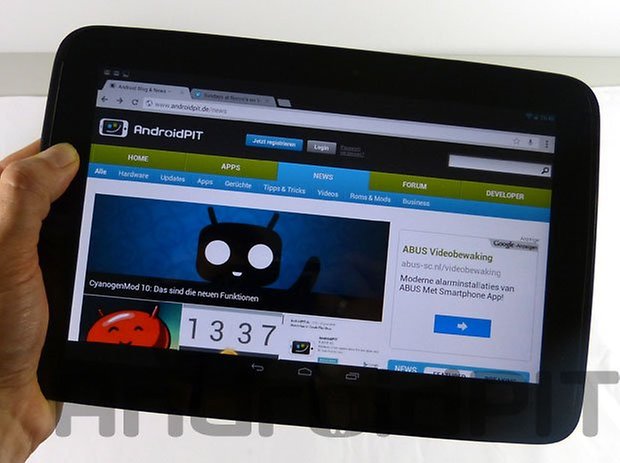 But compared to the iPad 3 (2,048 x 1,546 pixels), I don't see a whole hell of a lot of difference. Whether you're looking at the sharpness of the display, the viewing angles, the reflection of the glass surface or the brightness, both displays appear, at least initally, equally impressive.
One drawback to the Nexus 10's display is the relatively wide border surrounding it. Especially in comparison to the iPad, it doesn't look so elegant. But there is a flipside to this: at least there's plenty of gripping space.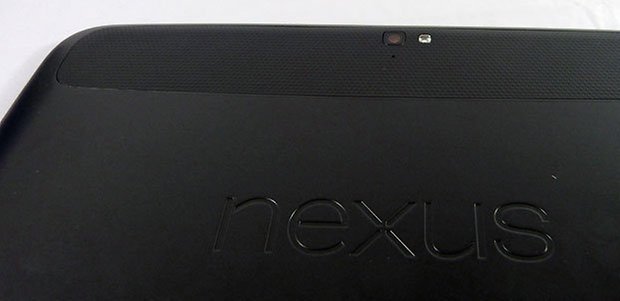 Another plus: the wide rim leaves enough space for a pair of speakers to be placed front and center. The stereo sound is thus far better than on the iPad.
Camera and Processor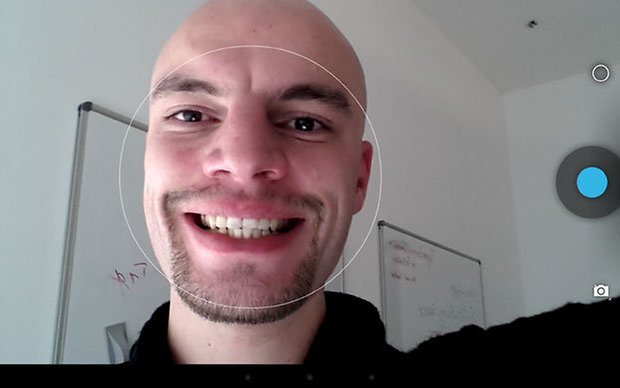 Picture quality from the rear 5-megapixel camera was okay, not better nor worse than what we were expecting. But whatever: you look silly using a tablet to take photographs anyway. The front-facing camera is arguably more useful, and in this respect, the Nexus 10 shines. The Nexus 10 offers a front-facing camera that can record at 720p and is one of the best front cameras I've ever seen. Sure the iPad 3 offers front-facing 720p recording as well, but this camera seemed to capture far more light, and far less noise.
Here are all the technical details at a glance:
Dual Core Cortex A15 CPU
Quad-core Mali T604 GPU
2 gigabytes of RAM
5-megapixel camera 'round back.
1.9-megapixel front-facing camera
Battery Capacity: 9000 mAh (9 hours Video/500 hours standby)
Micro USB, Micro HDMI
Two NFC units - one front, one back to the
Weight: 603 g
Dimensions: 263.9 x 177.6 x 8.9 mm
WiFi 802.11 b / g / n (MIMO + HT40), Bluetooth
Charger with magnetic pogo pin
Sensors: accelerometer, compass, ambient light, gyroscope, barometer, GPS
Memory: 16 or 32 gigabytes, no memory expansion possible
Processing times were impressive – at the level of the newest iPad, if not faster. I encountered no stuttering or stalling. The OS worked as smooth as butter. But I wouldn't have expected anything else from Samsung.When it came to gaming, the processor rendered 3D graphics like a pro. In fact, all the apps loaded without a hitch. The 2GB of RAM will allow anyone to multi-task like a fiend.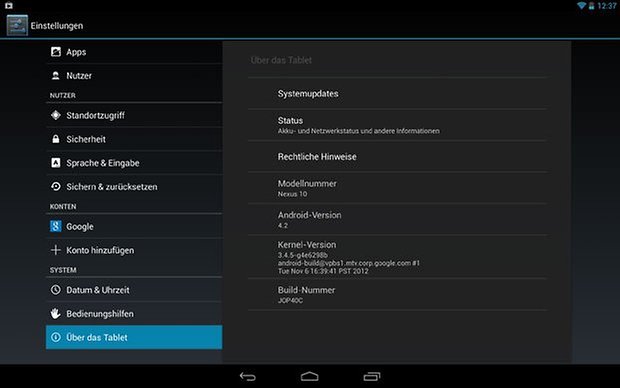 Operating System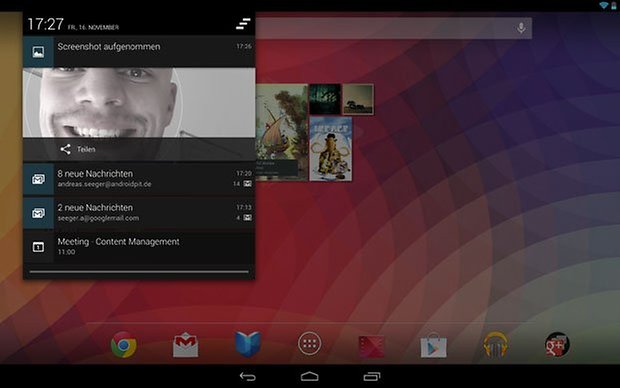 Homescreen mit Benachrichtigungsleiste: Android 4.2 ist das fortschrittlichste mobile Betriebssystem auf diesem Planeten.
Android 4.2 shines on this tablet (for a full list of features, click here). The notification bar is second to none. But the real star of the show is the support for multiple users. You can create individualized settings regarding everything: from email to apps, browsing and more. This is wonderful for families and couples.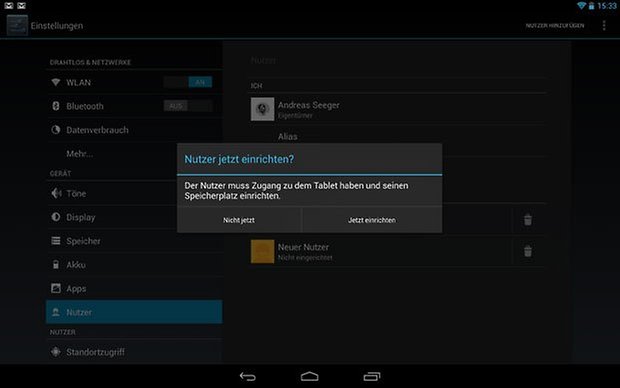 Technically, it would be easy for Apple to implement a similar feature, but it could be a while before we see it. After all, Apple is more interested in selling hardware to every member of the family, while Google is much more interested in the software side of things. You can see the result of this different business model when you're playing around with the Nexus 10.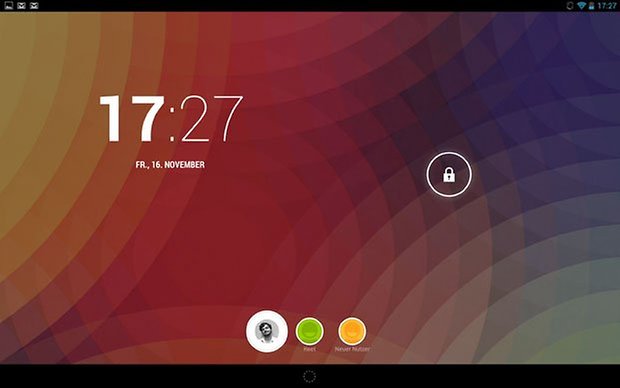 Conclusion
This is the first Android tablet I've come across that makes me want to chuck my iPad. The display is brilliant, Android 4.2 is a breeze to use, the speakers are excellent and the tablet feels well-designed and expensive. The Play Store's selection of apps may not have caught up to Apple's App Store quite yet, but you still have plenty of options in the realms of music, movies and games. And the massive number of improvements Android has made vastly outshines the quite pitiful offerings of the latest version of iOS. Besides upgraded widgets, you have support for multiple users, an excellent notification system, Google Now and a whole lot more. It may be a while before Android's tablet app ecosystem catches up with Apple's, but this tablet makes the wait much more bearable.