 Nexus 10 Rootkit Available Now from XDA
The Nexus 4 has been hogging the spotlight lately, and the poor Nexus 10 has been hiding in the corner forlornly, waiting for a chance to peek out. Finally, it has the opportunity to be front and center.
It was only about a week ago that the Nexus 10 hit the market, and yet it already has a practical rootkit.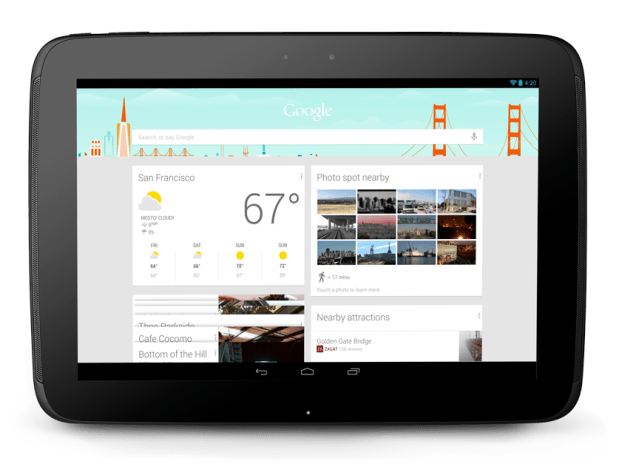 With Android phones, it's pretty much a given that you'll have to fiddle around with some command lines. The Nexus 10 rootkit provides an alternative to command line hacking. It's also ideal for those who are not particularly tech savvy.
The Nexus 10 toolkit will allow you to root your tablet easily, unlock your bootloader, back up various system partitions (in case you get into some tomfooleries), and install the appropriate USB drivers. Besides clearly making all of the associated processes easier, the toolkit also helps everyone save time because its fast and convenient.
If you've got a Nexus 10 in your hands that you would like to root, XDA has your poison. We can always trust XDA to have the answer to almost any problem, can't we?
Furthermore, here is a complete list of the functions that the Nexus 10 rootkit can perform (as of November 24th):
Install correct adb/fastboot drivers automatically on Windows xp/vista/7/8 32bit+64bit
Backup/Restore a single package or all apps, user data and Internal Storage
Backup your /data/media (virtual SD Card) to your PC for a Full Safe backup of data
Unlock/Re-Lock your Bootloader
Root Stock Jelly Bean builds (upto 4.2.0 JOP40C)
1-Click For All to Unlock the Bootloader, Root, Rename the Restore File and Flash Custom Recovery
Perform a FULL NANDROID Backup of your system (Boot, Cache, Data, Recovery and System) via adb and save in Custom Recovery format on your PC which can be Restored via CWM Recovery
Pull /data and /system folders, compress to a .tar file and save to your PC
Dump selected Phone Partitions, compress to a .zip file with md5 and save to your PC
Install BusyBox on your phone
Extras, Tips and Tricks section available to all ToolKit Donators
Auto Update ToolKit to latest pushed version at startup (donator feature)
Program up to 10 Quickpic slots and run them very quickly (donator feature)
Mods section to automatically perform certain tasks on your phone
Download Google Stock Image directly to correct ToolKit folder for extracting and flashing (no need to move it manually anymore)
Flash Custom Recovery or Google Stock Image to phone
Rename the Recovery Restore File present on some Stock Roms
Use adb sideload in Custom Recovery to root/unroot zip files very easily
Boot into CWM Touch Recovery without Flashing it
Boot or Flash .img Files directly from your PC
Install a single apk or multiple apk's to your phone
Push Files from your PC to your phone
Pull Files from your phone to your PC
Dump selected LogCat buffers to your PC
Dump BugReport to your PC
Set Files Permissions on your phone
Open new Command Prompt for manual input
Reboot Phone to Fastboot Mode or Android from fastboot mode
Reboot Phone to Fastboot Mode, Recovery, Android or Download Mode from adb mode
Just for the sake of redundancy, I've also included the related XDA thread in the source below. If you want the toolkit, and you haven't already opened the link above, then hit up the source.
When you've got that sucker rooted, let us know how it feels to be open and freeeeee!