Nexus 10: Top Tips and Tricks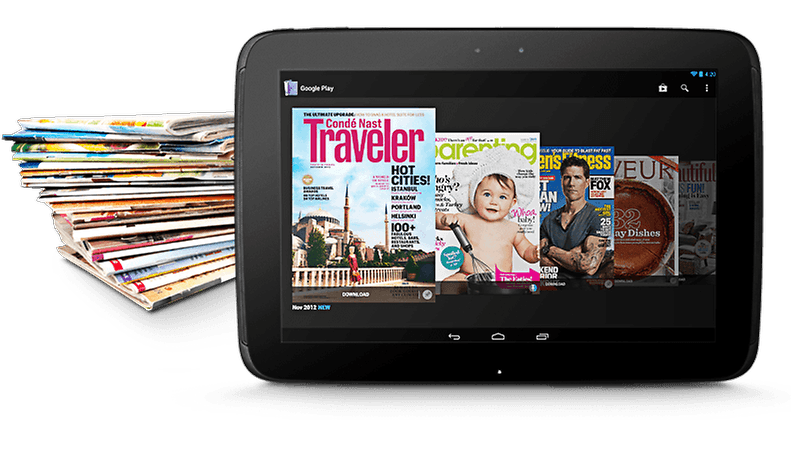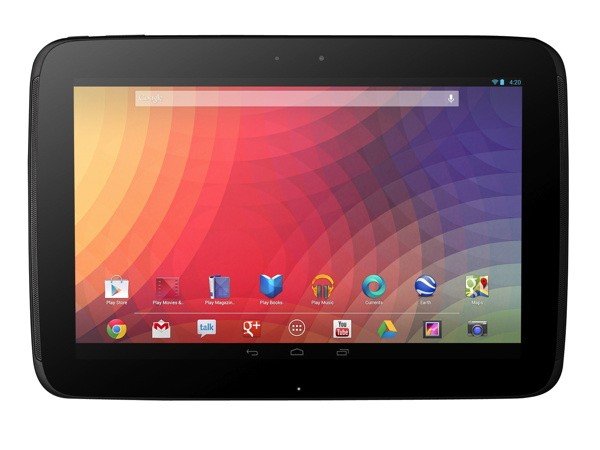 So you just unwrapped your brand new Nexus 10 tablet and you're wondering what kind of trouble you can get into. Maybe you just want to watch your favorite films on the gorgeous 2560-by-1600 (300ppi) display or maybe you want to use your tablet as a laptop-replacement, complete with a full-sized keyboard. No matter what reason you bought your tablet, we can help you get the most out of it. Scroll on for 15 great tips for using your Nexus 10.
1.Choose your screen orientation
Usually, your Nexus 10's screen rotates as you turn it. You can mess with this by swiping down from the top right of any screen and touching the rotation icon in Quick Settinbgs.
2. Download tablet-optimized apps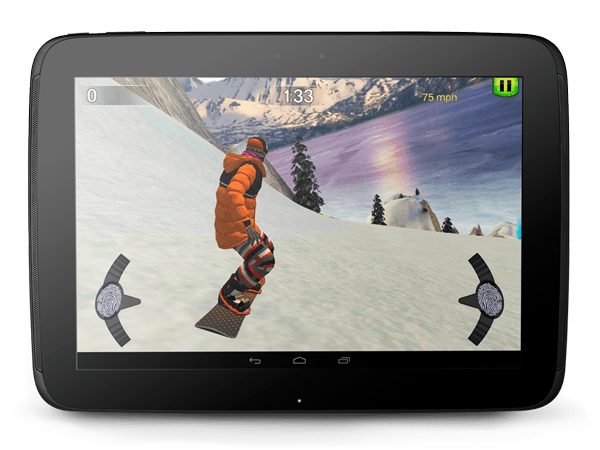 Not every app is going to work perfectly on your Nexus 10, especially those that can't match the pixel density of your tablet. For this reason, Google recommends you download certain tablet-optimized apps, like Cut the Rope HD, Hulu Plus, Pulse News, TED, and other apps fit for a bigger screen. You can find a complete list of these apps here: https://www.androidpit.com/google-play-store-top-10-tablet-apps-403708
3. Set Up Daydream
You've got a great big screen, you should use it – even while you're charging your device! Daydream allows you to display photos, colors or Flipboard stories while your tablet is charging or docked. Simply go to Settings —> Device ----> Display and switch on "Daydream."
4. Set-Up a Full-Sized Keyboard
You've got the screen real estate to be able to use a full size keyboard, so why not enable it? It's a bit tricky but well worth it, especially if you're using your tablet as a laptop replacement. To enable a PC-sized keyboard, go to Settings —> Language and Input. Tap the settings button next to Android keyboard. Then click Advanced Settings –> Custom Input Styles. Touch Add Style. Select your language and change layout from QWERTY –> PC. Now touch Add and you'll see your new style on the list. Touch Enable and use the back button to go back to the Language and Input screen. New touch Input Languages near the top and uncheck Use System Langauge. Lastly, touch English (US) (PC).
5. Watch HD films
Of course you're going to want to watch films on your Nexus 10 that take full advantage of the insane pixel density. Your first stop is probably going to be the Google Play Store, where you can find many new releases in HD. But you can also try searching for HD YouTube or Vimeo clips. The YouTube app especially looks very impressive, with a 3D carousel home screen that is very fun to use. What's also great about the Nexus 10 (and any other new Android tablet, for that matter) is that you can watch films in any file format, from AVI to MP4 to DivX. You can use a piece of software like the DVD Ripper to watch DVDs, although you'll need to utilize your PC to do that.
6. Install Adobe Flash
Apple's iOS doesn't support Flash, but your brand new device does. While the Flash app is long gone from Google Play, you can still install it by downloading the APK from XDA developers (make sure to go to settings –> security first and check "unknown sources.")
7. Transform your Nexus 10 into a Kindle eReader
Seriously, who needs a Kindle when you can download Amazon's Kindle app and sync your e-books to your Nexus 7? It's got by far the greatest number of books of any eReader app.
8. Enjoy Pre-Loaded Content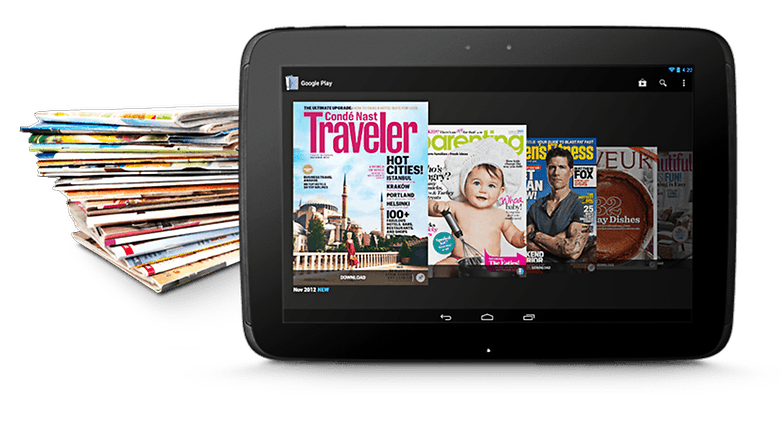 If you've purchased your Nexus 10 in the U.S., your device should come pre-loaded with some great content, including "Ice Age" the film, music by Cat Power, Minus the Bear, the Rolling Stones and M.Ward and Entrpreneur, House Beautiful and Conde Nast Traveler magazines. And what better way to immerse yourself in your brand new display than to watch "Planet Earth" – also pre-loaded. Conversely, if you want to get rid of any of these items, simply click on them and tap "remove from device."
9. Edit Films Using "Movie Studio"
Movie Studio allows you to edit video clips together in a timeline with transitions, music, effects and titles. It's been around since Android 3.0 but only now does it come with the processing power to handle complicated editing jobs.
10. Connect Your Tablet to your TV
The Nexus 10 comes with a standard micro HDMI jack. If you want to connect your tablet to your TV, all you need is a cable, which costs as little as $3. Your Nexxus 10 will also automatically scale 2550 x 1440p videos to 1080p so your TV can display them. Just be sure to turn off your tablet before connecting or disconnecting the cable, or you could do damage to your Nexus 10.
11. Take a Screenshot
You can take a screenshot on your Nexus 10 by holding down the power button and the volume button.
12. Set-Up a Guest Profile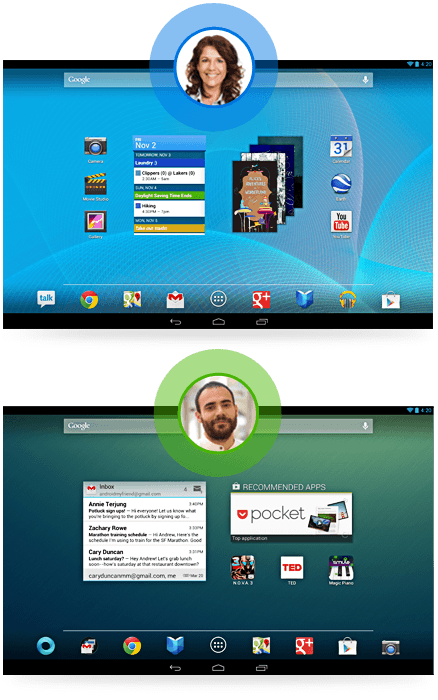 Support for multiple users is one of the crowning features of Android 4.2. Guest profiles see completely different apps, pictures and settings on the tablet, so your friends and family members can have a personalized experience (and you can hide things from them!) To set up a guest profile, go to Settings –> Device —> Users. Touch "Add User." Touch "Not now," if your guest is not yet available. A generic new user account should now appear in the list. 13. Download Content from Google Play for Offline Use

13. Download Content from Google Play for Offline Use
Normally, Google Play streams content to your device so you don't have to worry about storage space. If you'd like to save content for offline use, go to your Google Play app, click Menu and then click "Make Available Offline." Blue pins now appear next to content you can download. To download the piece of content, click on the pin and wait for it turn white and appear upright, surrounded by a blue dot.
14. Understand your LED light
So, here's the deal with your multi-colored LED light: Google uses white for Gmail or SMS texts, green to indicate your tablet is 100% charged, blue for Facebook notifications, yellow for Google Talk and red for Google+. Aren't you glad you asked?
15. Use Android Beam
You can share content from your NFC-enabled phone with your Nexus 10 by using Android Beam. All you need to do is:
Find content you want to beam.
Place your phone on the Nexus 10
Touch the screen after you see the "touch to beam" notification.
The two NFC sensors on your Nexus 10 are on the back right side of the camera and by the front camera.