Nexus 4 Gets Android 4.2.2 Update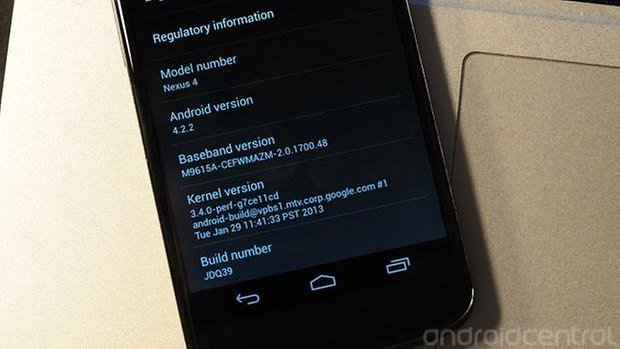 If you happen to own a Nexus 4 and are anxious to know just when your smartphone would receive the Android 4.2.2 Jelly Bean update, the answer is now. Yes sir, the Android 4.2.2 update has started to roll out to Nexus 4 owners, coming in build JDQ39 that is similar to what the GSM Galaxy Nexus, Nexus 7 and Nexus 10 received.
The entire Android 4.2.2 update is said to weigh in at approximately 54MB, so we would highly recommend that you hook up via a Wi-Fi connection and make sure that your Nexus 4 is well charged before you perform the update download. No point in using up quota from your data plan to download the update now, is there?
You also have the option of downloading the Over The Air (OTA) Android 4.2.2 update straight from Google, where the installation process is performed manually through custom recovery or by sideloading. Do take into consideration that LTE Band 4 that was never supported officially by the Nexus 4, does not seem to be working any more with the new Android 4.2.2 update.