Nexus 4 Listed On Best Buy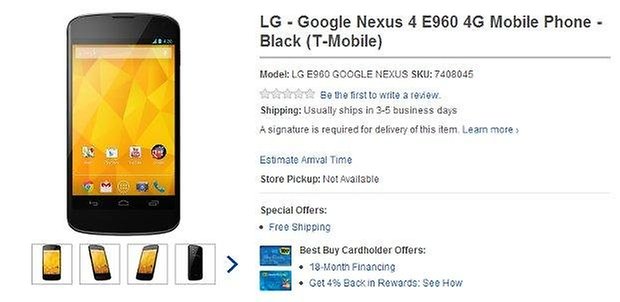 The Nexus 4 is one elusive device, and I am starting to be inclined to call it the unicorn of the smartphone world. After all, the Nexus 4 rarely makes an appearance over at the Google Play Store as "available", and when it does, it ends up with a "Sold Out" status within moments. Well, the other option for those who want to pick up the Nexus 4 from Google would be to do so through T-Mobile, although Best Buy might be another viable option as it has already been listed on the online retailer's website.
I would say that waiting for Best Buy's Nexus 4 stock to arrive and picking it up from there makes for a safer alternative compared to taking your chances on sites such as eBay and Craigslist, where pricing for both the 8GB and 16GB Nexus 4 smartphones have generally remained more expensive compared to what Google offers via their Play Store. Simply the law of supply and demand at work here.
T-Mobile's locked version of the Nexus 4 has not had much luck either where supply issues are concerned, remaining out of stock since it arrived in November last year, without any sign of the Nexus 4 drought there ending anytime soon.
The Nexus 4 Best Buy listing that you see above allows you to pick it up for $199.99 on a 2-year contract with T-Mobile. Apart from that, you can also pick it up for $599.99 if you prefer an unlocked model. So, are you going to mosey over to the Nexus 4 listing on Best Buy and place an order already? Too bad it comes only in black, otherwise a red version might make it an alternative Valentine's Day gift.
The Google Nexus 4 will run on the latest Android 4.2 Jelly Bean operating system right out of the box, so there is no need to mope around and wait for an operating system update for sure.