The Nexus 4 Has LTE Support After All, But in Canada Only Lots of people were upset when they realized the Nexus 4 would be shipping without LTE support. It's perfectly understandable, especially considering 4G is being touted as the flagship network by virtually every carrier now.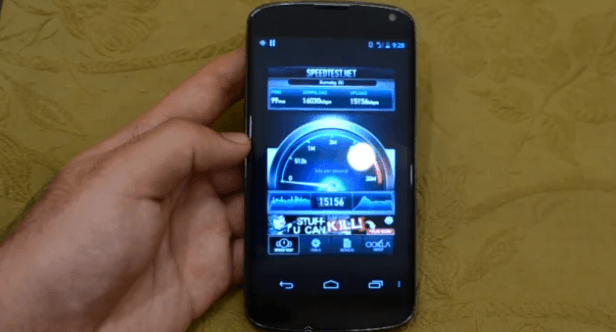 Apparently, it wasn't a disparaging issue because all of the Nexus devices, including the 4, sold out almost immediately after they went on sale. In fact, it's still hard to get your hands on the current Nexus phone. Clearly, the tech world isn't too concerned with the lack of LTE functionality (personally I think it's unacceptable).
Ifixit did a teardown of the Nexus 4 recently and discovered an LTE chip hidden inside. Everyone, including me, got a little excited that there may be hope for LTE support after all.
As it would turn out, the LTE chip inside the Nexus 4 only supports the 1700/2100 network bands. However, the only place that uses such a network is Canada, and the service providers are Rogers, Telus and Bell. The rest of us will have to make due with the individual HSPA+ support.
To clarify, the LTE functionality in the Nexus 4 has been tested in the US, and it just does not work. Don't expect the feature to be unlocked anytime soon either. This is not unusual because lots of manufacturers have included LTE capable chips in their devices, even if the feature is disabled.
To all of our Canadian readers, congratulations! Naturally, the rest of us are jealous- very, very jealous.
Now, we can move on to the most valuable part of the article- unlocking the LTE functionality. Again, just for those of you who weren't paying attention earlier, this only works in Canada. It's been confirmed working on Telus and Rogers, and most likely works with Bell too.
Open the phone dialer, as if you were going to dial someone's number, and enter the following: *#*#4636#*#*. This will open the phone's information menu.
Change the preferred network type from "WCDMA preferred" to "LTE only".
Now go into the standard settings menu and navigate to "Mobile Networks > Access Point Names" and then change your APN settings. To see what to change your APN settings to, find mention of your carrier in this thread.
Keep in mind, because you're actually setting your phone to "LTE only" that means when you enter an area where there is no 4G signal, you will not have a connection. This could be a killer issue for some, but others may find this sacrifice reasonable for the increase in connection speed.
Just in case you want some proof, I'm including a video from TekGadg showing off the active LTE signal on a Nexus 4.
TekGadg- Nexus 4 Has A Working LTE Radio In It
If you're fortunate enough to activate LTE on your Nexus 4, please be sure to let us know how it affects your battery life. It's no secret that LTE drains the battery. It will be fascinating to see how much it affects the Nexus 4.