Nexus 4 Sales Hindered By Supply Chain Shortages, Only 375,000 Sold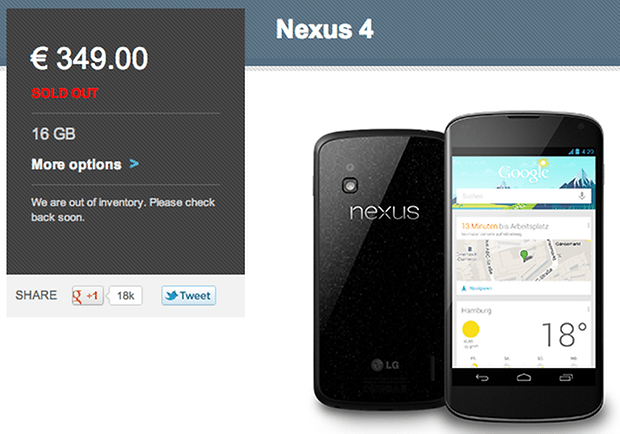 The day the Nexus 4 launched on the Google Play Store, it promptly sold out, sparking a wildfire of angry tweets from frustrated Android fans. Throughout Google's botched launch, the number one question on people's minds was: why did the new model sell out so quickly? Were thousands of people buying the new model per second or had Google ordered a too-modest amount of phones, all but ensuring the phone would sell-out quickly? Without official numbers from Google, it was impossible to tell if the Nexus 4's perpetual scarcity was indicative of high-demand or supply-chain shortages.
Thankfully, the trusted wonks over at XDA have started to piece together the Nexus 4's sales numbers using the serial number on the backs of their phones. Using these numbers, the users were able to pinpoint roughly how many devices are being produced per month (70,000 in October, 90,000 in November and 210,000 in December). Users were even able to figure out WHEN their Nexus 4 devices were made – one user discovered his was made three days after he had ordered it, but took a week to travel from Korea to Kentucky.
The big conclusion? Google Nexus 4 devices are perpetually sold out because LG has been slow to build them, not because of high demand. The estimated number of Nexus 4 devices sold hovers around 375,000 after 3 months. That's not a great figure, especially when stacked against blockbuster phones like the Galaxy S3 (20 million sold within the first 100 days).
But perhaps Google doesn't care. Historically, Nexus devices haven't been the most popular models. They're more showboats than stronghold devices. Sure they showcase the latest Google features, but Google rarely invests the advertising dollars needed to push them into blockbuster territory. That's just the way it goes.
Of more immediate concern to Android fans is the question: when will LG finally get its act together and start producing more of these babies? Unfortunately, we don't know the answer to that but you better bet we'll let you know when we know.