Android 4.4 is officially rolling out to owners of the new Nexus 7, but as always, it's a staged rollout and the knowledge that someone else might have it already is almost unbearable for many. The good news is you can install the official firmware yourself and avoid the wait. Follow along friends, and our tutorial will walk you through the process step by step.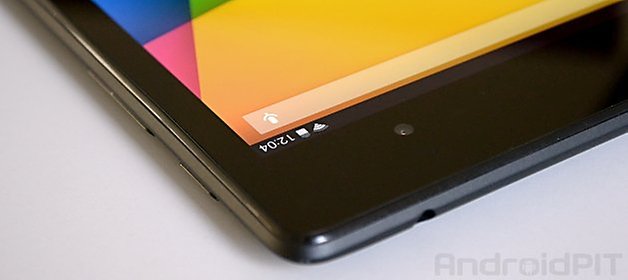 Preparation - downloads
Before you get started, you will need to download the following files:
Make sure that the firmware version currently installed on your Nexus 7 is JSS15R. To find out, open Settings > About Tablet > Build number.

Note: This KitKat update is only suitable for the Wi-Fi version of the Nexus 7 (codenamed "Razor").


Prepare your PC
Extract ADB tools and go to the folder "adb-tools". Hold down the Shift key on your keyboard and right-click on your mouse in any blank area in Windows Explorer. Choose "Open Command Window Here" from the context menu.
Then copy the previously downloaded firmware update into the "adb-tools" folder and rename it something simple, like "nexus7-kitkat-ota.zip".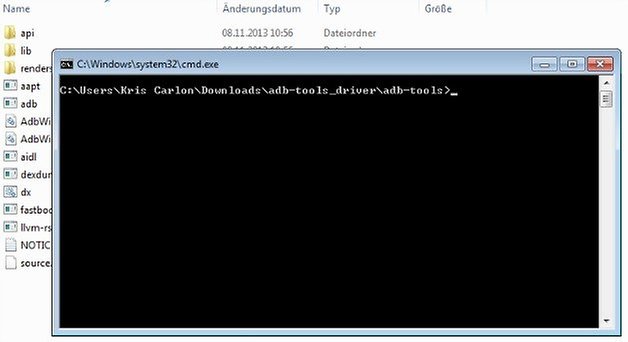 Prepare your Nexus 7
To get your Nexus 7 ready for installation, you must follow the following steps:
Turn off your Nexus 7.
Hold the Volume Down and Power button simultaneously. This will bring you to the fastboot menu.
Press the Volume Up button until "Recovery Mode" is highlighted in red. Confirm your selection with the power button.
The Google logo will appear briefly, then an Android with its stomach open.
Now hold the Power and Volume Up buttons to get to the recovery menu.
Using the Volume buttons, select the option "apply update from ADB" and confirm your selection by pressing the Power button. Now your Nexus 7 is ready for the update.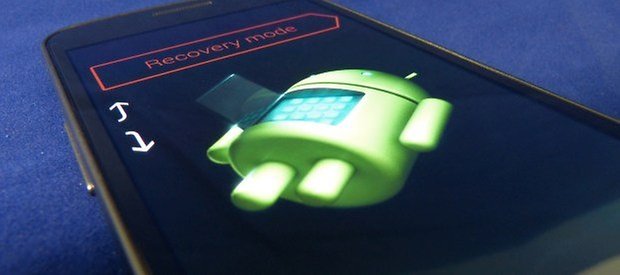 Installation
Connect your Nexus 7 to your PC with a USB cable and go to the command prompt window.
Type in the following command to install the update:
adb sideload nexus7-kitkat-ota.zip (or whatever you renamed the firmware file earlier)
The update will now be copied to your Nexus 7 and installed. The process takes about 5 minutes. You can now restart your tablet in the recovery menu using the option "reboot system now".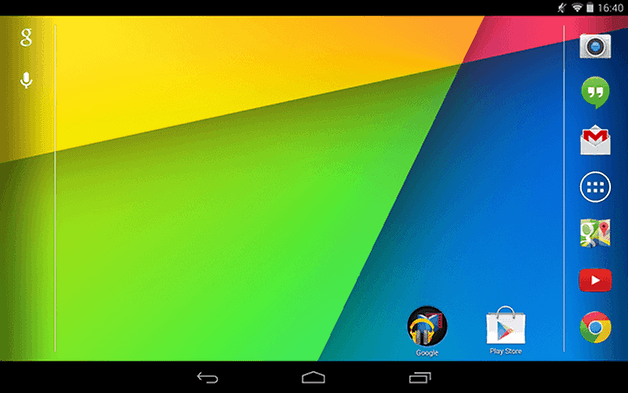 After the reboot you will greeted by Android 4.4 KitKat. However, the transparent system bars and Google Experience Launcher known from the Nexus 5 are not a default part of the update. To get these features enabled on your Nexus 7 (or any device, once it's running KitKat), just follow the instructions in our Google Search update article to get the official APKs installed now or await the official OTA update from Google. If you choose to wait, you can also get transparent system bars with the latest beta version of Nova Launcher.
Is your Nexus 7 rocking Android 4.4 KitKat yet? Have you installed the Google Search and Google Experience Launcher too? Thoughts?