Nexus 7 On Best Buy Going For $229.99 Upwards There has been plenty of buzz surrounding the next generation Nexus 7, ranging from leaked benchmark results as well as whispers of it arriving at Best Buy this coming July 30th. Well, one thing is for sure - the next gen Nexus 7 is going to end up at Best Buy for sure, where the product page is already up, where you can opt to pick up the Asus-manufactured Nexus 7 in 16GB and 32GB flavors which will retail for $229.99 and $269.99, respectively.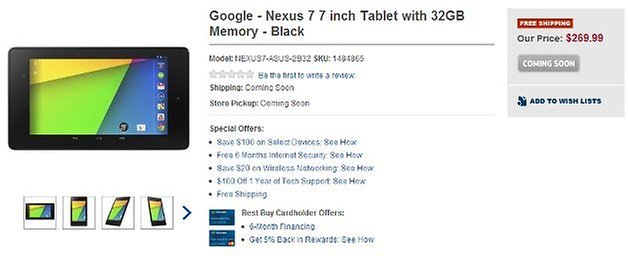 As we mentioned earlier, the new Nexus 7 will come with Android 4.3 Jelly Bean right out of the box, accompanied by a Qualcomm Snapdragon S4 Pro 8064 1.5GHz processor, Adreno 320 graphics, a 5-megapixel shooter at the back with a 1.2-megapixel front-facing camera. Connectivity options include Wi-Fi, Bluetooth 4.0 and microUSB 2.0. Your eyes will be treated to a 7" LCD High Definition (1,920 x 1,200 resolution), 10-finger capacitive touch screen display, boasting 300 cd/m² of brightness and a 178° viewing angle. Not only that, the glass boasts of scratch-resistant technology, while anti-fingerprint technology will minimize smearing for enhanced clarity.
Many people are looking forward to the new Nexus 7 which is tipped to be announced at Google's event that kicks off in a short while. Are you stoked yet?