 Chinese Government Blocking Nexus 7 Shipments. Still Mad At Google?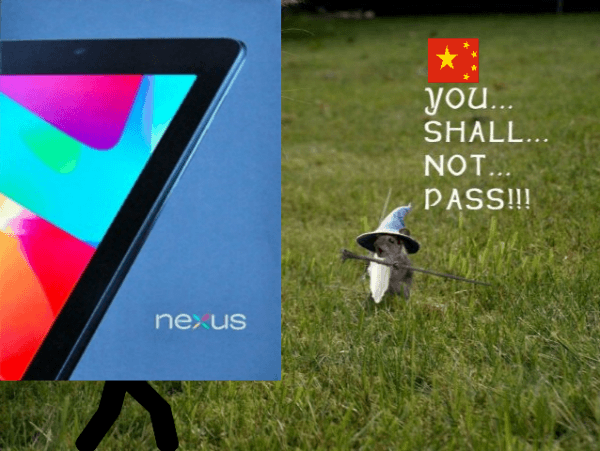 Google's Nexus 7 tablet is clearly one of the best selling Android tablets to date, and with its powerful specs, its $199 price tag, and pure Android experience, it's not that hard to see why. The extremely low price of the tablet gives it huge potential to be a hit in China, as it's difficult to find a high quality Android tablet at that price in China (or in any country for that matter). But unfortunately for the citizens of China, the Chinese government is apparently blocking the launch of the Nexus 7, and keeping shipments out of the country. But why would they do that? History my friends.
Remember that little squabble between Google and the Chinese government that happened back in 2010? For those who don't know about it, Google basically decided to redirect their search services in China to Hong Kong instead, amid claims from Google that the Chinese government were involved in cyber attacks against its users. Google also didn't like the fact that China was censoring search results for Chinese visitors, and the Chinese search page was eventually redirected to Google.com.hk (Hong Kong). It would seem that the Chinese government still isn't happy about all that.
According to Digitimes, industry sources in Taiwan made the following statement:
The China government's negative attitude is interpreted as a response to Google's announcement of withdrawing from the China market in March 2010, the sources pointed out. It is difficult for the Nexus 7 to enter the China market, even through sale of Asustek's marketing network there, the sources indicated.
So why would China do this? Revenge? Profit? Maybe both? If the Nexus 7 doesn't enter the market, local tablet makers would have less competitive pressure, which could push residents towards purchase from local tablet makers vs from Google directly. It could also be a reminder to Google that China hasn't forgotten about what happened, and that they don't need any of Google's services. An unfair move, but in a way, not a very surprising one.
Nexus 7 sales are set to reach 3.5 million by the end of this year, and that's without the Chinese market. While those numbers are certainly strong, one can't help but wonder how those numbers might be positively affected if the affordable tablet could enter the worlds largest internet using country.
Picture credits: imgbit.com, networkpanda.com, ayushdarpan.blogspot.com, and randomwire.com (merged and edited by myself)