Nexus 7 Overclocked to 1.64 Ghz, Destroys Tablets Priced 3x More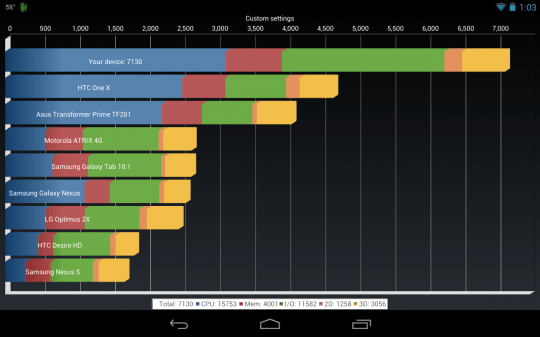 Today, the super cheap but oh-so-smooth Nexus 7 Tablet was overclocked to 1.6 GHz., which is incredibly impressive considering that's almost double the score of its closest competitor, the HTC One X.
Developer Morfic and his friends installed the Trinity kernel on the device before they managed to get the Nexus 7's Nvidia Tegra 3 quad-core processor up to an insane 1.64 GHz on Quadrant. Better still, battery life didn't suffer a bit!
There aren't any real-world tests that have shown the Nexus 7 is this fast in day-to-day tasks, but the fact is the Nexus 7 just won against a bunch of devices that cost THREE TIMES as much money.
If you're playing a game like Nova 3 on an overclocked kernel, you may see a SLIGHT difference in speed on the Nexus 7 versus the ASUS Transformer Prime. And that's a big, big deal for a tablet that is ostensibly geared towards budget customers. Google has set the bar really high here. I'm super impressed.