 Tablet Smackdown: Nexus 7 vs. iPad, Surface 8 Pro and Galaxy Tab 2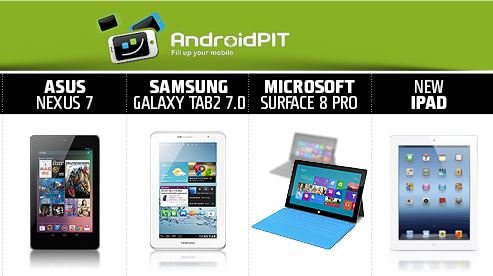 The Nexus 7 is a great device, but how does it compare to its competitors?
The Galaxy Tab 2 7.0 is probably the most similar, price-and-spec wise, followed by the Kindle Fire and Nook. The Microsoft Surface 8 Pro's price is unknown, but it could certainly end up competing for many of the same Nexus 7 customers. The new iPad, meanwhile, remains one of the best-selling options. Let's take a look at how these tablets compare!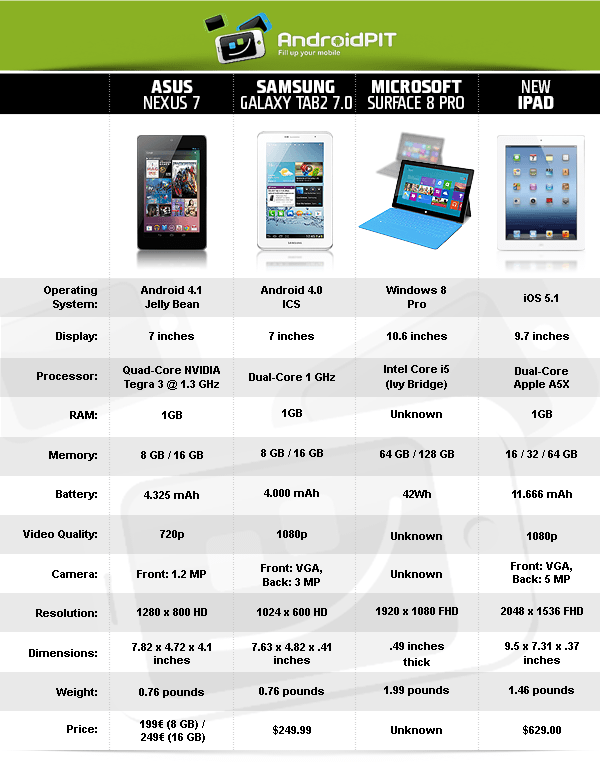 As you can see, the Nexus 7's display, processor and battery beats that of the Galaxy Tab 2 7.0 – and at $199 it's a full $50 cheaper. The Windows 8 Pro and the new iPad have larger, richer displays but it's unknown whether they're really faster. At $629, the iPad is by far the most expensive, although we don't yet know the price of the Windows Surface Pro, which could be as high as $800.