LG Nexus 4 Reveals Pinch To Zoom (And More) Coming To Gmail App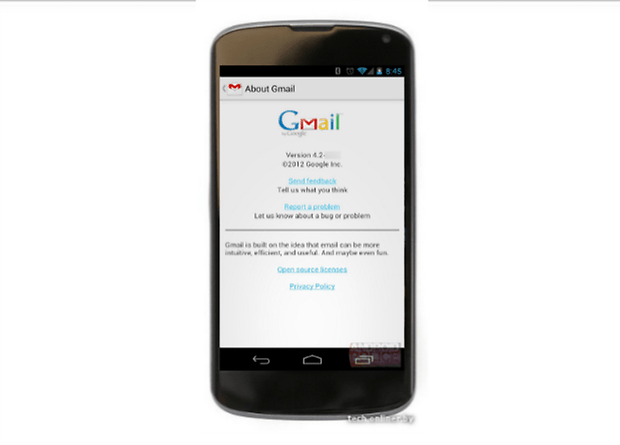 It seems our friends over at Android Police have gotten their hands on system dump of the LG Nexus 4 that we reported on yesterday, and with that system dump comes...... what kids? Jelly Bean 4.2 apk files, that's what! The guys didn't waste any time in extracting the Gmail apk file from the Nexus 4, and in doing so they made a pretty big discovery: Gmail 4.2 is bringing some pretty big changes, including pinch to zoom and swipe to delete/archive. How long have we been waiting on pinch to zoom for Gmail? Too long!
The Android Police crew put together a short video showing the new Gmail app and some of it's new features running on the Samsung Galaxy Nexus (pulled from the Nexus 4). Here is their video for your viewing pleasure (external link here):
I want this NOW. Keep in mind that just because you have a system dump, it doesn't mean that you can share its contents, which is probably why Android Police aren't uploading the file for all to test. I'm sure that once all legalities have been cleared, that you might see it popping up soon on your favorite Android sites (wink).For anyone who might already have their hands on that system dump, remember that you will need to be rooted in order to install the new Gmail.
I must admit that the swipe to archive feature looks pretty cool as well, and I'm curious to see what other goodies will be found in the next version of Android Jelly Bean (and in the Nexus 4 in general). Jelly Bean was damn near perfect in my eyes, and with adding features like these and eliminating the small "to do's" within Android, it's easy to see that Google still have plenty to do in making Android the best it can be.
Picture credits: Android Police and Onliner (merged and edited by myself)