Nintendo is bringing VR to the Switch with a new Labo Kit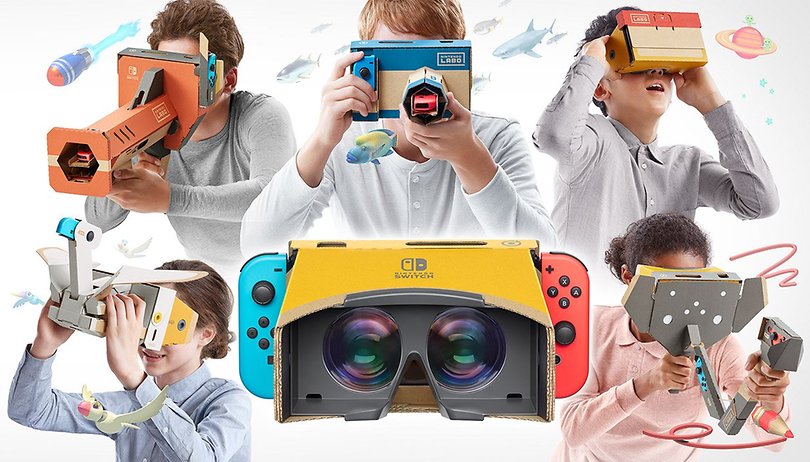 Nintendo plunges into the next dimension. 24 years after the Virtual Boy, the Japanese company is venturing into virtual reality once again. The VR headset for the Switch, which has already been circulated, will become a reality with the help of the Toy-Con 04 expansion package of the Labo series. It will arrive on 12 April along with several other expansions. But a number of questions remain unanswered.
So far, Nintendo has only presented it from the outside. The manufacturer advertises: "The Nintendo Labo: VR Kit combines the innovative physical and digital gameplay of Nintendo Labo with basic VR technology to create a simple and shareable virtual reality experience for kids and families." The cardboard extensions are shown sufficiently in the official presentation. In the three packages there are:
VR glasses in Labo-typical cardboard format
Toy-Con Blaster
"Camera" (Expansion Package 1)
Elephant (Extension package 1)
Bird + wind pedal (extension package 2)
First you have to fold the whole thing from flat and perforated cardboard sheets. Elastic straps hold the goggles together with the Nintendo Switch to your head. Similar to previous Labo constructions, it helps the Nintendo Switch gain new functions. If you don't know how Labo works, take a look at the video below.
What contents are waiting for us with the Toy-Con 04 VR Set has not been shown yet. We also don't know if VR with a 1280x720 display really looks good - it's doubtful! The set will be on sale from 12 April at a suggested retail price of $79.99 for the full VR Kit, which includes all extensions, and $39.99 for the Starter Set + Blaster.
What do you think about Nintendo's venture into VR? Are you excited? Share your thoughts in the comments.