No More Annoying Notification Ads After Jelly Bean!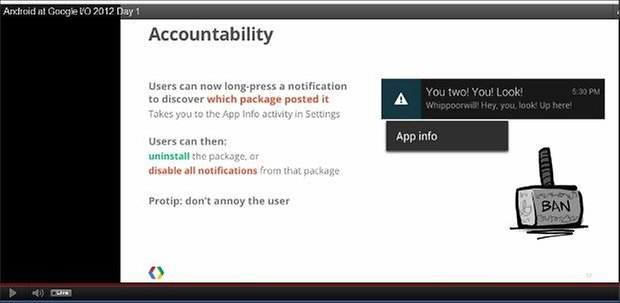 In-app advertising is bad enough but when the ads migrate to your Android's notification tray, it can make you want to throw your phone into oncoming traffic. Notification ads drain your battery by waking your phone up at odd hours and distract you from the notifications that matter. Worse, it's near impossible to figure out what apps are sending these annoying ads. You'd have to uninstall all the apps in your phone to find the culprit.
Until now!
Google has just unveiled a new feature that allows you to long press a notification to discover which app posted it. You can then uninstall the app or disable all notifications from that app.
The new feature will ensure that notification ads are no longer able to pester you at all hours. Best of all, it will eliminate notification ads as source of revenue for app developers. They'll have to come up with new and better ways to make money off their apps. Sure, it will take a while for Jelly Bean to migrate to all devices, but this is a big step in the right direction.
Google: your trusted spam-protectors!