Why Nokia Didn't Go With Android. A Decision They Regret? (Part 2)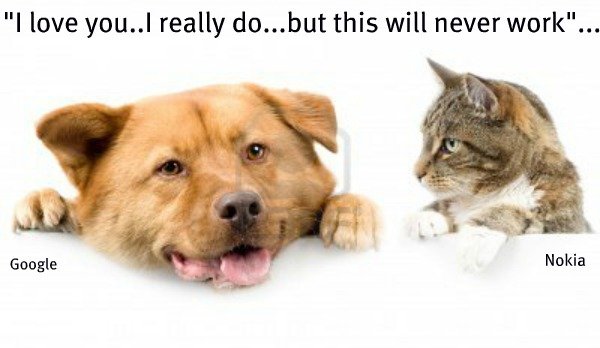 Yesterday I wrote an article about how Nokia and Motorola were struggling to gain leverage in the smartphone market in Europe, and learned that carriers in the EU were very direct in saying that Nokia simply cannot compete with Android and IOS devices. But here's a fun fact for you: Did you know that Google offered Nokia Android before they chose to partner with Microsoft? It's true! In fact, they spent a lot of time with Google discussing the option, but in the end decided to go with Microsoft as their operating system of choice. Nokia shares are at a 15 year low, so I thing it's pretty fair to ask 2 questions: 1.Why didn't Nokia choose Android instead? and 2. Do they regret their decision? I discussed how Nokia lost their marketshare and how they confidently stated that they could fit into Android's ecosystem in part 1 of this article, which can be found here. But now we will find out WHY Nokia chose not to use the Android operating system that they admittedly said that they could fit in.
So picking up where we left off: Nokia dominated mobile, the iPhone and Android arrived, Nokia lost 99% of their marketshare, their CEO publically admitted that they were being brought to their knees by the iPhone and Android, and commented that they would fit into Android's ecosystem nicely. It seemed like this move would work, and Google was more than willing. But here's where it gets tricky.
Why They Didn't Choose Android
While Nokia had great things to say about Android, they also mentioned Windows phone and admitted that Android was ahead of Windows Phone: "Android is growing very nicely; it has significant market share.Windows Phone is in its early formative states in terms of customer traction and so forth." He doesn't sound that convinced of WIndows in that statement does he? But one thing you should know about Stephen Elop (CEO of Nokia): Before working for Nokia, he was head of the Business Division for a little company called...you guessed it....Microsoft.
So the relationship was already there, and Microsoft capitalized on it. His additional reasoning for choosing Microsoft is complex and debatable. When asked why Windows Phone, he answered at a Nokia press conference in February 2011: "It gives us the opportunity to lead. It gives us a faster path to the United States marketplace." But what's interesting is that he stated why they were reluctant to use Android, saying that with Android, Nokia handsets would just become "another Android-running phone". He went on to say that "We absolutely spent time with our colleagues at Google. Our fundamental belief is we would have difficulty differentiating. The commoditization risk was very high."
A risky move
So basically, it seems that their choice had nothing to do with market share or a technical advantage, but more because they were afraid of becoming irrelevant or "just another Android phone". In their view, a third ecosystem to compete with Apple and Android would be incentive enough for carriers to help get Nokia through its problems. Another interesting point I discovered when I talked to a former Nokia employee was that if Nokia would have gone with Android, they would effectively given Google and Android way too much of the marketshare that they already dominate, making the only choices for consumers wanting a smartphone Andriod or IOS. But lets be honest...isn't this what ended up happening in the end anyway? Is it not better to partner with the company that you know could move and sell your devices and integrate well into their framework, rather than take the chance of siding with a mobile market that has never successfully gotten it's own stuggling mobile division off the ground?
I guess only time will tell. The Lumia phones are shaping up to be good devices, make no mistake. But whether the public will openly embrace them enough to save Nokia from its financial woes is yet to be seen, and if they actually do regret the decision is probably nothing they would ever admit anytime soon.
Picture credits: 123rf.com (edited by myself)