 N.O.V.A 3 Now Available On Google Play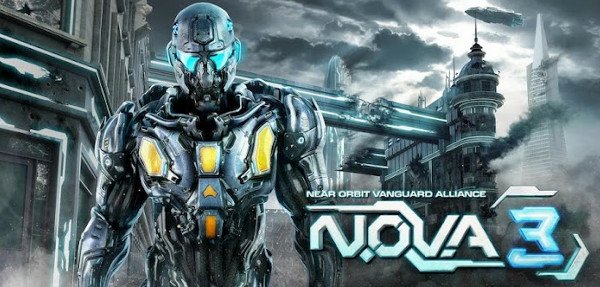 Awwwwww yeah! If you checked out the article from yesterday about my favorite first and third person shooters for Android, you already know that I love playing shooters on my tablet. Now while my top 5 personal favorites didn't include any of the previous N.O.V.A games, I had debated on switching out Brothers in Arms for N.O.V.A 2 HD. Even though I chose not to, I definitely WILL be going straight to the Google Play Store this weekend to download N.O.V.A 3, as the 3rd installment of the N.O.V.A series has officially hit the Play Store.
I'm looking on the Play Store as I write this article, and I have the green light to install on my Galaxy Nexus and Transformer Prime. I have read that some users with dual core devices aren't able to install the game, so you might want to head to Gameloft's website to see if your device is supported before buying.
Here is a brief rundown of what Gameloft has to say about their new shooter:
• An epic storyline: Humanity finally returns to Earth after years of exile! Fight in 10 immersive levels across the galaxy, from a war-torn Earth to a frozen Volterite city.
• Multiple weapons and powers: Run, shoot, drive vehicles, and pilot a mech to defeat hordes of enemies.
• Join 12-player battles in 6 multiplayer modes (Capture the Point, Free-for-All, Capture the Flag, etc.) on 6 different maps.
• For the first time, multiple allies can jump inside the same vehicle and spread destruction on the battlefield.
• Discover the new FPS benchmark for graphics and gameplay (real-time shadow & lights, particle system, ragdoll physics, etc.)
And here's a video of the multiplayer trailer:
Good looking stuff! You'll need a whopping 2GB of free memory to install the game, and it will cost you €5.80 ($6.99). It seems to have very good ratings on the Play Store so far, and if it's anywhere near as fun as the 2nd part, I'm can assure you that it's well worth the couple bucks you'll pay for it. You can grab it from the Play Store here.
I'm gonna hold off on downloading this one to finish some other games first, but if you do happen to download it today, let us know how you like it so far!
EDIT: Couldn't resist. Bought :-D
Picture credits: Google Play Store
Video credits: Gameloft Youtube channel