November Stats Released, ICS Gaining Headway in the Android Market Just in case you haven't caught this information in the past, Google releases statistics via the developer dashboard, every month detailing the different versions of Android. In the stats, we get a chance to view which version of Android is used most, and which versions are the next up and coming hit. Obviously, the focus is mainly directed towards the latest version of Android, but realistically the stats always give us a glimpse at how fragmented the market truly is.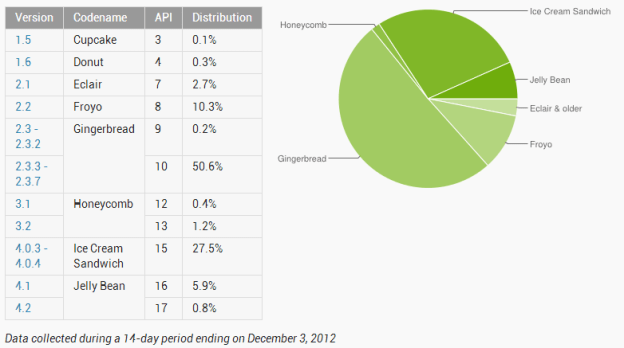 With carrier update cycles taking so long at times, and various devices being dropped from future update lists the total Android market begins to space out across the different versions.
As much as I love Android and have a strong faith in the success of the platform, these statistics usually make me feel disheartened. It just reminds me of some of the biggest flaws with the platform, that I certainly hope we'll eventually overcome as a community.
The stats that were just released were for the month of November. The data for the statistics were collected over a 14 day period ending on December 3, 2012. In order to obtain the information, Google anonymously polls devices that are connecting to the Google Play market during the data gathering period.
Ice Cream Sandwich is apparently up 2% from last month, comprising a total of 27.5% of the Android market. Meanwhile, Honeycomb is holding strong at 1.6%.
Gingerbread still holds most of the market at 50.8%, but seeing as that's the time when Android hit its capacious growth and gained lots of recognition, it will probably always comprise most of the market.
The leading news here is that Ice Cream Sandwich is finally starting to gain some headway. It may be a little late though, especially since Android 4.2 is now starting to roll out.
The historical distribution graph (below) shows ICS growing substantially in the past few quarters while Jelly Bean is also starting to pick up. Jelly Bean, by the way, makes up a total of 6.6% of the Android device market.

Interestingly enough, devices supporting OpenGL versions 2.0 and 1.1 comprise 90.8% of the market while the remaining 9.2% belongs to devices that only support the older 1.1 OpenGL standard. Obviously, the higher version of OpenGL requires more hardware and a stronger internal GPU.
This information may be a little boring to a lot of you, but the point here is to determine which versions of Android are seeing an increase in usage, and which ones are becoming extinct. Budget devices are still entering the market with older versions of Android like Gingerbread, and it's fascinating to see how this affects the global market statistics.
You can be sure that next month I'll be reporting again when December's stats are made available. If you found this article rather drab, I apologize, next time I'll be sure to sing and dance for your merriment during an intermission. Maybe I'll even do so while seated atop a unicycle.