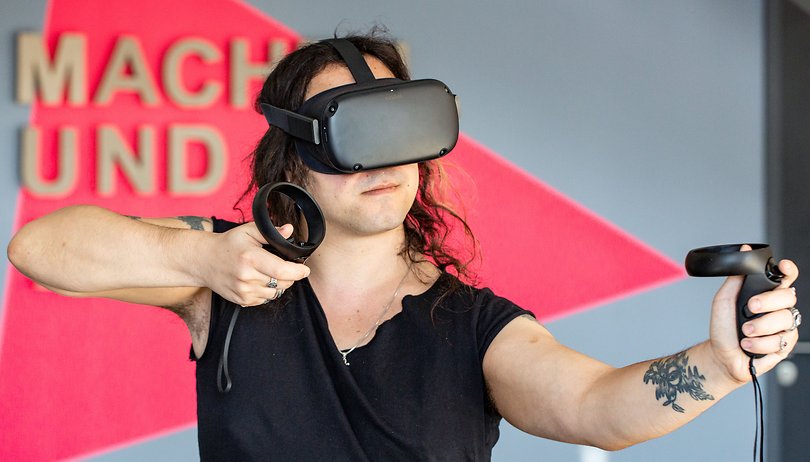 Oculus Quest hands-on: VR unchained
Facebook's Oculus Quest has been teased for many months now, promising a true breakthrough in the world of virtual reality. A standalone VR kit that can be played out of the box without the inconvenient (and expensive) need to connect to a PC or smartphone. No cables, no external sensors, 6DoF motion tracking, and access to a wide content library of apps and games. We had some time to play with the Oculus Quest, the VR headset on a...mission...to conquer the mainstream.
The price of freedom
The Oculus Quest, along with the PC-tethered Rift S, is now available for pre-order. Shipping begins May 21. The base price is $399 for a device with 64GB storage for your apps and games, but there is also a 128GB version for $499.
An Oculus Evolution
The Oculus Quest shows its ancestry and will look familiar to anyone who knows the Oculus Rift, but it's a remarkable achievement to pack so much computing power into a compact and lightweight (571g) package . The straps are adjustable from the sides and it's remarkably comfortable, In testing, I was able to go through energetic gaming sessions for about an hour before feeling pressure on the front of my face (and even then, much less so than with other VR headsets).
There's a slider on the front of the headset to adjust the inter-pupil distance of the lenses, and an extra frame you can insert to create more space if you're wearing glasses. Overall, the Quest is well designed and it didn't take myself or anyone else longer than a few seconds to find a good fit. My only complaint (and I wasn't the only one who experienced this) was that my nose didn't fill the gap left for it, thus leaving a small window to reality at the bottom of my vision. Better to have too much space than too little in this case, there'll be more people who will experience less than perfect immersion because of this, and may have to look into custom face covers.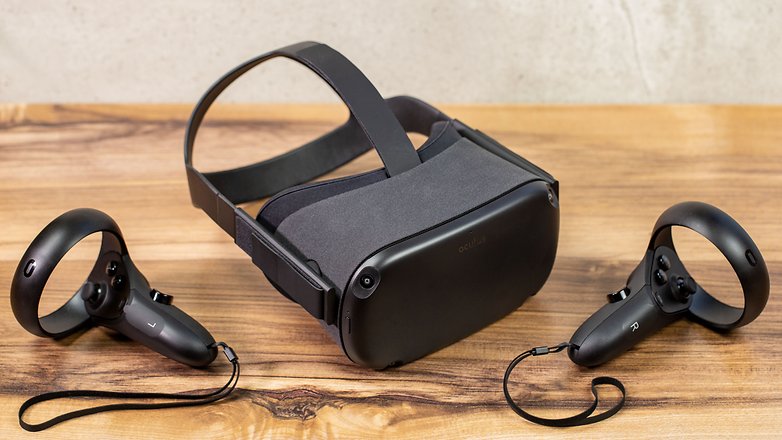 In my opinion, Oculus has always had the best controllers of all the main VR platforms, and the included Oculus Touch controllers don't disappoint. The controllers are small and light, with two buttons, home button, trigger, grip and thumbstick all within easy reach. One issue I usually see newcomers to VR struggle with is the controls, but with Oculus Touch, every input rests close to your fingers so you don't lose your way around them. The controllers are battery-powered (AA).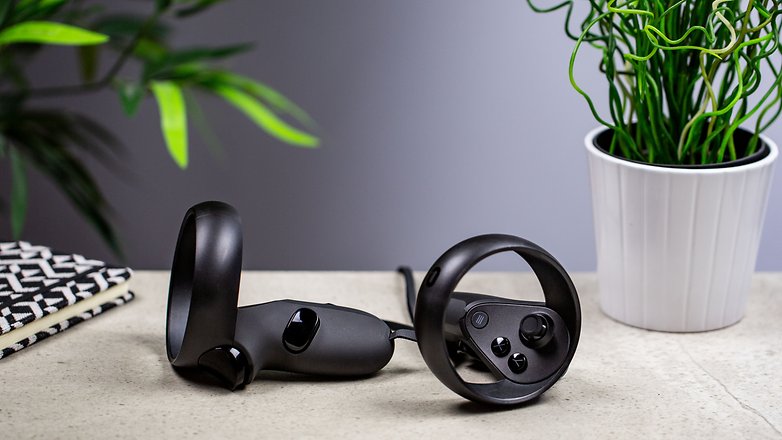 Also included in the box is a charging cable, the only tether that you'll occasionally have to plug into the Oculus Quest. The battery life of the device will depend upon use of course. In our initial sessions, we could get just under three hours with the demo games before plugging it in.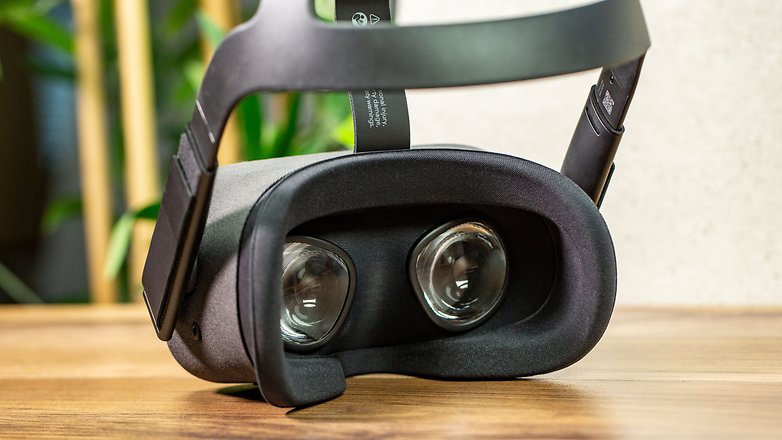 Rather than earphones, Oculus Quest has speakers built into the headset as well as a microphone. The positional audio is decent - in immersive games, you'll sometimes need to use your hearing to hear your teammates or something sneaking up behind you. This can be good for when you also want to be able to hear other people around you or keep an ear out for your real-world surroundings. There are two 3.5mm headphone jacks so that you can connect headphones if you want to.
Sets up like a dream
One nice thing about cutting the PC out of the equation is just how fast and easy it is to get started with the Quest right out of the box. All you need to do after unpacking is download the Oculus app for your smartphone and register an account. This just takes a minute and since, then I haven't had to check my smartphone for anything. Compared to running a VR software on a Windows PC, it's an absolute dream. Just pick up and play, straight into the action.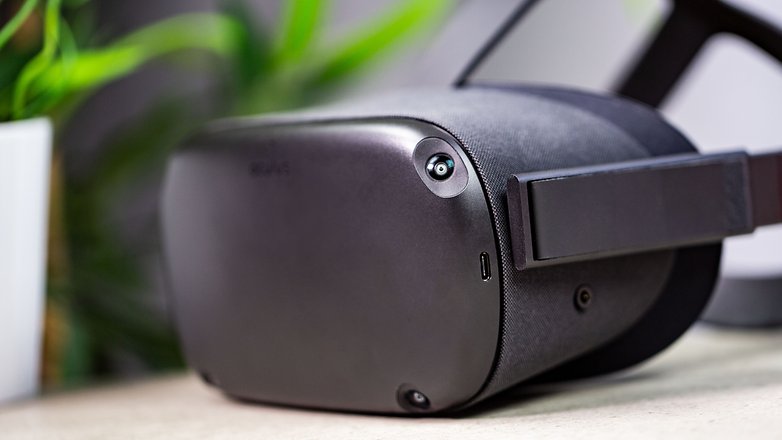 Thanks to the four integrated tracking cameras, you can still see your real-world surroundings through the headset. Oculus calls this feature Oculus Insight and it's fantastically useful for setting up your play area with this mobile headset. The world around you appears in black and white and distances are not quite perfect—it made me feel like a ghost looking in from another dimension, but it means that you can scan your play area to make sure that you aren't bumping into the furniture of family members. Once you define this area, you're ready to play, and Quest will automatically revert to Insight vision if you step out of bounds—a handy safety feature.
The included tutorial is excellent. It introduces a play environment and simple games step by step, does a brilliant job of easing newbies into VR and getting them familiar with all the potential of the Oculus Touch controls. You handle virtual objects, learn how to grip and point, shoot and dance. I invited a few VR virgins to try the Oculus Quest, and I'd never seen anyone pick it up so fast, thanks to the elimination of many of the hurdles involved in past VR solutions.
Sharp visuals in a small package
The Oculus Quest may not have the most high-fidelity visuals on the market today but the results squeezed out from this standalone headset are truly fantastic . The 1,600 x 1,440 resolution per eye on the OLED panel is a significant improvement on the OG Oculus Rift and HTC Vive (1,080 x 1,200 per eye). So if you've used either of these PC-connected VR headsets before, bear in mind that the Oculus Quest can keep up.
Having said that there are limitations to what the mobile SoC can do here, and the visual quality won't match more recent PC-connected headsets like the HTC Vive Pro, Samsung Odyssey+, HP Reverb or even its own sibling the Oculus Rift S.
There is a noticeable screen door effect when viewing through the Quest, kind of like looking through a fine mesh because of the visible pixel distance. Having said that, overall visuals are clear, colors vibrant, and when you're actually playing a game, the screen door effect is hard to notice through the action and graphics looked sharp and clear throughout my play experience.
Standalone VR gaming has truly arrived
So how does the Oculus Quest manage its mission to deliver quality VR gaming in a portable package ? Based on our time together so far, Oculus has managed to make a Snapdragon 835 and 4GB RAM work wonders thanks to skillful optimization.
The Oculus Quest comes pre-loaded with several game demos that give new users a taste of the varied potential of VR gaming right out of the box. This includes the smash hit lightsaber rhythm game Beat Saber, sci-fi wave shooter Space Pirate Trainer, a chance to step into the boxing ring in Creed, a mystical adventure in Journey of the Gods, and a virtual tennis match in Sports Scramble. Our review device came with some other extras, some of which were not ready for installation at this point. But for our first impressions, myself and some brave volunteers mainly stuck into two VR classics: Beat Saber and Space Pirate Trainer.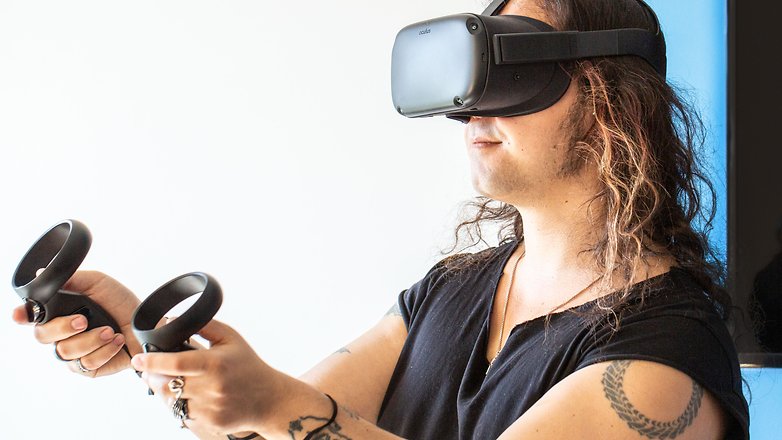 Both of these games are action heavy, with players slashing in different directions and dodging obstacles and attacks, but at no point did the Quest feel heavy or obstructive, nor did we experience any motion sickness. I'm happy to say that the games are just as enjoyable on the Oculus Quest as I experienced them on the HTC Vive and Oculus Rift in the past. In fact, the Quest delivers on its promise of standalone VR gaming that lackluster attempts like the Lenovo Mirage Solo could not.
The 6DoF tracking via Oculus Insight went off without a hitch, though we will do more positional tests in time for our full review to discover just what its limitations will be. It's true that the Oculus Quest will not be able to play the most demanding VR games of the future, but it's also important to note, as titles like Beat Saber and Superhot VR have demonstrated, that the best VR games aren't necessarily the most graphically complex.
Oculus Quest has its own store and an impressive array of launch titles including Robo Recall, Apex Construct, Moss Tilt Brush, Rec Room and other proven titles. You can check the full list here. Even if the Quest is your only gaming platform, you won't be lacking for content or betting on an unknown quantity.
A perfect introduction to virtual reality
Upon first impression, Oculus Quest is a genuinely exciting new product that stands every chance of succeeding in its mission to bring VR to the masses. It's not the most graphically rich or powerful option on the market, but the very cutting edge of VR still remains the preserve of enthusiasts with money to burn.
Instead, what you've got here is the elimination of almost every barrier to entry to VR. No need to invest in an expensive gaming PC. No third party software or clumsy flipping between interfaces. No ugly sensors mounted in your living room. Take it to a friend's party. Take it on vacation. Easy and fast setup that just works. Quest is a VR solution for you, your child and your mom.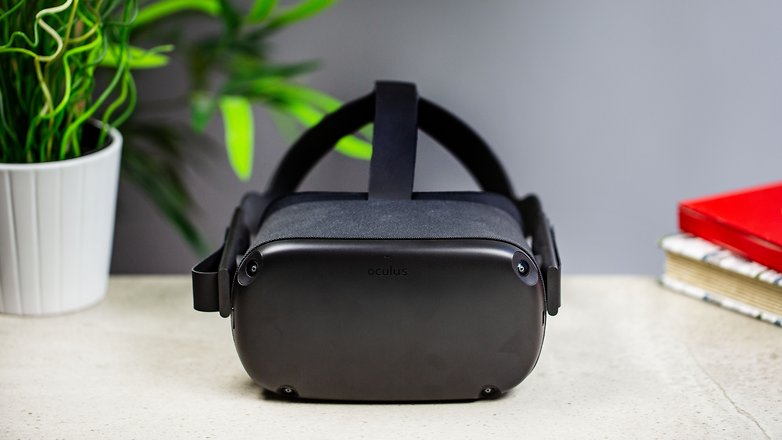 After an impressive start, we'll be putting the Quest through its paces in follow up tests to see what issues may come up in regular use, and how the Quest measures up to its PC-tethered cousins in running the same games. The VR market, with upcoming offerings from old rivals HTC Vive and new arrivals like the Valve Index, will continue to present interesting options but right now the Oculus Quest enjoys a unique position in its balance of cost, convenience and content.