Deal Alert! OfficeSuite Professional 6 On Sale For $.99. Down From $14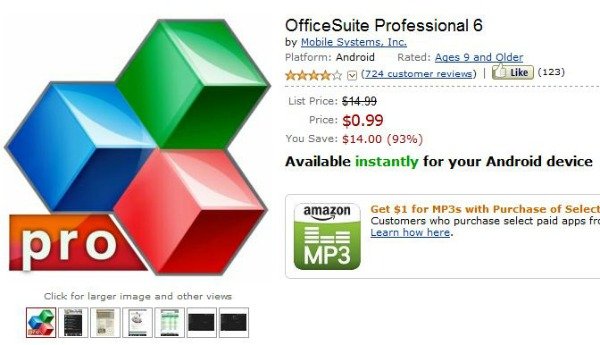 I don't know about you guys, but I buy a pretty good amount of Android apps, and if there's a sale going on, I won't hesitate to jump on it. This particular offer just happens to be one of those great deals that I highly recommend you jump on, especially if you own a tablet. OfficeSuite Professional 6, which many feel is one of the best "Office-like" applications on the Play Store, currently sells for $14.99 (which I consider a pretty pricey Android app). But today, the app can be purchased on the Amazon Appstore for the ridiculously cheap amount of $.99. That's right folks....14 dollars cheaper the normal Play Store selling price.
New features of the app include the following:
Now offering Microsoft Office Font Compatibility Pack (sold separately) *Note - OfficeSuite Pro comes with a base pack of ready-to-use fonts. Purchasing the Microsoft Office Font Compatibility Pack is optional and it ensures that you have the licensed versions for complete font compatibility.
Page view for Word and other text documents
Headers and footers in Word documents
Page numbering in text documents
Editing in PowerPoint Slide View for fast slide changes
Object manipulation in PowerPoint – move, resize, rotate
Filters in Excel to help you can quickly and effectively handle your data
A rich choice of 240 unique functions for Excel alone
Improved cell selection in spreadsheets
Cursor adjustment for text documents
WordArt support in text documents
Optimized for Android 4.0
For anyone who edits documents a lot on their phone or tablet, you simply can't beat this deal (unless you were lucky enough to get your hands on it the one day it was Amazon's free app of the day). So if you live in the US, open up another tab in your browser, and get it NOW.
You can purchase the app via Amazon here. I just wish I could make Amazon App purchases from Europe!
Don't miss out on this one guys. It's too big of a discount! :-D