 Official Youtube App Updated to Accommodate Ten Inchers
The official Youtube app just got an update, which is probably pending on your device right this second, that adds support for 10" tablets. Not that, the app didn't already work for all kinds of tablets, but the latest update changes the design on larger screen devices. Now all of that added real estate actually counts for something.
You can actually use your ten inch device the way it was intended thanks to the latest update.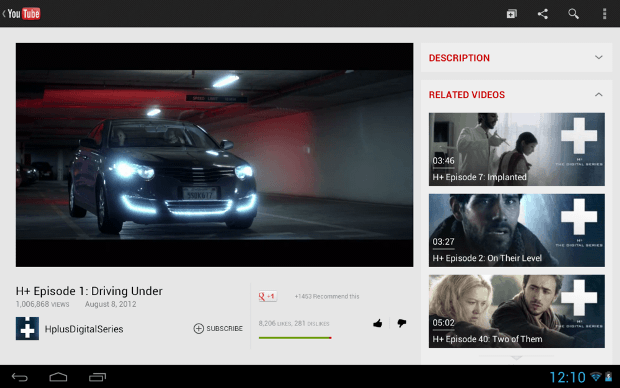 The new layout makes use of the "fragments" feature that was first added in Honeycomb. Fragments essentially displays two columns on the screen, the left column is commonly used for navigation and the larger right column is used for content. As you can see from the image, the new Youtube configuration does just that.
The left column is used for navigation, including links to channels feeds and personal accounts, while the right column displays all content for a particular feed. In the case of video playback, the video plays on the right while the comments and information remain displayed on the left.
There's not much else to say about the new format because it pretty much speaks for itself. If you do own a ten incher, then I recommend trying out the latest update as soon as possible. As always you can get it from the Google Play store.
Of course, there's also a bunch of general bug fixes to make the app run better across a wide swath of devices. At least the rest of us without 10" tablets still get a little somethin' somethin'.