Our ''Hat-Trick'' of Hockey Apps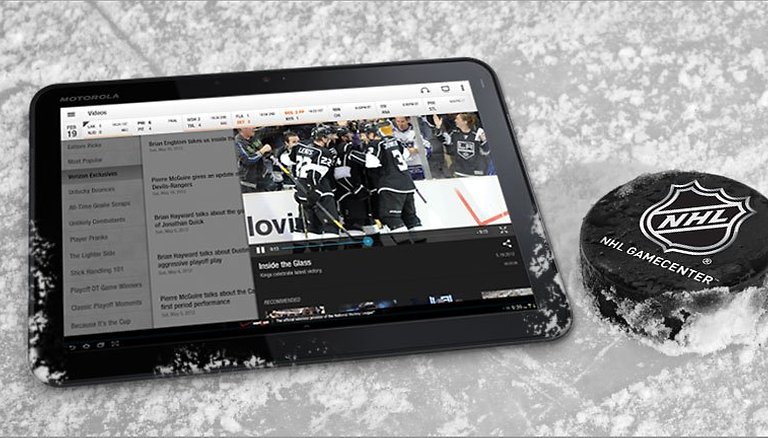 The NHL playoffs started in North America on May 1st. Though many hockey fans don't really care what happens in the playoffs up until the finals, some still live for the games right from the first one. This year it started off with the Chicago Blackhawks giving it to the Minnesota Wild, the Anaheim Ducks tying it off with the Detroit Red Wings and the Vancouver Canucks absolutely ripping through the San Jose Sharks. As the rounds progress, some like to keep up with the pre-game hash outs and pools, live-ticker as well as post-game analysis, but how is this done? Introducing the NHL Game Center Official App. Is this really the best way to keep up with your favorite teams?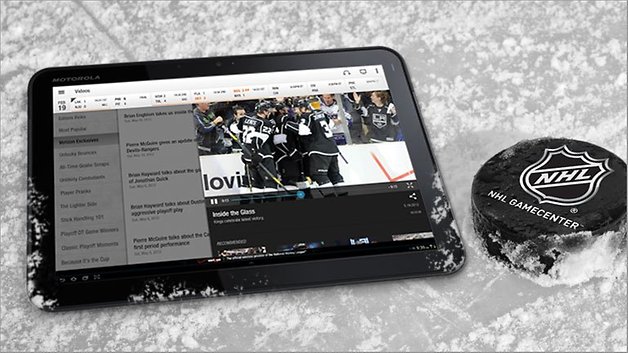 After you've downloaded the free app, which ends up using up 20 MB after installation, you're asked to choose your fave teams right off the bat. I obviously chose the Edmonton Oilers. Then it will bring you to game overview page presenting the present day's games and scores. You can click on the calender icon found in the top right corner to see what games will be playing when.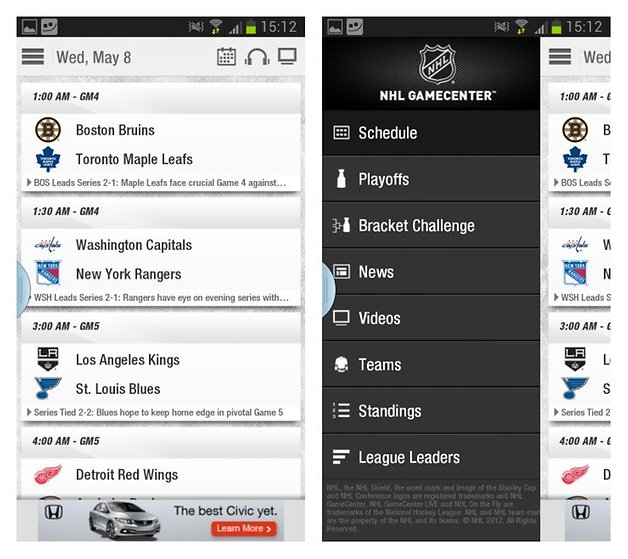 On the top left side, there's a menu bar that will slide open. This offers playoff game info and a bracket challenge for the chance win a prize. It also packs news and videos of gorgeous goals, super saves, shootouts, bloopers and funny fans. I found this to be really cool and entertaining.
The teams tab is stoked full of info about schedule, roster, stats and tickets. Next you'll find the standings broken down into division, conference and leagues. Lastly, it provides you with a closer look at the League Leaders.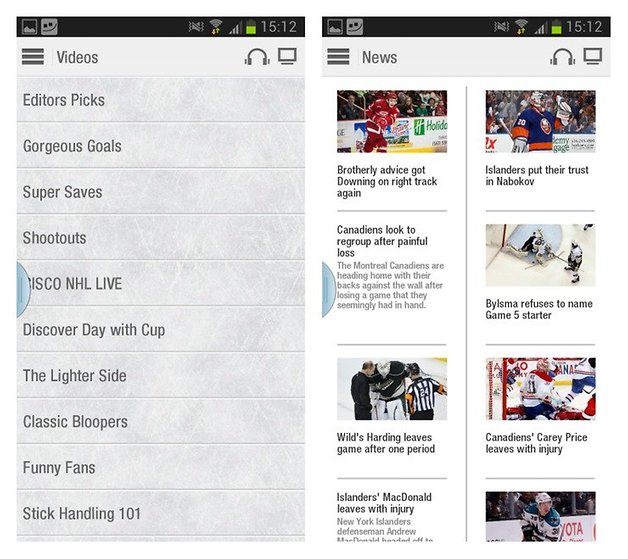 Unfortunately, that's pretty much where the free app's functionality ends. For the other audio and video features, you need to upgrade to the paid app, which costs $4.99. Before I decided to go ahead and pay for this, I wanted to check out the reviews in the Google Play store: I was unpleasantly surprised! Most of the comments were negative, raving about crashes, log-in problems, faulty updates, inconsistencies, just to name a few. This app was described by most as being ''terrible'', ''no sound, no help'', ''unusable for videos'' and a ''battery eater''. Therefore, unless the NHL fixes their app, I'm not going to spend money to get the upgraded version and I can only recommend you do the same.
But what other apps can poke-check this NHL app and do the trick to keep you up-to-date with games?
Here's a real spin-o-rama hockey app called Hockey Summit: NHL News. With its 614KB, it's installed in a matter of seconds. This ice-loving app displays news feed from other websites, mainly from ESPN, bringing it all under one comprehensive tab. It offers ''Shortcuts'', which will give you the basic score/schedule, My Team, Standings and Team info. Then, you have the videos, which are all from YouTube and present some interesting highlights, interviews and other watch-worthy clips. You can even drag all of your favorite hockey news over into the favorites tab.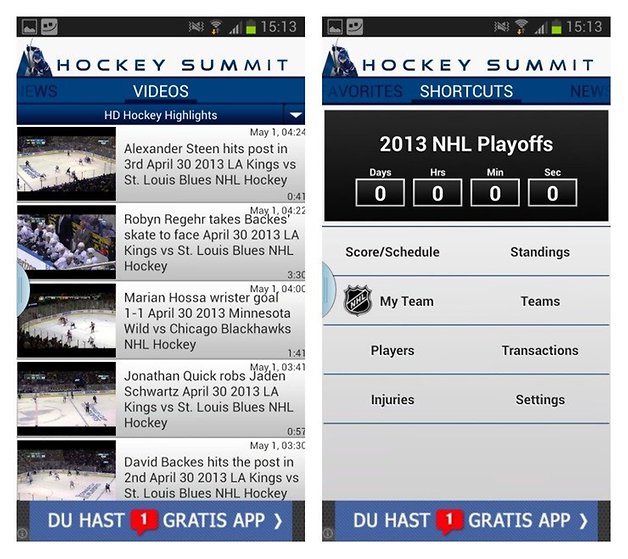 Another free one I discovered was theScore: Sports and Scores. It offers scoreboards for the NHL, NBA, NFL, MMA/UFC, NASCAR and more. It's more limited in its choices: scores, news, standings and leaders. It's compatible for devices with Jelly Bean 4.2 or higher. You can also set up your personal MyScore, where you can follow individual teams.
There are many hockey apps out there. How useful an app is depends on the individual and their personal interests. Of course, it would be great to watch live games and have live-audio. Maybe one day, if the NHL Game Centre improves its app, I will give it a try.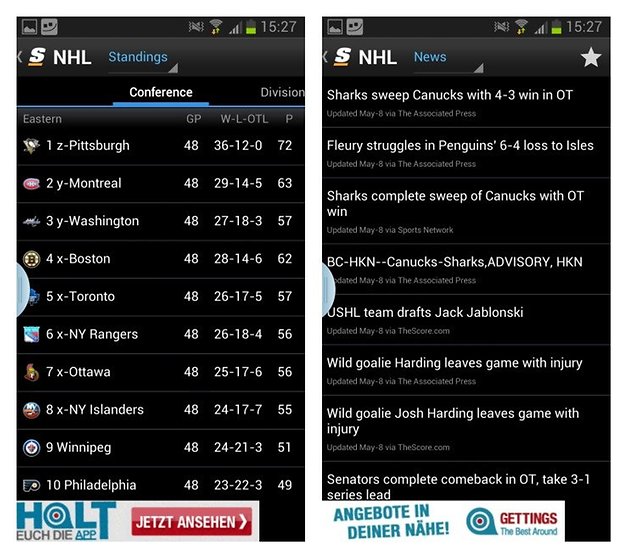 Other hockey apps are The Hockey News, CBS Sports and TSN Mobile: Android Edition. If you're looking for something more lighthearted, try NHL Quiz 2013 and Ice Rage. Do you know of any other hockey or sport apps that are better?