Paper for Android: When Will the iPad Smash Come Our Way?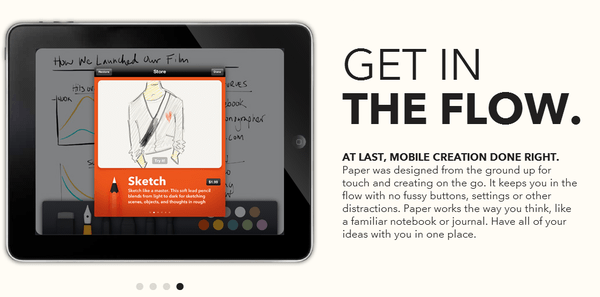 The app Paper – which allows anyone to create gorgeous drawings using their fingers or a sylus on the iPad – has been downloaded 1.5 million times over the past two weeks and is already being proclaimed the "next Instagram." Like the insanely popular vintage photo snapping app that eventually made its way to Android, Paper uses sophisticated software to make your creative output look more aesthetically pleasing. Some of the drawings created by this app I found to be truly stunning.
Just take a look at this compelling promotional video:
Paper provides drawing, sketching, outlining, writing and coloring tools. What makes it truly stand out from other drawing apps on the market, argues the Verge's Paul Miller, is that Paper is aimed at amateurs, much like Instagram in many ways. It's not impossible to create an ugly drawing using Paper, but it's harder to do so than with a number of other apps. Miller argues that its the reduction of available creative options that make apps like Paper and Instagram so appealing; by entering your own creative works into the app, you're entering into a dialogue with other users based on a shared aesthetic language.
So when will Android be getting its own version of the Paper app? I contacted 53 – the development team behind Paper – for an answer but haven't heard back yet. Certainly this app would work beautifully on the Galaxy Note; it's simple enough to work on a smaller screen and the Galaxy Note is intinitely more portable for sketching on the go. But as was the case with Instagram for Android, it could be quite a while before we see an Android version of this app. You'll know when I know..