PengPod the True Linux Tablet for Open Source Individuals Android is one hell of a platform. I think we can all agree that it holds a special place in our hearts. That being said, Android is no Linux. It's certainly more accessible than iOS, or the new Windows mobile platform, but there are still a lot of Droids out there with locked bootloaders and airtight policies.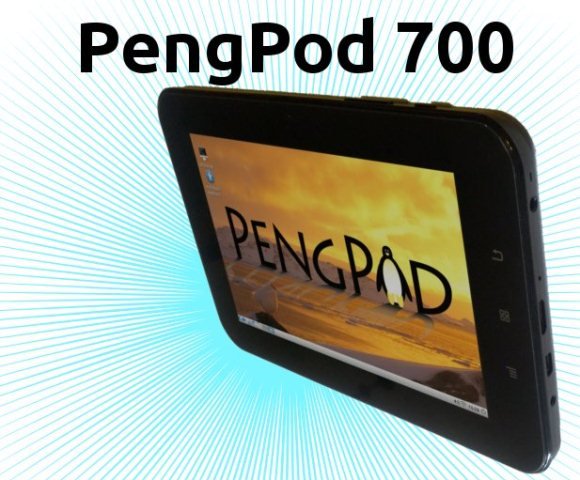 If you're a real Linux user, then you're used to having it your way. Unfortunately, that is not always possible with Android.
That is exactly why the makers of PengPod set out to develop a true Linux based tablet. That's right folks, we're talking about a tablet that's actually running a stable build of Linux, and not just a suped up version of Android.
To get PengPod started, the developers turned to Indiegogo to help establish a crowd funding campaign for their project.
At the time this was written, the funding limit reached nearly $17,000 out of the necessary $49,000. We're almost halfway there everyone! If you want to see the PengPod come into fruition, then you need to get out there and pledge some money to the cause!
That's enough about the funding campaign, let's get to the real meat of this story, the PengPod Linux tablets!
There are two models of the PengPod tablet planned, each with varying specs. No matter what version you get, you will still be able to boot from internal flash memory or an external SD card. Furthermore, you can also choose to have your PengPod preinstalled with Linux or Android. If you want Android as your primary OS, you will still be able to dual-boot Linux with a "properly prepared SD card".
All of the PengPod models are using the generic Allwinner A10 tablet which includes the following hardware features:
1.2ghz Cortex A8 ARM Core
MALI400MP OpenGL ES 2.0 GPU
DDR3 Controller 800MHz 1GB max
2160p Hardware-accelerated Video playback (4x the resolution of 1080p)2D Accelerated Graphics Engine
NAND Flash Controller
4 SDIO interfaces
USB 2.0 Host as well as a 2nd USB-OTG Interface
24-pin RGB/TTL as well as simultaneous HDMI out
SATA-II 3gb/sec
10/100 Ethernet
A 2nd 24-pin RGB/TTL interface that is multiplexed (shared) on the same pins for a standard IDE (PATA) interface.
Like I mentioned above, there are two different PengPod models:
PengPod 700

7" Tablet
800x480 maximum supported resolution
HDMI
1GB Installed RAM
8GB Internal Storage
Integrated Wi-Fi
USB port
1.3MP Front Camera
3.3Ah Battery

PengPod 1000

10" Tablet
1024x600 maximum supported resolution
HDMI
1GB Installed RAM
8GB Internal Storage
2 USB ports
Integrated Wi-Fi
0.3MP Front Camera
6Ah Battery
Depending on how much money is raised through the campaign, the PengPod team also has three more models which are specifically planned for stretch goals. That means after they reach the total amount required (in this case $49,000), any extra money that is donated goes toward the stretch goals.
PengPod713: 7" Tablet with A13, 512MB ram, 4GB flash for under $100
PengBox: Mini PC with 1GB ram, 4GB flash around $110
PengBook: 10" Netbook with A10, 1GB ram, 8GB flash around $160
Of course, if you want a little more information about the PengPod crowd funding operation or about the tablet models themselves, you can visit the related Indiegogo page.
What do you guys think? Is there as much potential in a Linux based tablet as these developers say there is? Would you be willing to buy one?