The NBA Says: "We Want Android Tablets"!!!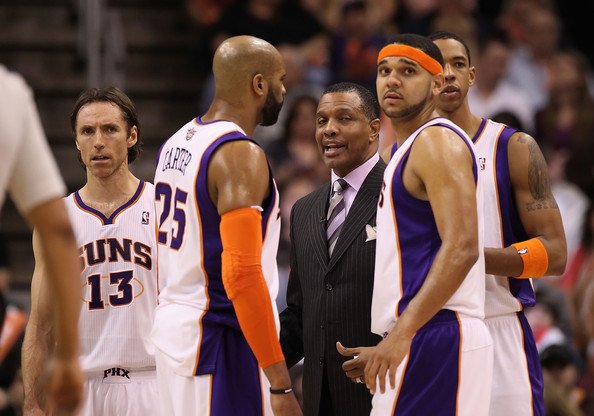 (picture from Zimbio.com)
So Android is only for nerds right? Only for tech enthusiasts and hackers who can't leave well enough alone and have too much time on their hands huh? HA! It really makes me laugh when I hear these words come out of the mouths from Apple....lets be polite and label them as "fans" (cough cough...fanboys!!!) who seem to think this is a valid arguement. I guess the majority of smartphone users are all just a bunch of nerds then, as Android is the most popular OS on the planet. But I can tell you 100% who AREN'T nerds, and that's the NBA's Phoenix Suns. And oh guess what...they just chose Samsung Galaxy Tab 10.1's over the iPad to use for their on court and off court operations. ZING!
Verizon has reported that Alvin Gentry, the coach of the Phoenix Suns, and his staff will use the tablet to perpare the team for games and will play in integral part of management. All players will receive their own tablet that will contain the Suns playbook, practice and game videos, and even scouting reports on upcoming games. It will also help to keep the players on time, as it will hold the schedual for road games and travel. I own a Galaxy 10.1 myself, and can only imagine how useful it could be when it comes to regulating workflow.
Coach Gentry went on to say:
"Today's announcement marks the beginning of a new era in the NBA, where I think teams throughout the league will want to integrate a tablet into their operations".
The tablets won't be allowed on the bench for players during the games, as they need to stay focused and not playing Angry Birds. The Galaxy Tab 10.1 model will be the LTE 4G version that's offered by Verizon, and boasts a 10 inch display, weighs 1.25 pounds, and is powered by dual core 1ghz processors.
So lets see...American Airlines, The United States Military, and now the Phoenix Suns are all using Android to make their companies/teams/military more productive. Hmm...
...yeah..bunch of nerds huh? :-D