Phrasebook PRO: great offline phrasebook for travellers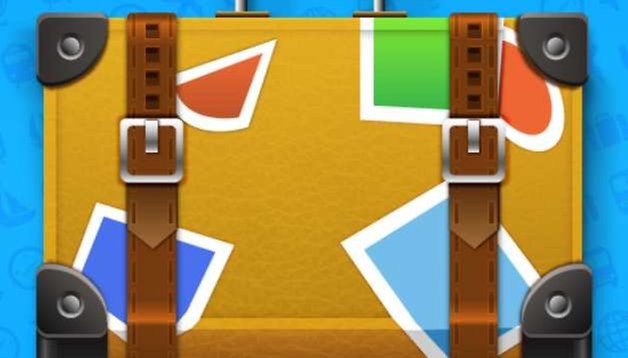 Whether taking city trip vacation or off on a business trip with the company, it's really helpful to learn a few phrases in the local language which will ultimately help you in getting orientated in a foreign country. The question is how! Phrasebook PRO offers a language repertoire which can be accessed and used even without a wireless connection on your Android smartphone, all with voice playback to pronunciation. To see if this app does the trick in practice will be explained in today's app review.
Good
✓

Offline usage

✓

Ergonomic user interface

✓

Phrases spoken with mothertongue quality

✓

Good sorting of topics
Bad
✕

No landscape mode

✕

Some vocabulary missing
| | | | | | |
| --- | --- | --- | --- | --- | --- |
| Reviewed on | Android version | Root | Modifications | Reviewed version | Latest version |
| Google Nexus 5 | 4.4.2 | No | N/A | 1.57 | 1.84 |
Features & Use
Phrasebook PRO requires no registration and has a very clean user interface. After starting the app, you can select which languages ​​you want to download and save for offline use. There are 17 languages ​​to date, such as Chinese, Swedish, Arabic, Indonesian and Greek.
With one tap, the respective language is downloaded. The language pack can be stored either on the internal memory, SD card or a USB memory. There are also four different servers which can be used for the download, however we advise downloading the package when connected to a WiFi network.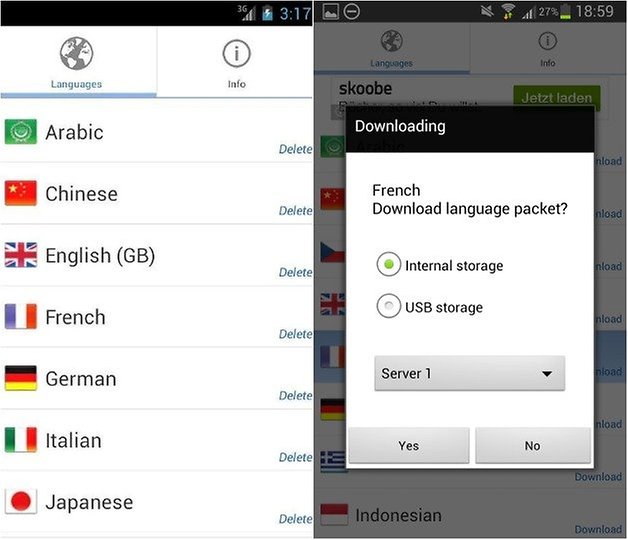 The dictionaries are sorted into different topics and you'll find something for almost every situation, in order to be able to apply the right vocabulary. There are basic and general phrases, to special institutions, to numbers, food and weather vocabulary. It is surprisingly extensive. You are able to scroll through the individual categories in the list view or check out a more detailed view on the left and right.
Tap to open a phrase that will be read out loud to you. In addition to country specific writing, a transcription will also appear to help in the case of exotic languages, which also serves as a great help in pronouncing the sentence correctly. Phrases that are particularly important can be stored in the favorites section by ticking off the star icon. One features that I think they did a standup job on is that the voice output is done with the correct mother tongue and correct emphasis.
Another features that they've done masterfully is the search function. As you type, a list of all of the phrases found on the app will appear. If you have multiple results, you can have these read out one at a time. This can be started with or without a translation on the playlist. The pauses between phrases can also be extended as needed, while source and target language are easily reversed with the flag icon.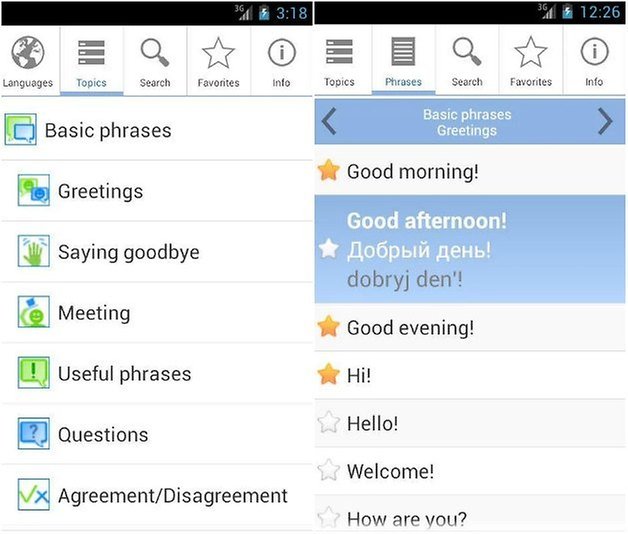 Favorites are also sorted into categories which, for a better overview, can be minimized. The Playlist option is also available here, while the source language can be optionally changed in the settings, which allows you to compare translations between all other languages, including English, ​​in the Phrasebook. Automatic voice playback can also be disabled.
The app is definitely sufficient in terms of having a wide scope. When traveling, you will likely be able to manage with the existing repertoire. Phrasebook PRO works with ready-made sentences and phrases, but should not be confused with a dictionary. There were times when a few words and phrases seemed to be lacking. For example, the number vocab after the 22 increased only in increments of 10. Especially when paying, a complete list would have been helpful here. Business vocabulary isn't very developed either. With regards to food, more local dishes would be an extra bonus, but this could be a bit of a problem when trying to translate country/culture-specific dishes into 16 different languages.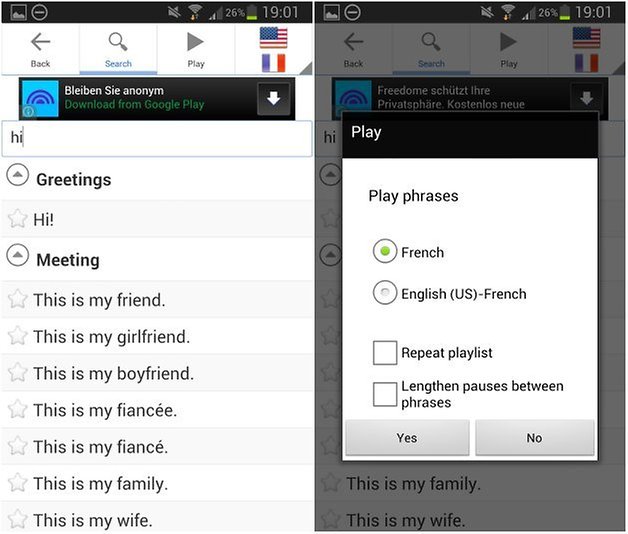 Screen & Controls
Phrasebook PRO has a very pleasant and well-structured user interface. All areas of the app are clearly arranged and easily accessible, not to mention offer controls that are very intuitive. For those who have downloaded the correct language before going abroad, the app will come in very useful with its off-line mode, where you don't need to use up data volume unnecessarily.
The app is well balanced: it has all the key phrases, yet is not overwhelming or cluttered. Unfortunately, there's no landscape mode.
Speed & Stability
During the test period, the app was stable and there were no crashes. Downloading individual language packs only took a little when on a WiFi network.
Price/Performance Ratio
Phrasebook PRO is one of the more expensive apps at 5.99 USD. Given the ease of use and the sufficient speech content that can be used offline, the price is justified in my opinion. You can also download the phrasebook for a particular language at a price of 1.99 USD. There is also a free demo version for every language with less content.
Final verdict
With the Phrasebook PRO, travelers get a useful phrase book, which can be conveniently used offline. If you want to delve deeper into a local language , you might still need to get yourself an appropriate dictionary. The app covers essential basic formulations and thanks to the different categories, you would be able to cope in a foreign country. A particularly positive element is the native language implementation of the speech. The clean user interface also provides for a pleasant user experience. Overall, the app is recommended and suitable for frequent flyers and all travelers.