Pictures from Galaxy Nexus 2 Appear to Have Leaked Online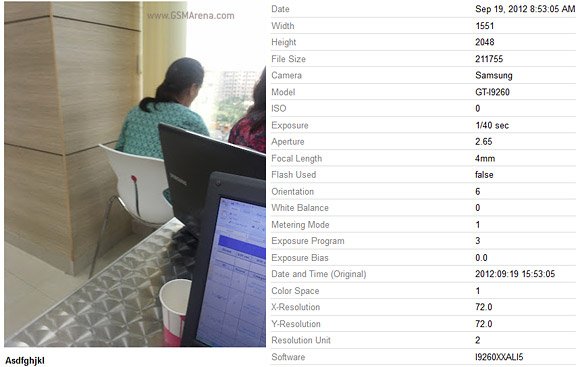 It may be a while before we actually get to see a Galaxy Nexus 2 in the wild, but we've been picking up little bits and pieces of information recently that give us a clearer sense of what this flagship phone may look like. We say "may" because we're still not entirely sure that the leaked phone specs are, in fact, attributable to the Galaxy Nexus 2 or perhaps another Samsung phone. In any case, above you can see a photo taken by this mysterious device.
According to GSMArena, the (admittedly not super impressive) photos reveal the phone has an F/2.65 aperture and a focal length of 4mm. The Galaxy S3, in comparison, has an aperture of F/2.6 and a focal length of 3.6mm. The higher the aperture, the better the resolution. But a focal length that is lower has greater optical power. These leaked specs could indicate that the phone, like the Galaxy Nexus before it, won't have a very good camera.
Besides a new camera, the Samsung I9260 ( which could be called the Galaxy Nexus "Premiere") is supposed to have a better CPU (Cortex A9 dual-core at 1.5GHz instead of 1.2 GHz), a microSD card slot, and the same 4.65" Super AMOLED HD display. It will also be the first phone to rock Android 5.0 Key Lime Pie. Considering the fact that Jelly Bean is currently only installed on a tiny fraction of devices, I'd say it may be a while before we see this device being released.