Pixlr Express: near professional and super creative photo editing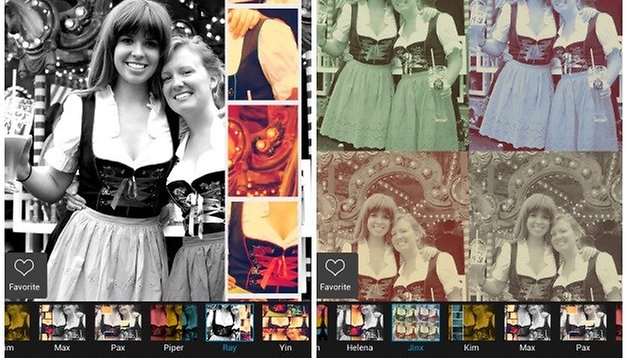 So you may see a ton of photo editing apps in the Google Play Store or our AndroidPIT App Center, but deciphering which ones are actually worth your time is another story. Thankfully, we tested one for you that appears to deliver many features and cool effects packaged into one free app: Pixlr Express.
Good
✓

Tons of effects and editing features

✓

Able to share to many different apps

✓

Easy-to-use navigation and controls

✓

Uses stock camera app from your phone

✓

Nice, simple design
Bad
✕

Too many steps to load and get to new editing sub-categories
| | | | | | |
| --- | --- | --- | --- | --- | --- |
| Reviewed on | Android version | Root | Modifications | Reviewed version | Latest version |
| Samsung Galaxy S3 | 4.1.2 | No | N/A | 2.0 | 3.2.8 |
Features & Use
Pixlr Express was developed by Autodesk Inc, who have made other such apps like Pixlr-o-matic and SketchBook Mobile which is found on the Galaxy Note 3. I've been using this app for quite some time now in editing my pictures and I am quite pleased by the huge array of features and effects which it presents, and all for free.
Once you've started up the app, you're given the option of either taking a photo right there and then with the app, or choosing a picture from your gallery. Other apps which allow you to take a photo often reduce the amount of camera features available due to their own built-in camera app (here I can think of Instagram). Pixlr Express, on the other hand, opens the stock camera of your phone and in my case the Galaxy S3 Samsung camera app.
Pressing 'Choose a photo' will allow you to retrieve a picture from any of your photo database applications present on your phone, in my case: Gallery, Drive, Dropbox and Box.
Once you've chosen a pic, you can get cracking with editing it. You're presented with a menu bar at the bottom of the page which presents many expandable sub-categories: adjustment, effect, overlay, border, text and sticker. When tapping on one, it will bring up a tile menu with different options. Tapping on each individual one will load the content and this is done either using your Wi-Fi connection or mobile data.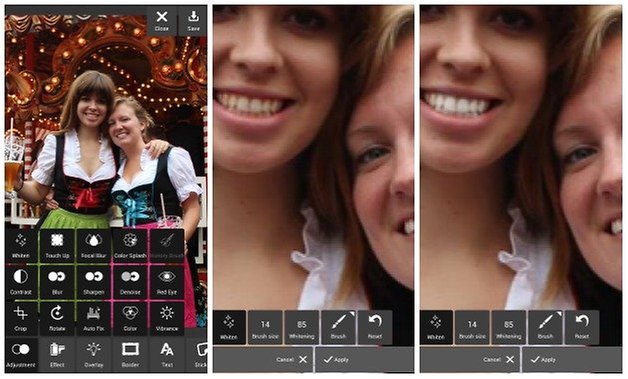 Adjustment gives you basic editing features like whitening your teeth or even removing blood-shot eyes, touching up your blemishes, color splash for a color overlay, red eye, sharpen, denoise, blur, contrast, crop and the list goes on. Each one will allow you to adjust to which degree you would like to make the change.
Effects presents many artistic touches for your photos with unicolor, vintage, creative (an Andy Warhol touch), soft, subtle and too old. Each opens yet another extensive list of different features. There is just so much to choose from.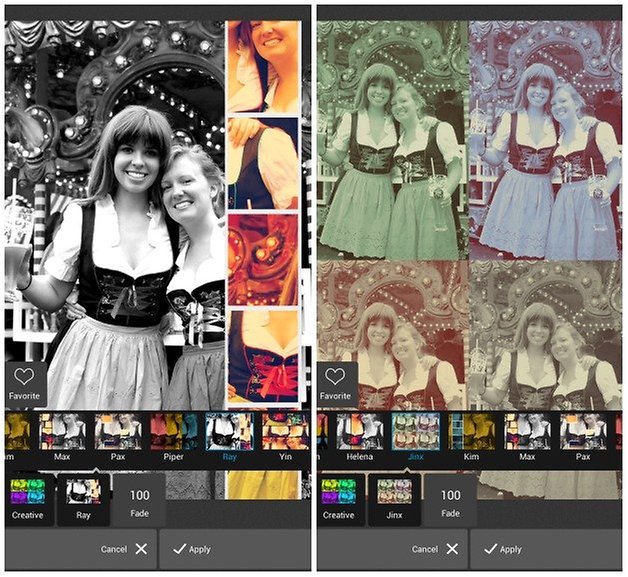 Overlay gives you certain special effects that will appear over the top of your actual image, like smoke, space, tie dye, vignette, leaks, chem burn and more. Again, each new one needs to be loaded which requires internet. Once this is done, you can use it whenever offline. Yet again, each will open a whole stack of features, which you can fade by dragging a or rotate.
Border includes pattern, ripped paper, rounded corner, squares, white ripped, film and more and it's the same story again with the multitude of features hidden under each one, as well as the same fade and rotate functions.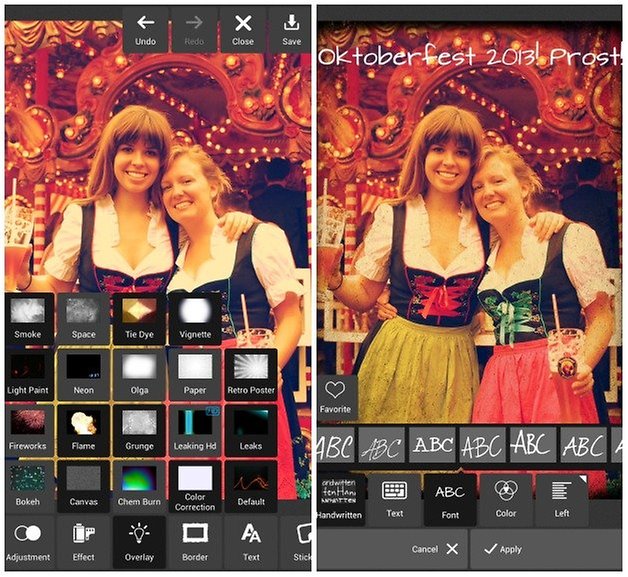 Text, like the name says, lets you put text over the top of your image, while sticker offers many of these in various themes, like zodiac, tattoos, pride, comic, antique and more. Under each you'll find a huge array of stickers from which to choose. You can change the size and rotate the text and stickers by dragging each edge and pulling in or out, or rotating it manually.
All the features and effects to choose from didn't seem cheap and actually worked! Here I'm also thinking of the basic photography editing features in the adjustment section. You can stack layer over layer, meaning you're not limited to just one of each. This allows for your creations to appear really intricate and one of a kind.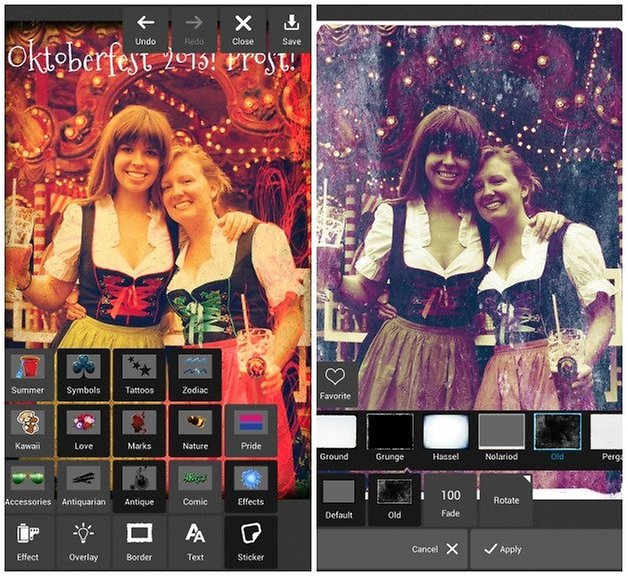 For beginners who don't know much about image editing, Pixlr Express is super easy to use and provides great results. You can also choose which of the features and effects are your favorites with the heart tile which will appear in each sub-category. In just a few minutes, I was able to make some really cool pictures which I proudly showed off to my friends on Facebook. In fact, when you share your creation, you can save it in either small (333x500), medium (682x1024), original (960x1440) and custom sizes and share to any of your social network applications (Facebook, GMail, G+, Skype), to any other non-social apps like Keep or S Memo as well as via Bluetooth or Wi-Fi direct.
Screen & Controls
Pixlr Express offers comprehensible and simple navigation between its many parts. All of the various sections follow the same basic steps: a menu within a menu within a menu and then editing the strength of the effect. The editing features don't take up much room on the screen so you can still get a really good view of the picture in question, as everything is organized into tidy little tiles. The top corner of the screen presents the 'close' and 'save' tiles, as mentioned above, to save and share. Once you've pressed on a new feature which then loads, it won't open automatically which I found to be a bit confusing at first, you need to in fact tap it again for all the options to be displayed. I think it would have been better if it just loaded and opened with one tap. The entire thing has a nice and simple design, which doesn't take away from your work of art.
Speed & Stability
When I was using Pixlr Express, it ran smoothly and responded promptly to touch screen input without even a second's delay, other than, of course, having to wait a few seconds for each category to load. When you start the app the first time, it launches immediately. There were no crashes or weird lags.
Price/Performance Ratio
Pixlr Express is a free app that you can retrieve from our App Center as well as the Google Play Store. In terms of what you get for a free app, it is quite impressive when you put it next to other apps that only offer around 12 filters (Instagram).
Final verdict
Speaking of Instagram, the thing Pixlr Express doesn't have is a built-in community, however I don't think this is important because you can share it with your other social network apps which is in fact better for a more widespread distribution if that is what you are all about. This app, which I found in our top photo editing app article a while back, has proven to be a worthy app editing companion for my smartphone and has been a lot of fun to use, especially with the huge array of features and effects to choose from! You can create very normal pictures and portraits to the most unique and eccentric works of art you can muster up! I recommend this to anyone who likes being creative with their pictures.