Playito Games on Sale for December, Only $0.99 Playito announced that all of their games will be on sale in the Google Play store for the entire month of December. You can get their most renowned titles for a mere $0.99.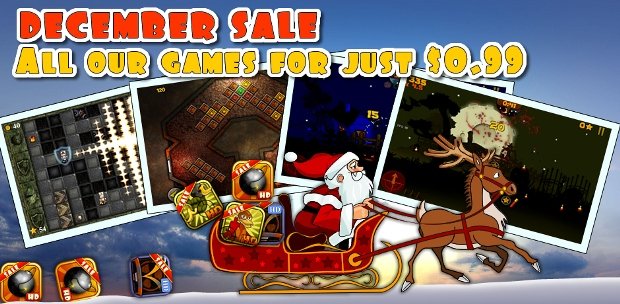 The sale is actually supposed to start on Dec 1, 2012, but it looks like you can buy the games at the sale price even earlier according to Playito:
"Due to popular demand we have already started our December sale today, enjoy!"
I'm willing to bet that Playito's games are not reasonably well known, so I'm going to take this opportunity to describe each one in more detail.
All of the games feature HD graphics and high quality visuals, and they also have excellent reviews.
DeathMetal is essentially a Bricker Breaker type game (think Arkanoid) with modern gameplay mechanics. There are 40 levels total, which comprise 4 different episode packs, 10 of which were added in a free update. While playing, there are ten different power-ups to collect which boost your paddle board by doing things like changing its size, adding an extra life or even turning the game ball into a fireball. Online leaderboards allow you to matchup scores with the rest of the DeathMetal community or even friends. All of this is complimented by a heavy metal song called "Dry Metal Guitars," by Deep Sounds.
FireLords is essentially Playito's version of Bomberman. Your role in FireLords is to navigate around the map while strategically placing bombs to kill off enemies. If you're not particularly attentive though, you can hurt yourself. FireLords features more than 40 different levels, with 5 that are hidden, and perhaps more on the way in future updates. As you play, you can earn bonuses (like power-ups) that make your character stronger and better at killing enemies. Bonuses include speed enhancements, varying bomb types, a throw range increase, and damage shields. There are even various elements in levels like explosive barrels, destructible ground or environments, and a sweeping black fog.
DarkHunt is essentially a clone of the old school Nintendo classic Duck Hunt. Except in DarkHunt, you are hunting at night with a shotgun and a flashlight. You must use your flashlight to locate the ducks before you blast them away. In DarkHunt, unlike its classic predecessor, you can also improve your weapons and gear. There are several types of ducks to kill, including "slow fat ones" to "super fast ones with protective helmets." If you get bored of shooting ducks you can always take out the bonus objects like pumpkins, eggs, UFOs, etc.
DarkHunt: Brutality is the same exact game as the standard DarkHunt, except with lots of blood and gore! Whenever you execute a duck in DarkHunt Brutality, it will spew blood everywhere! Yummy.
Notice how they are all modeled after a popular old school title? If you're into casual gaming, and more specifically classic titles, then Playito's games are certainly for you.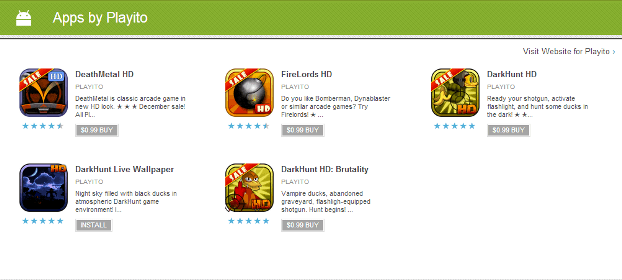 If any of these games sound appealing, you can check them out or buy them via the Google Play store. I have included the appropriate links below.
If you do happen to play any, let me know what you think!