Tomcat Helps Politicians Fight Off Boredom in Parliament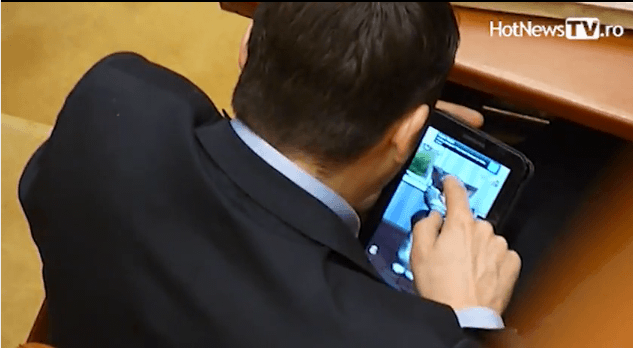 Apparently, we aren't the only ones spending hours on our smartphones and tablets. In fact, for some members of Parliament in Romania goofing off on their Android tablets is actually more important than governing their own nation. Someone managed to catch a Romanian MP red-handed playing Talking Tom Cat on his Samsung Galaxy Tab 7.7 smack in the middle of a parliamentary session. Abusing a digitial cat sure beats actually having to do your job.
Just to give you a little bit of context: Romania is growing through some serious economic and political turmoil with thousands of protesters hitting the streets to voice their opposition to proposed austerity measures. The President is under so much fire that he might actually resign and the Parliament is holding emergency sessions to deal with the crisis. And while all of this is going on outside, members of Parliament have been caught watching cute animal videos, texting and, in this particular case, passionately playing Talking Tom Cat for Android.
Watch the full video below: