 Pro Tip: Don't Bother Posting a Copyright Notice on Your Facebook Wall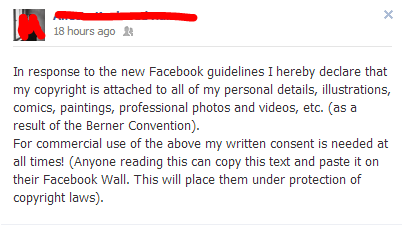 Today in my news feed, among the predictable photos of lunches and babies and wedding announcements, I saw that a lot of my friends were posting copyright notices on their Facebook walls, in an effort to prevent Facebook from liscencing whatever content they happen to post. Great idea! Except no.
Here's what the warning post says:
In response to the new Facebook guidelines I hereby declare that my copyright is attached to all of my personal details, illustrations, graphics, comics, paintings, photos and videos, etc. (as a result of the Berner Convention). For commercial use of the above my written consent is needed at all times!

(Anyone reading this can copy this text and paste it on their Facebook
Wall. This will place them under protection of copyright laws. By the present communiqué, I notify Facebook that it is strictly forbidden to disclose, copy, distribute, disseminate, or take any other action against me on the basis of this profile and/or its contents. The aforementioned prohibited actions also apply to employees, students, agents and/or any staff under Facebook's direction or control. The content of this profile is private and confidential information. The violation of my privacy is punished by law (UCC 1 1-308-308 1-103 and the Rome Statute).

Facebook is now an open capital entity. All members are recommended to publish a notice like this, or if you prefer, you may copy and paste this version. If you do not publish a statement at least once, you will be tacitly allowing the use of elements such as your photos as well as the information contained in your profile status updates…
The only problem is there's no real way to protect the content you post on Facebook because, no matter what legal notice you upload to your Facebook wall, you're still bound by the same terms and conditions as everyone else, allowing Facebook a non-exclusive liscence on the content you upload to their servers. After all, you've agreed to Facebook's terms of service, and have also been asked to agree with them every time they've been updated. Here's what Facebook has to say about the content you upload to their site:
For content that is covered by intellectual property rights, like photos and videos (IP content), you specifically give us the following permission, subject to your privacyand application settings: you grant us a non-exclusive, transferable, sub-licensable, royalty-free, worldwide license to use any IP content that you post on or in connection with Facebook (IP License). This IP License ends when you delete your IP content or your account unless your content has been shared with others, and they have not deleted it.

So, if you don't want Facebook to be able to liscence something you created, don't upload it to Facebook. And if you really want to ensure they have no rights to your content, make sure your friends delete it, too. But you can't retroactively negate a section of the terms and conditions you already agreed to simply by posting something like this on your wall.