Rabbids Big Bang blasts onto Android George Clooney and Sandra Bullock in their new blockbuster film Gravity can suck it: there's a new game in town that uses the same space setting in a cute and hilarious way. May I present Rabbids Big Bang, a new Android app that was launched yesterday by Ubisoft Entertainment.

The makers of Prince of Persia Shadow&Flame as well as Rayman Jungle Run are notorious for making great animated games for Android and they've done it again with Rabbids Big Bang, a cute game which involves sending the squishy, buck-toothed rabbids into outer-space by hitting them with a baseball bat (I even think that rabbids are cuter than little Minions from Despicable Me and deserve as much love). These white and pink rabbit-like monster animations need to then use planetary gravity and their jetpacks to control their trajectory through 10 different galaxies and 15 missions.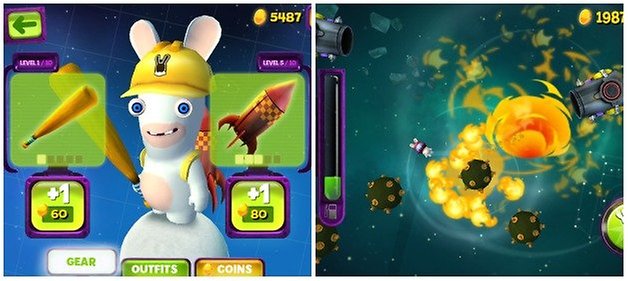 In this physics-based space adventure, you'll be controlling your googly-eyed rabbid with the tip of your finger, dodging planets or smacking right into them, bouncing off of space duckies, ramming space cows and surfing over to the sun, depending on what you are told to do. Like most games, you win coins which you can use to upgrade your little character with jetpacks, more power and other special items. And, you are even allowed to pimp your rabbid with new helmets, bats, disguises, new outfits and funny looks. In-app purchasing will get you more coins to buy more stuff, so if you have kids playing this game, be careful they don't blow their allowance or your life-savings on decking out the rabbid.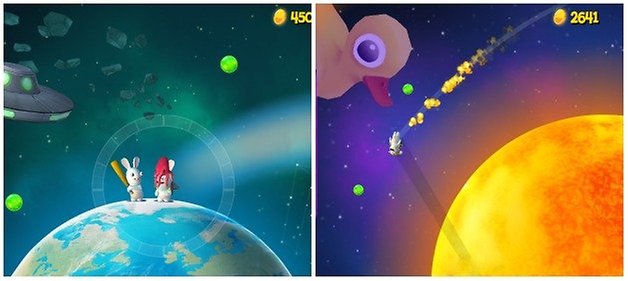 This isn't the first Rabbid game. As you all may know, games with these guys have been developed for Wii, Wii U, Xbox Kinect and Nintendo 3DS like Rabbids 3D, Rabbids Rumble, Rayman Raving Rabbids and more. They are even on TV! This is the first of their games for Android though, and iOS too.
The game isn't free, costing $0.99 so I would wait and see what more people have to say about the actual gameplay before installing, but as far as the comments and ratings go in the Google Play Store, there seems to be more happy campers than not.
Check out their trailer video.