 Report: Amazon Releasing Their Own Phone Soon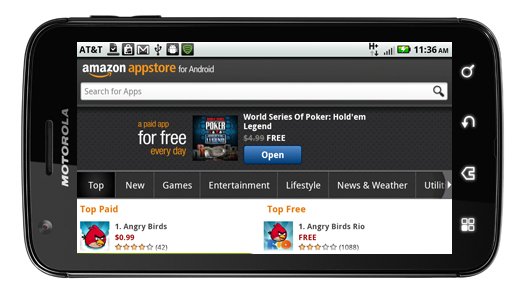 Bloomberg is reporting that Amazon is developing their own phone to compete with Android and the iPhone. Foxconn is working with Amazon on the phone, although the Chinese company won't officially comment on the matter. Amazon is also acquiring patents to ensure that the phone won't be barred from the marketplace due to infringement. The device will likely run a heavily-modified version of Android, like the Kindle Fire before it.
Amazon currently runs its own Appstore for Android, so creating a unified ecosystem for the phone would be a breeze. It's unclear whether users would be able to side-load Google Play apps or whether Amazon would bar them from doing so. It's also unclear whether the device would launch internationally or be confined to the U.S. due to content liscencing restrictions, as the Kindle Fire has been.
We have no idea when this phone might actually be released but you better believe we'll be paying close attention to Amazon's next move.