S4 Galaxy Mini: The little giant that could The Galaxy S4 Mini will be in the hands of consumers by July and you can even place a pre-order for the device right now.....if you have around 500 euros. While the price doesn't fit the name at all, we had a look around to see if there was a more sensible solution in a smaller package.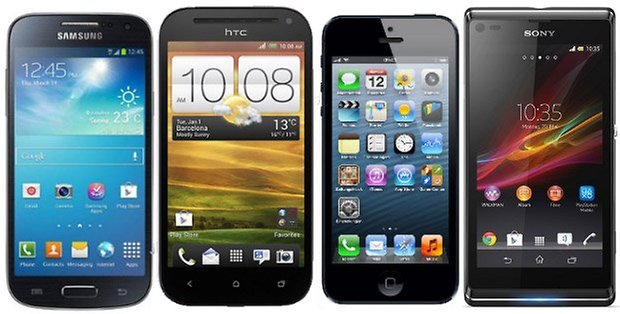 The trend over the last little while has been to release larger and larger smartphones. Most manufacturers, asides from Apple, have been dead set on releasing increasingly larger devices around the 5-inch mark.
Samsung has it's technique of releasing a new device almost every other week and has saturated the market with devices. From its giant Mega and Note series to its diminutive S4 Mini. However, it seems that following the success of their previous "mini" version, the S3 Mini, the Koreans are expecting another successful launch and have priced it relatively high. To give you a good indication: The Galaxy S4, which has better tech specs and is currently available, currently goes for about 550 euros, or about 50 euros more than what they want for the Mini. As well, the S3 Mini is still available for sale and you can pick it up for about 240 euros on Amazon.
While searching for comparable alternatives, I had a realization: a display size of about four inches, which was once the standard for the smartphone market, has now become a niche market. Anything less than 4.3 inches is now designated as a "mini" version. As stated before, Apple seems to be the only company that is still completely focused on maintaining this size for their devices. If you were searching for a smartphone with a 4 inch diagonol screen, the Android universe really isn't the place to be especially if you're looking for an upper middle class device. Moreso, higher end devices such as the HTC One and Galaxy S4 don't even come close. Whether this be a technological issue (not being able to cram all that stuff into a smaller device) or simply that they don't see a point in creating devices at that size.
Samsung Galaxy S4 Mini
Sony Xperia L
HTC One S
Apple iPhone 5
4.3 inches, Super AMOLED, 960 x 540 Pixel, 256 ppi
4.3 inches, LCD, 854 x 480 Pixel, 228 ppi
4.3 inches, Super-LCD2, 800 x 480 Pixel, 216 ppi
4 inches, Retina, 1.136 x 640 Pixel, 326 ppi
1.7 GHz, Dual-Core
Snapdragon S4, 1 GHz, Dual-Core
Snapdragon S4 Plus 1.2 GHz, Dual-Core
Apple A6, 1.2 GHz, Dual-Core
1.5 GB RAM
1 GB RAM
1 GB RAM
1 GB RAM
8 GB internal + microSD
8 GB internal + microSD
8 GB internal + microSD
16/32/64 GB internal
8 MP (Rear), 1,9 MP (Front)
8 MP (

Rear

), 0,3 MP (Front)
5 MP (Rear), 1,6 MP (Front)
8 MP (Rear), 1,2 MP (Front)
124,6 x 61,3 x 8,94 mm
128,7 x 65 x 9.7 mm
128 x 66,9 x 9,2 mm
123,8 × 58,6 × 7,6 mm
107 g
137 g
122 g
112 g
1,900 mAh
1,700 mAh
1,800 mAh
1,440 mAh
From $630 US
From $422 US
From $339.99 US
From $699.94 US
Bottom Line
And so, if you look at the data in comparison, you can quickly see that the S4 Mini is actually superior in almost all areas where it counts. This shouldn't come as much of a surprise as it is the latest released out of all the ones shown above. However, the differences aren't that amazing, at least in terms of technology. And really, if you were that concerned with having a device that could outpower anything else you compared it to, you'd be getting the Galaxy S4 and not worrying about the difference in size.
While the Galaxy S4 has been a box office hit, it does make sense to offer it in the "mini" package, despite the higher price. As Samsung continues to see success on it's higher end devices and start to reach the status that Apple has carved out for itself, it will start to allow the South Korean company to price as high as they do as well.