Samsung Mass Producing 128GB NAND Storage. Worth The Extra Money?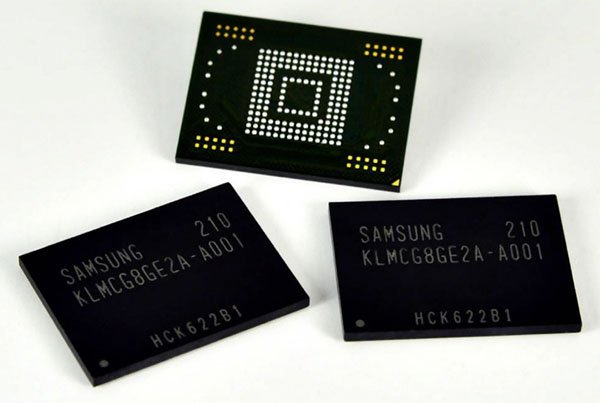 Samsung has recently announced that they are in the process of mass producing 128 GB embedded memory for next generation smartphones and tablets, meaning that soon, you will be able to purchase mobile devices with a whopping 128 GB of internal memory (iPhone users rejoice). While that may sound awesome for media junkies, is having the option for so much memory in your smartphone actually worth the price you'll have to pay for it?
Samsung apparently began producing the new embedded multimedia card (Pro Class 1500) back in August, which is approximately one month later than the 16, 32, and 64 GB eMMC Pro products started delivery. Samsung's statement:
"By doubling the highest density of its previous eMMC products, Samsung expects to contribute significantly to a timely release of leading-edge mobile devices," said Wanhoon Hong, executive vice president, Memory Sales & Marketing, Samsung Electronics. "The higher data storage and faster data transmission, will bring a range of benefits to users that compare to those of ultra-slim notebook PCs."
128 GB is a hell of a lot of space for a mobile device, and would basically allow you to store 15 Full HD 8GB video files on your phone (or literally thousands and thousands of songs). The Pro cards can also read data at speeds of up to 140 MB per second, while being able to write data at speeds of up to 50MB per second. That's 10 times faster than current Class 10 external memory cards. Yowsers! The question is...is it worth the $$$?
Currently, manufacturers are making an absolute killing on memory. A 32GB Galaxy S3 will cost you (on Amazon) about 34 dollars more than the 16GB version. That's not bad when you consider that Apple charges 100 dollars more for their 32GB iPhone vs their 16GB model (and an extra 200 for the 64 GB model). What's crazy though, is while they charge 100 bucks more for the extra storage, it actually only costs them an extra 21 dollars as a company. That's a hell of a markup.
For Android users, 128 GB internal memory plus the option of having a 64GB microSD card would put you at damn near 200GB of storage. We're talking the same amount of storage that some current netbooks and laptops from a few years ago are packing. If an extra 16GB will cost you 34 dollars (or 100 in Apple's case), I can only imagine how much an extra 100GB will add to the price of new devices. I'm also willing to bet money that Apple will quickly jump on this in order to release 128GB versions of the iPhone and iPad simply due to the fact that Apple doesn't support expandable memory in their phones and tablets. The 64gb version costs 399 dollars WITH contract. I can only imagine what they would charge for the 128GB models **gulp**
That being said, I can imagine that lots of people could have use for so much space. My Transformer Prime has 32GB internal memory, which I have expanded via the microSD slot (32 GB) and the SD slot (another 32GB) in the keyboard dock. While 100GB is certainly a lot for a mobile device, I find myself only having 2 or 3 gigs of internal memory left due to all the games I have installed that require 2 to 4 gigs of internal memory (Horn, The Bards Tale, Nova 3, Gangstar Rio, ect), and since I don't have the option of moving that data to either of my sd cards, having an extra 100 GB or so could sure be useful. For people who play lots of games, view lots of movies, or own every freakin music album in the world, this could literally be a dream come true.
We don't have a release date for when Sammy plans on debuting the media cards in devices, but I would imagine that 64GB will be the highest you can get your hands on for at least another year. I personally hope to see them start popping up much sooner than that.
What do you guys think? Is 128 GB of internal memory in your phone or tablet something that appeals to you? Would you shell out of the extra moolah for it?
Let me know what you think in the comments below!
Picture credits: www.pclaunches.com