 Samsung: The iPhone Wouldn't Exist Without Samsung's Technology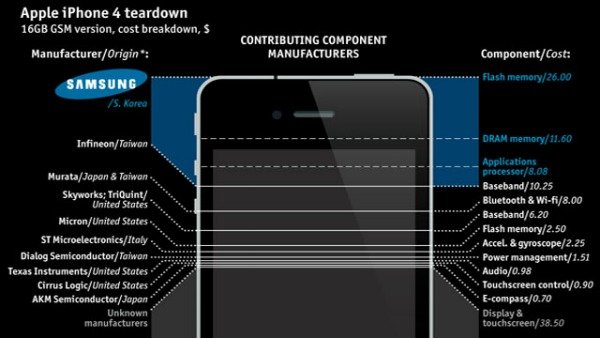 FINALLY. This is a day I have been waiting for for quite some time. All too often have I heard Apple gloat about how they were the "first" to do everything, and how their technology opened the door for innovation. I have waited so long for someone to call them out on this claim, and that is exactly what Samsung did yesterday when they told Apple in court that the iPhone could have never been sold without Samsung's technology. But talk is cheap, and Samsung isn't just saying it....they claim they can prove it as well.
To sum it up, Samsung feels confident they can prove that the true thief in these patent related litigations is Apple, not Samsung. Here are a few highlights of what Samsung had to say, courtesy of the Wall Street Journal (I have bolded the points I found particularly interesting):
"Samsung has been researching and developing mobile telecommunications technology since at least as early as 1991 and invented much of the technology for today's smartphones. Indeed, Apple, which sold its first iPhone nearly twenty years after Samsung started developing mobile phone technology, could not have sold a single iPhone without the benefit of Samsung's patented technology".

"For good measure, Apple seeks to exclude Samsung from the market, based on its complaints that Samsung has used the very same public domain design concepts that Apple borrowed from other competitors, including Sony, to develop the iPhone. Apple's own internal documents show this. In February 2006, before the claimed iPhone design was conceived of, Apple executive Tony Fadell circulated a news article that contained an interview of a Sony designer to Steve Jobs, Jonathan Ive and others. In the article, the Sony designer discussed Sony portable electronic device designs that lacked "excessive ornamentation" such as buttons, fit in the hand, were "square with a screen" and had "corners [which] have been rounded out."

"Contrary to the image it has cultivated in the popular press, Apple has admitted in internal documents that its strength is not in developing new technologies first, but in successfully commercializing them. . . . Also contrary to Apple's accusations, Samsung does not need or want to copy; rather, it strives to best the competition by developing multiple, unique products. Samsung internal documents from 2006, well before the iPhone was announced, show rectangular phones with rounded corners, large displays, flat front faces, and graphic interfaces with icons with grid layouts".

"Apple's utility patents relate to ancillary features that allow users to perform trivial touch screen functions, even though these technologies were developed and in widespread use well before Apple entered the mobile device market in 2007. Samsung does not infringe any of Apple's patents and has located dead-on prior art that invalidates them".

"Apple relied heavily on Samsung's technology to enter the telecommunications space, and it continues to use Samsung's technology to this day in its iPhone and iPad products. For example, Samsung supplies the flash memory, main memory, and application processor for the iPhone. . . . But Apple also uses patented Samsung technology that it has not paid for. This includes standards-essential technology required for Apple's products to interact with products from other manufacturers, and several device features that Samsung developed for use in its products".

"Long before Apple even announced any of its 3G products that use Samsung's standards-essential technology, Samsung had offered licenses for these patents (along with other patents) to virtually every major player in the mobile phone industry, successfully striking cross-licensing deals with all of them. After Apple released products that use the technology patented in the [two standards-essential patents at issue in the trial], Samsung similarly offered a cross-licensing deal to Apple, asking for a fair and reasonable royalty in return for Apple's use of Samsung's technology. Unlike all the major players in the mobile phone industry, however, Apple refused to enter a cross-licensing deal with Samsung.

Instead, despite the fact that virtually every other major industry participant was willing to take a license from Samsung for use of the standards-essential patents in this suit, Apple claimed that Samsung's patents are unenforceable".
These are some pretty big words coming from Samsung, and I'm very interested to see how Apple will counter these arguments. Samsung claims they have the documents and the proof to back up these statements, and they did make some pretty valid points here. What I especially appreciated was Samsung stating that Apple's knows it's strength isn't developing new technology first, but rather commercializing it. I couldn't agree more with this statement, as Apple has an uncanny ability to take a product like iCloud, throw it in a 30 second TV commercial, and portray to the masses that this type of service is only something that can be done with an Apple product. After all, just because you popularize a concept, doesn't mean you own it or created it.
While I am a firm believer that Apple has accomplished great things in revolutionizing the smartphone, I am glad to see them finally called out on the technology that powers it and the designs they "borrowed" from when producing it. It's something that isn't brought up nearly enough, and Apple never seems to talk about all the Samsung (as well as the many other component manufacturers) components that play a huge part in the existence of Apple's flagship products.
Picture credits: gizmodo.com