Samsung Galaxy A8 (2018) review: a more affordable S8?
Since its arrival in 2014, the A series has been one of Samsung's most important products alongside their S smartphones. The South Korean manufacturer has decided not to launch replacements for its Galaxy A5 or the A3 (2017) this year, although the A3 will remain in the catalog and is now cheaper. Samsung, however, has now announced a new smartphone: the Galaxy A8 (2018). Currently available for $452 on Amazon, the Galaxy A8 is meant to be a competitor to the Honor View 10 or the OnePlus 5T (6 GB), but will it be able to compete with them?
Have you ever heard of CERBER?
Choose "No, I have never." or "Yes, I have.".
Oops! Seems like something went wrong. Reloading might help.

Oops! Seems like something went wrong. Reloading might help.
Good
✓

Design

✓

Excellent Super AMOLED display

✓

Front camera

✓

IP68 certification

✓

Battery life
Bad
✕

Performance doesn't match price

✕

32 GB of storage

✕

No Android Oreo
Samsung Galaxy A8 (2018) release date and price
Last month, Samsung released the A8 and A8+ in various regions across the globe, without mentioning whether they'd be released in the US market. You can buy both phones unlocked on Amazon, which at the moment will cost you $452 for the A8 and $599 for the A8+. They're available in black, gold and orchid gray and are compatible with GSM/LTE carriers like AT&T and T-Mobile, but won't work with Verizon or Sprint.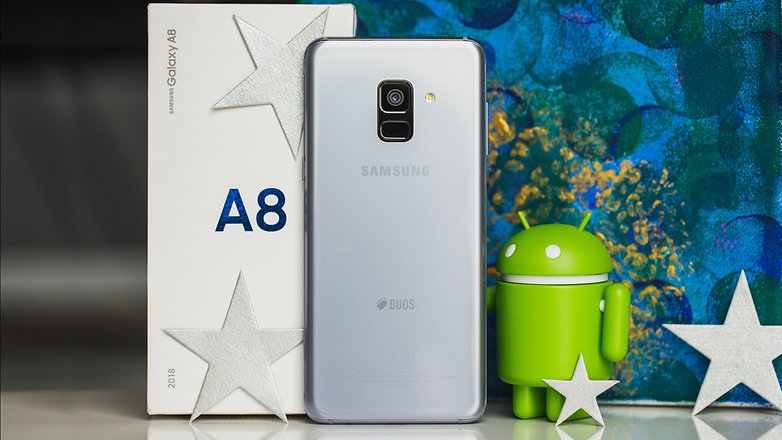 Samsung Galaxy A8 (2018) design and build quality
Everyone has been awaiting the successor of the famous Galaxy A5 (2017) and A3 (2017), and the Galaxy A8 is finally here. This new model is based on the concept of the A line, meaning attractive smartphones at more affordable prices than flagships, but that still give the impression of an upscale model.
As always, the design of the A series is still reminiscent of the S series. The Galaxy A8 is Samsung's first mid-range model to feature an 18:9 display. The upper and lower bezels have been trimmed just like in the Galaxy S8, but the device is still not completely bezel-less on the sides. To make a comparison, the A8 has a body-to-screen ratio of 75.6%, whereas the S8 has a body-to-screen ratio of 83.6%.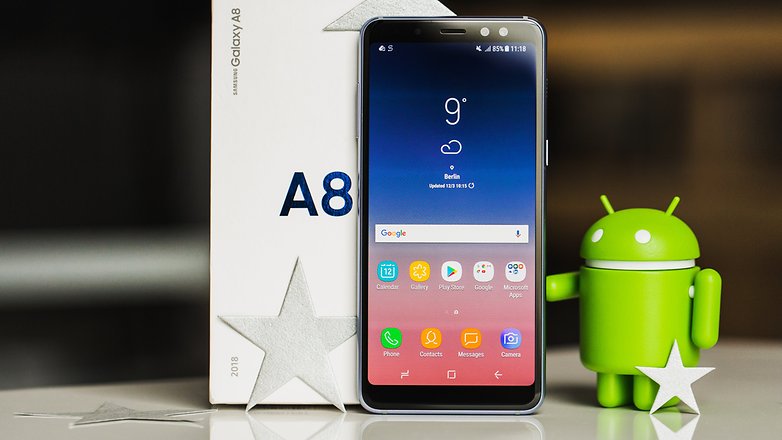 Just like Samsung flagships, the device is attractive and consists of two glass plates glued to a metal frame. It comes with IP68 certification, and the rear is slightly curved to give you a better grip. The manufacturing is impeccable and worthy of a high-end smartphone, and Samsung has proven once again that they've mastered this. Perhaps its weight (172 grams) is a symbol of the device's durability, but it can become a bit hefty in the long-term. The smartphone isn't especially compact, so you'll feel it in your pocket.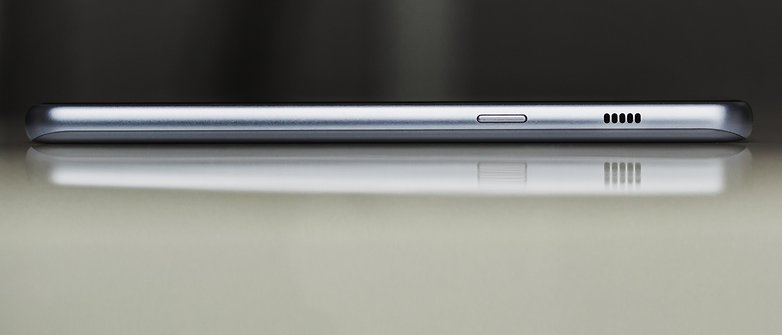 Unlike the Galaxy S8 and S9, the Galaxy A8 doesn't have a button dedicated to the Bixby virtual assistant (even though the assistant is available on the phone) or a heart rate sensor, but the speaker is still located on the right side of the phone. I'll come back to this strange positioning later on. The fingerprint reader is under the camera, just like in the Galaxy S9. It is therefore very easy to access and relatively fast (but still slower than Huawei smartphones). The current position, however, is still better than what Samsung did on the Galaxy S8.
The fingerprint reader is positioned in the same position as on the new Galaxy S9
Finally, it should be noted that the Galaxy A8 is water and dust-resistant and is also available in a dual SIM model. It's compatible with all of the manufacturer's wearables, including the Gear VR headset.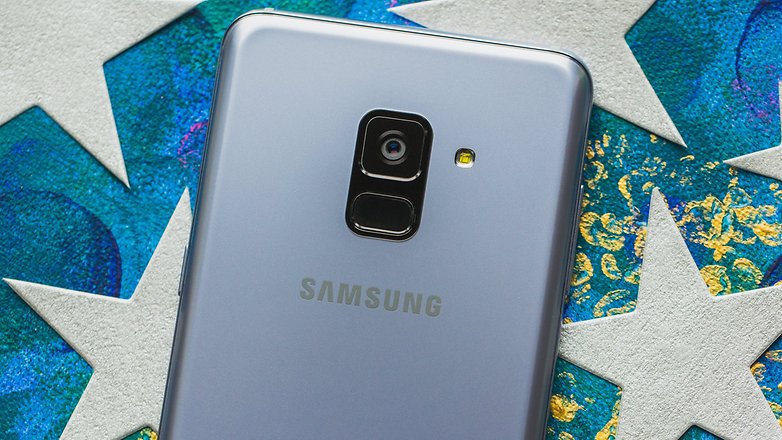 A remarkable display
The Galaxy A8 has a 5.6-inch Super AMOLED display and sufficient Full HD+ resolution (only virtual reality may pose a problem). As always with Samsung and its AMOLED screens, the smartphone provides full satisfaction. Brightness, colorimetry, viewing angles and contrast are all excellent. And if you don't like the color temperature, it's always possible to change it in the settings. The A8 has nothing to envy from higher-end competitors in this respect.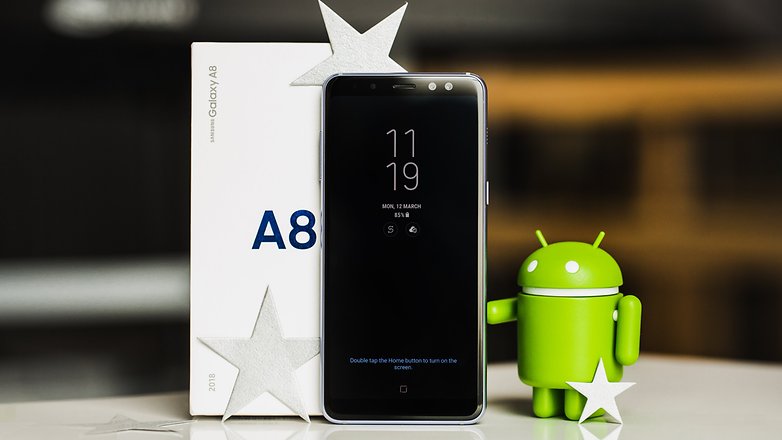 As with other Samsung devices, the A8 comes with Always On mode, a feature introduced with the Galaxy S7 that allows you to display the time, date, and amount of battery left on the off screen. You can also view notifications from third-party notifications. The only problem with this mode is that it consumes a little bit too much battery on the Galaxy A8.
No Android Oreo
Samsung gets a penalty for this one! The new device won't benefit from Android Oreo, but runs on Android 7.1.1. It is disappointing that the device doesn't come with the latest update, especially since Samsung isn't the best at releasing updates and Oreo has been available for more than seven months.
The device of course comes with its usual interface, Samsung Experience (formerly known as TouchWiz) on its new device. The number of pre-installed applications is quite limited and many of them are useful. This is the case, for example, for the app to protect data (which replaces My Knox). One useful new feature allows you to use two instant messaging systems at the same time, which we're familiar with from Huawei's Twin application. It should be noted that the Galaxy S8 also has this feature.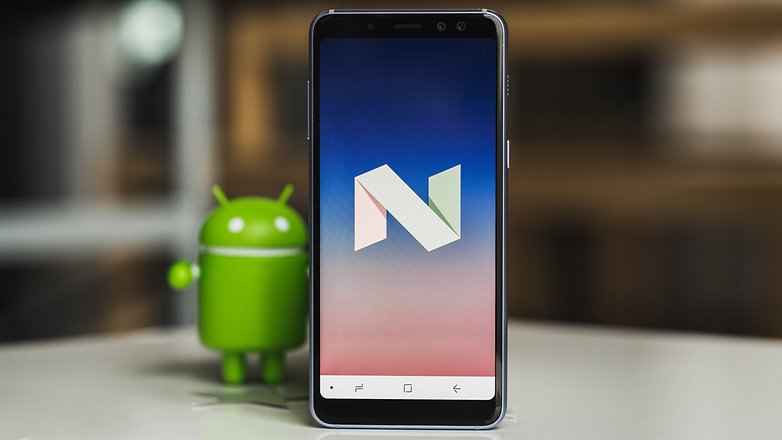 Just like the S8, the device also benefits from intelligent control through Wi-Fi. As soon as you approach a network with which your smartphone has already been connected, the A8 automatically connects, even if the Wi-Fi is disabled.
In terms of artificial intelligence, the Galaxy A8 is the first device on the A series that comes with Bixby (Samsung's voice assistant). Samsung, however, hasn't activated voice recognition, so Bixby can only be used for translating texts, finding locations, accessing links / reminders, and so on, which is too bad.
Performance at its best
The Samsung Galaxy A8 features an Exynos 7885 octa-core processor (2 x 2.2 GHz Cortex A73.6 x 1.6 GHz Cortex A53), combined with a Mali G71 graphics chip and 4 GB of RAM. It has 32 GB of internal memory, but can be improved up to 400 GB.
The phone runs perfectly smoothly and has on bugs, so the performance ensures a more than satisfactory user experience. I didn't encounter any problems with games, even when a tried the more demanding ones. The A8 makes no concessions with graphics and showed no signs of overheating. But for a smartphone sold at this price, you could ask for a little more. A OnePlus 5T or Honor View 10 are at the same price and are a bit better in this regard.
Samsung Galaxy A8 (2018) : benchmark results of the CPU and GPU
Pixel 2 XL
OnePlus 5T
Galaxy S9 (FullHD+)
Galaxy S9 (QHD+)
Galaxy A8 (2018)
3D Mark
Sling Shot ES 3.1
3571
3592
3274
3227
730
3D Mark
Sling Shot ES 3.0
4714
4347
3873
3794
1038
3D Mark
Ice Storm Unlimited ES 2.0
37844
40914
38488
36304
14544
Geekbench CPU
Single core
1867*
1973
3645
3645
1524
Geekbench CPU
Multicore
6291*
6593
8820
8820
4426
Audio has room for improvement
Like the Galaxy A3 (2017) and A5 (2017), the Galaxy A8 (2018) features a single speaker located on the right side of the phone. In addition to being slightly low-powered and the generally poor sound quality (watching a movie can be a traumatic experience), the speaker's position means the sound can get quite muffled when using the smartphone in its upright position.
The headphone jack also doesn't have great sound output, but on the other hand, you can't complain about the quality of calls and communication, which is very good.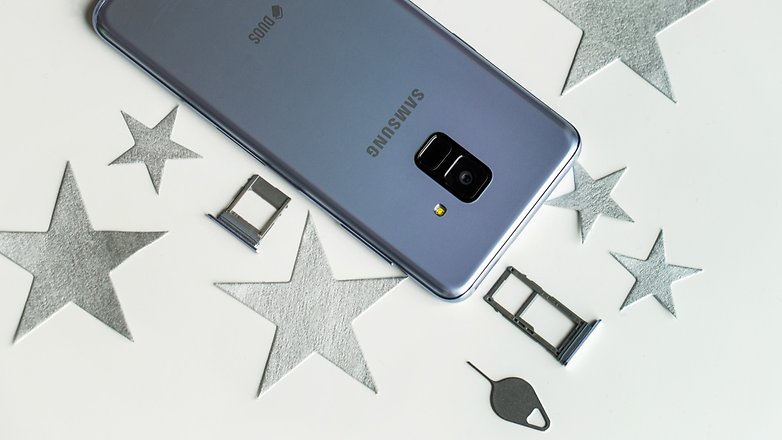 Emphasis on selfies
Samsung has surprised us when it comes to the camera: the double camera is in the front instead of the rear. The front sensors are 16 and 8 megapixels (wider camera angle) and both have an f/1.9 aperture, but the real strength of the camera is dynamic focus. In addition to the bokeh effect, there are several other options to adjust the depth.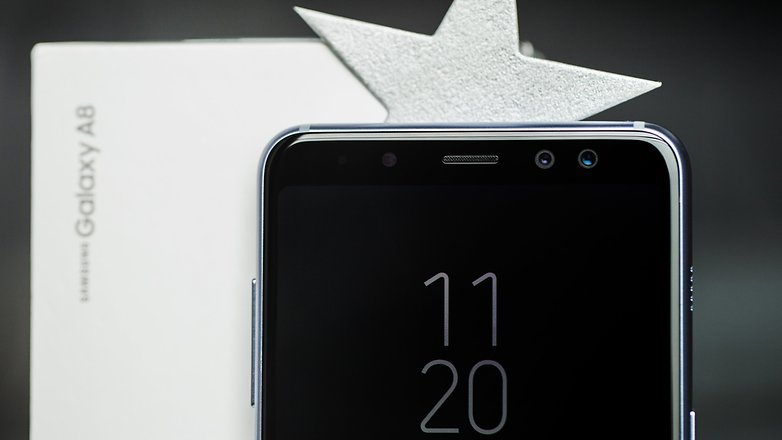 Thanks to the double camera, the selfies taken in poor lighting conditions are of a better quality. Samsung is now using Tetracell technology that allows for brighter images without increasing noise. Samsung also offers a solution to make taking pictures easier: the (virtual) shutter button can be positioned wherever you want on the screen. The results are satisfactory.
The rear camera is a bit more disappointing. It has a 16 megapixel sensor with an f/1.7 aperture. The shots come out correctly in good lighting. The details are there and the colors are true. Things get tougher at night because it comes with a blur. Compared to a OnePlus 5T, the Galaxy A8 (2018) looks really pale.
You can also record videos in Full HD and with timelapse. With vDIS video stabilization technology, shaking is no longer a problem. The results are very good, but as always, when the brightness is lower, noise appears.
Lastly, the Galaxy A8 (2018) features a Pro mode (but not very complete) as well as some filters.
Battery life: Always a strong suit of the A series
With its latest model, Samsung has continued the tradition of enduring smartphones in the A series. The battery capacity is strong: the Galaxy A8 comes with a 3000 mAh battery. In everyday use (calls, texts, WhatsApp, a little surfing, YouTube), you will easily be able to use the phone for two days with sufficient battery. If you're a smartphone addict it will still last you a day and a half. In our PCMark Battery Work 2.0 test, the A8 scored an excellent score of 7 hours and 34 minutes, which was confirmed from my practical tests.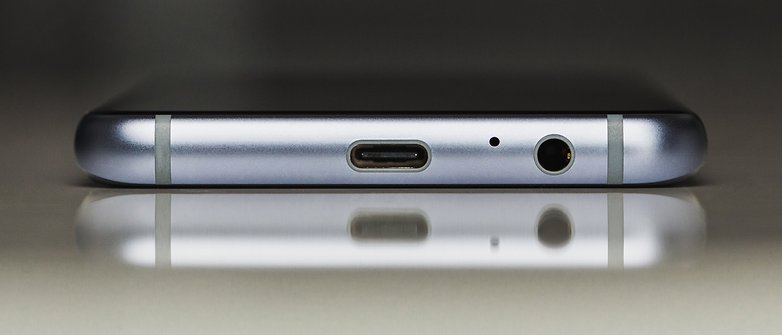 Samsung Galaxy A8 (2018) technical specifications
| | |
| --- | --- |
| Dimensions: | 149.2 x 70.6 x 8.4 mm |
| Weight: | 172 g |
| Battery size: | 3000 mAh |
| Screen size: | 5.6 in |
| Display technology: | AMOLED |
| Screen: | 2220 x 1080 pixels (441 ppi) |
| Front camera: | 16 megapixels |
| Rear camera: | 16 megapixels |
| Flashlight: | Dual-LED |
| Android version: | 7.1.1 - Nougat |
| User interface: | TouchWiz |
| RAM: | 4 GB |
| Internal storage: | 64 GB |
| Removable storage: | microSD |
| Chipset: | Samsung Exynos 5 Octa |
| Number of cores: | 8 |
| Max. clock speed: | 2.2 GHz |
| Connectivity: | HSPA, LTE, NFC, Dual-SIM , Bluetooth 5.0 |
Final verdict
With the Galaxy A8, Samsung has brought the A series a little bit closer to the S line. The Galaxy A5 (2017) was already much like the Galaxy S7, but it was more affordable. The A8 has improved capabilities, which means its price has gone up as well.
The Galaxy A8 is an excellent smartphone in terms of design, display, selfies and battery life. Otherwise, it leaves me asking for more in terms of its performance, audio and camera (just the rear one), which aren't as great as its price would suggest. The OnePlus 5T and Honor View 10 are clearly more interesting and versatile. But once the price of the Galaxy A8 (2018) goes down over the course of the year, it will become a more attractive option.