Samsung reveals Galaxy event for October promising '4x fun'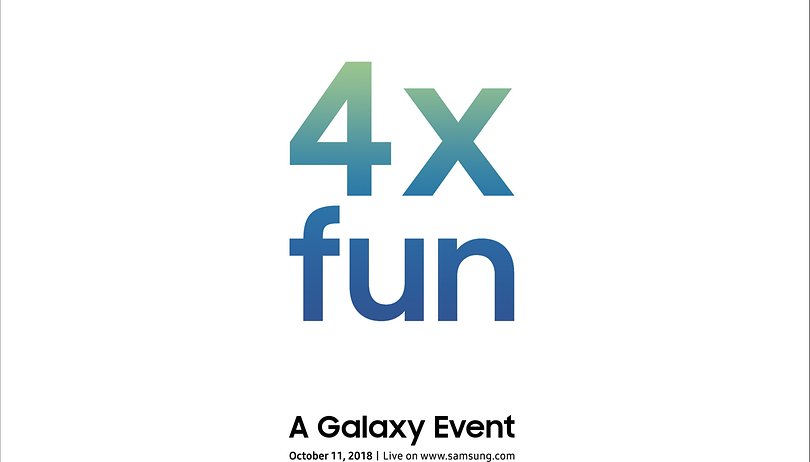 It has long been rumored that Samsung is working on a new smartphone with four real cameras. The Korean manufacturer has now announced a Galaxy event for October 11. Is this the phone we have been expecting?
Samsung says that it newest Galaxy device will bring 'more ways to express yourself than ever before'. The company has already launched the Note9 and a new Galaxy Watch this year, so could this be the four-camera smartphone that we've been hearing about?
At the start of the month, Ice Universe, a prominent Samsung leaker with a reputation for being reliable, Tweeted that the company had a phone with four rear cameras in the works. The '4x fun' teaser line certainly add weight to this claim.
Samsung Camera Camera Camera Camera

— Ice Universe (@Universeice) 1 September 2018
There are also rumors that Samsung could reveal an unbreakable OLED display for its next Galaxy device. Word on the street is that the screen surpasses US military durability standards, and is both flexible and unbreakable. Are we about to see the beginning of the end of cracked smartphone screens?
We are still, however, waiting to hear about a foldable smartphone from Samsung. Earlier this month DJ Koh, CEO of Samsung Mobile, told CNBC that it was "time to deliver" on a foldable device that was first teased in 2013.
Koh confirmed that Samsung would unveil details on a foldable smartphone before the end of the year. It seems more likely that we'll hear those details at the Samsung Developer Conference in November in San Francisco, but you never know…
Live streaming of the event will be available on Samsung's website. Would you be excited to see a quad-camera smartphone from Samsung? Let us know in the comments below.