Why the Google+ Update Is a Big Freakin' Deal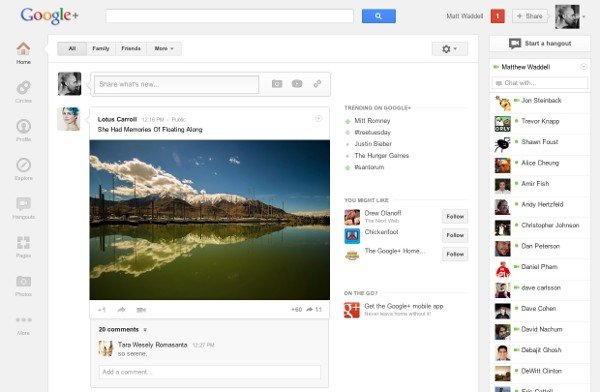 The latest Google+ update could be a windfall for the social networking site.
If you joined Google+ when it was first announced but then let your profile lay dormant for a while, a new update may draw you back to the site. Google has announced a major overhaul of its social networking site that makes it easier to connect with friends via videochat, share photos and post the latest viral YouTube hit. All in all, I'd say this is quite a competitive update and while it does borrow from Facebook, it also offers a few features that are truly unique, including the ability to show what's on your computer screen to a friend while videochatting with them AND the ability to start a hang-out with the author of a post. So the next time a friend posts a video of their cat doing something weird and demonic, you can confront that friend immediately via VIDEO. WHAT? ANNND you can do so while wearing a virtual pirate hat. Read on if you're intrigued...
Better Navigation
Tighter integration between Google+ and YouTube makes it easy to share YouTube videos at the click of a button.
Apps can now be dragged and organized on the side bar or hidden easily.
Buddy list has been moved to the right of the screen
Emphasis on Sharing Videos and Pictures
You can now drag a bunch of photos to a new album and its created automatically (which is way easier than Facebook's method)
New slideshow feature allows you to peruse photos without opening a new window
Hangouts Gets a New Home
Video chat now gets its own dedicated home page, allowing you to quickly peruse any Hangouts available to you.
You can watch YouTube together, or even play dress-up as Google digitally alters the video for comical effect.
You can even start a hangout ABOUT A POST. With the post's author! That's quite cool!
New Profile Layout
The new profiles look more similar to Facebook's, featuring a large banner picture (called a cover photo) and a smaller profile picture which intercepts it.
A new "view as" box, allows you to see your profile as various groups or individuals, much like on Facebook
Availability
Expect the update to roll out over the next hours (or possibly even days).