 Android 4.0.4 Rolling Out For The Verizon Samsung Galaxy Nexus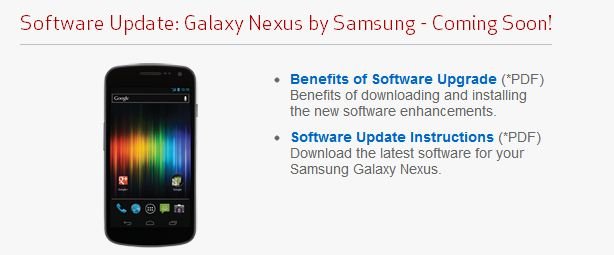 If you happen to own a Verizon Galaxy Nexus and have been waiting for the newest ICS update to Android 4.0.4, then wait no longer. Verizon has officially confirmed that the new update is coming "soon", and CNET has already reported that a reporter working there has already received it.
The update has already been approved by Verizon, and they have posted on their website that the rollout will take place very soon. The 4G LTE version of the Nexus naturally came equipped with ICS, and the new update brings it up to the newest 4.0.4 version, which includes numerous bug fixes and enhancements.
I have had 4.0.4 on my Nexus for a while (rooted), and I can definitely notice that it's a bit snappier. The first thing I noticed on mine was that auto rotate transitions were smoother, but that could also have something to do with the ROM I'm using. So be sure to charge up your battery and back up your data, as the update could literally reach you any day now!
If any of our readers get the update, please let us know in the comments or the forums when you received it and if it improved/worsened the performance of your phone.
Picture credits: Verizon