 Samsung Officially Announces The Galaxy Note 10.1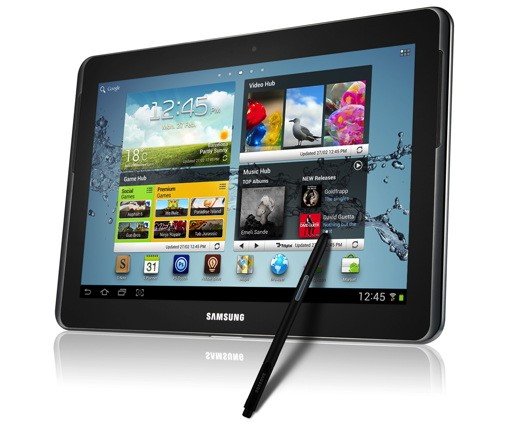 (picture from Engadget)
Samsung has officially unveiled a 10.1 inch version of the Galaxy Note at Mobile World Congress today, with the device set to launch in the 2nd quarter of this year. For users who liked the 5.3 inch model of the original Note, the 10.1 inch version could be an interesting alternative, although many are questioning its compatability with existing applications and its pricetag.
As a happy owner of a Galaxy Tab 10.1, I always welcome the release of new 10.1 inch tablets, especially from Samsung. For me personally, there is no other Android tablet maker that has managed to deliver such great hardware wrapped in such a gorgeous design. But to be honest, I'm not quite sure if this tablet is one I would personally buy, as spec wise it seems really similiar to the device I have now. But for consumers considering buying their first tablet, it sure is packing enough power to make it an attractive option.
Heres a quick spec rundown:
1.4ghz dual core processor
3MP back camera and a 2MP front facing cam
Android Ice Cream Sandwich
16, 32, and 64 gigabyte models
1280 x 800 screen resolution (same as the original Note)
7000 mah battery
S pen stylus
Expandable memory slot (wish I had that)
8.9 mm thin
Comes pre loaded with Zen Brush and Omni Sketch for adults, and Hello Crayon for kids.
Certainly not bad specs for a tablet, but also not that big of an upgrade in comparison to other Samsung Tablets. Im really wondering why Samsung didn't decide to go quad core with 2 gigs of RAM on this one, but it seems they might be saving those beastly specs for a new tablet all together, with the Galaxy Note 10.1 being aimed more at consumers who have use for the stylus. I personally wouldn't ever shell out another 500 or 600 dollars for this device, but I could see how certain consumers would if they had need for the optimziations that were made to use the stylus, as hands on reports on how good it functions have been very positive so far.
Samsung is expected to announce their entire product line on March 15th in Amsterdam, and while I'm sure we'll see some big announcements there, my fingers are crossed that they will make some other big phone/tablet announcements at MWC.