Samsung Galaxy Note 8.0 Spotted In The Wild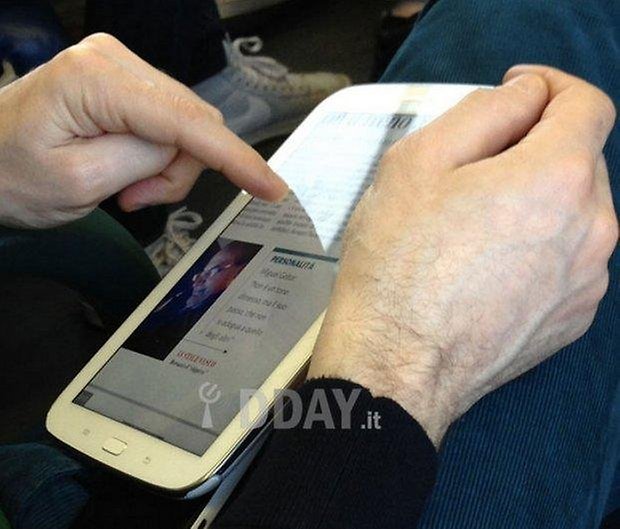 The Samsung Galaxy Note 8.0 is one of the three tablets to make its way to the market later this year, with the Galaxy Tab 3.0 being the other model, although the Samsung Galaxy Note 8.0 would seem to be the more high-end model. We do know that in the leaked Samsung roadmap for the first half of 2013 revealed some details on this tablet, with Samsung bigwig J.K. Shin dropping hints that the Samsung Galaxy Note 8.0 would launch sometime in February.
Well, more leaked photos of the Samsung Galaxy Note 8.0 has arrived this time around, where the spy shots are surprisingly decent enough without being affected too badly by the "shaky hand" syndrome that tends to plague most spy shots released online.
The Samsung Galaxy Note 8.0 is a tablet that will come with S Pen functionality, and while it is a tablet, it does seem to resemble a blown up size of the Galaxy S3 as well as Galaxy Note 2, where it will feature an elliptical home button located at the bottom when you hold it in portrait mode.
The stylus will slide into a silo that is located on the right hand side, and it does seem as though Samsung wants to remain consistent with its design language across its range of phones, phablets, and tablets. The 8" display at 1,280 x 800 resolution comes with a 4:3 aspect ratio, and runs on an 1.6GHz quad-core processor, accompanied by 2GB RAM, carry 16GB and 32GB of internal memory, sport a 5-megapixel camera at the back and a 1.3-megapixel shooter in front, with a microSD memory card slot for expansion purposes.
Connectivity options include Bluetooth 4.0, Wi-Fi 802.11 a/b/g/n, A-GPS support, USB 2.0 and a 4,600mAh battery to keep this iPad mini rival going for the entire day. Expect Android 4.2 Jelly Bean to come with the Samsung Galaxy Note 8.0 right out of the box, and it has been rumored to cost anywhere from $250 to $300 onwards. What do you think of the Samsung Galaxy Note 8.0?